Pumpkin Patch Popcorn Ball Recipe (Cute for Halloween)
This post may contain affiliate links or I may have received the product free in exchange for my honest review. See full disclosure for more information.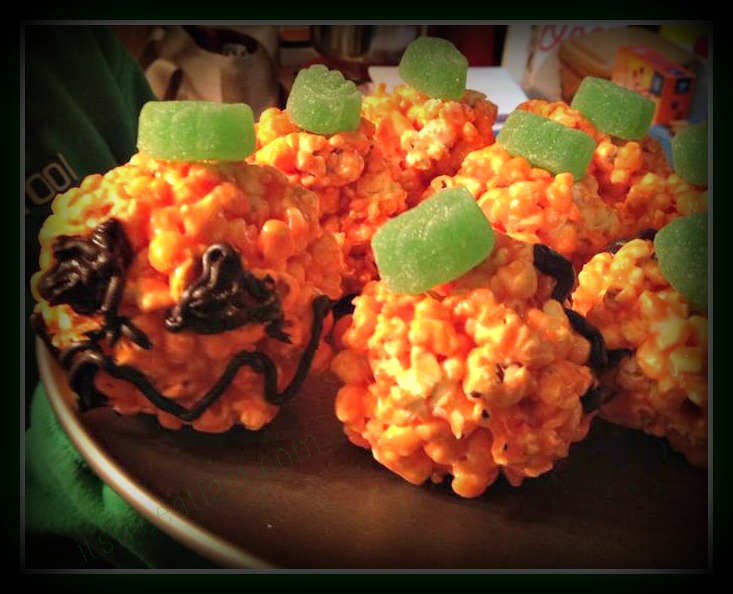 To create these fun and easy pumpkin looking popcorn balls, you will need:
6-cups mini marshmallows
1 stick butter
8 drops of red food coloring
8 drops of yellow food coloring
3 bags microwave popcorn (Jolly Time works best for me)
2 cups candy corn
Green gumdrops
Black or chocolate icing (to decorate)
*Optional candy corn to decorate the faces


Directions
Spray a backing dish or cookie sheet (or use parchment paper so the popcorn balls won't stick) and set aside. Place popcorn & candy corn in a large bowl and set to the side.
In a large saucepan, melt the butter in a large saucepan over medium heat, keeping a close eye so you don't burn the butter. Then, slowly stir in marshmallows, red & yellow food colorings, (adjusting color, if needed, to get a nice shade of orange. When marshmallows are completely melted, pour the sauce over the popcorn and stir to evenly distribute the candy and marshmallow mix.
Use a greased spatula to Good Cook Popcorn Baller. Mold the popcorn into a ball, then release onto the dish or parchment paper. Let stand until firm, usually 10-15 minutes.  Then decorate to your liking, you can place a green gum drop on top to act as the stem for the pumpkin and the icing to create cute Jack-O-Lantern type faces.
Eat, Share, Enjoy.
Right now you can save 25% off the Good Cook Popcorn Ballers using code: POPCORN
Also, be sure to check out Good Cook's Facebook page.  Starting October 7th, they will host the most amazing Good Cook 5-day popcorn giveaway.
Be sure to stay connect with Good Cook on Facebook | Twitter | Website