Rocky Mountain Popcorn Review
This post may contain affiliate links or I may have received the product free in exchange for my honest review. See full disclosure for more information.
I was given the yummy opportunity to receive and review a full case of popcorn from Rocky Mountain Popcorn!!!!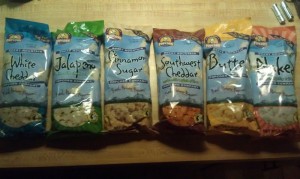 About the Company:
Rocky Mountain Popcorn Company started over 20 years ago in the eastern foothills of the great Rocky Mountains near Denver, CO. Long known, and much admired, as a great local product, the company grew by reputation until 2007, when it exploded onto the national scene, bringing the bold taste of the Rockies to a nation hungry for wholesome snacks.
About the Product:
Rocky Mountain Popcorn comes in a variety of flavors including:
White Cheddar
Caramel
Cinnamon Sugar
Kettle Corn
Jalepeno
Butter
Southwest Cheddar
Naked
They popcorn comes in handy "Grip & Pour" 1.3 oz. bags making them the perfect sizing for snacking and on-the-go ease. Rocky Mountain Popcorn is all natural, gluten-free, nut-free and certified non-GMO.
Popcorn, as a grain, has more protein than any other whole grain. The outer layers of the popcorn, including the hull, are good sources of protein, iron, and phosphorous. Popcorn contains more iron content than spinach or eggs. It also has more phosphorus and fiber than baked chips or pretzels. Guess what else popcorn is known for? It is high in antioxidants, most notably, polyphenols – a group of natural plant chemicals that have a variety of health benefits. Polyphenols are the same group of compounds that give red wine, tea, olive oil and chocolate their beneficial properties.
The Review:
My family and I thoroughly enjoyed the variety and flavors Rocky Mountain Popcorn we received.  The portion sizes are perfect and very filling. Working behind a desk all day long makes it easy to want to snack. I took a variety with me to the office and was able to enjoy the tasty, mess-free snack.
We also took some bags to the movies and enjoyed the variety of flavors we had, as opposed to the high-priced, overly saturated popcorn offered at the movies.
I also shared some of this with my mom, who has become obsessed with the cinnamon-sugar flavored brand.
Overall, this popcorn was a HUGE hit with my family and we loved the rich, natural flavor of each bag. My personal favorite is the Cinnamon Sugar, which you don't find too often as a choice of flavor in popcorn. This would make a tasty, wonderful gift to anyone this holiday season.  Have a case shipped right to their door!!!
I would highly recommend Rocky Mountain Popcorn to anyone who loves great tasting, low-fat flavor of popcorn.
You can pick up your own Rocky Mountain Popcorn at many retailers nationwide. You can also order online on their website.
It's Free At Last was given this product from Rocky Mountain Popcorn Company in exchange for an honest review. All opinions are our my, and no compensation was given in exchange for this review.