October is Breast Cancer Awareness month and al fresco all natural chicken products is Team Pink. This month, you will find their packages adorned in pink. You still get the same, delicious taste, with a colorful package change.
One way I like to help my friend out when she has a rough day of chemo is taking dinner for she and her family. This recipe is dedicated to her and her success in fighting breast cancer.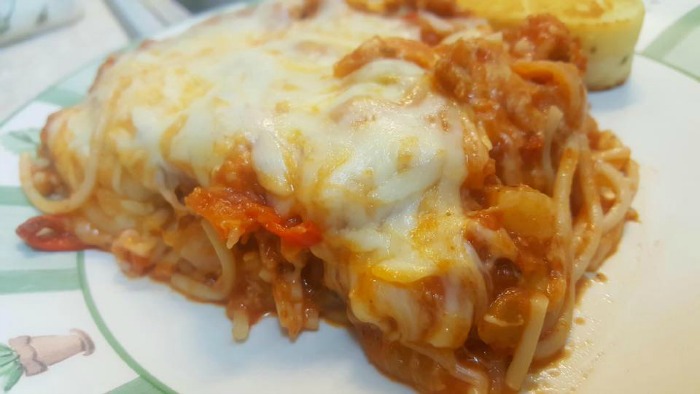 To celebrate, I have created a unique recipe that incorporates al fresco Chicken Apple Sausage. This delicious spaghetti bake is something that will warm your family's stomachs on a cold fall evening. It is easy to prepare and delicious to serve. Read below for more information on this recipe.

Sausage Spaghetti Bake with al fresco Apple Sausage #Recipe
Prep time:
Cook time:
Total time:
Ingredients
2 pkgs - al fresco Chicken Apple Sausage, peeled and crumbled
2 16 oz cans - spaghetti sauce of choice
1 lb - spaghetti pasta, cooked
¼ cup - sauteed onions
¼ cup - sauteed carrots
¼ cup - sauteed peppers (red, yellow and orange)
½ cup - Parmesan cheese
2 cups - Mozzarella cheese
Salt and Pepper to taste
Instructions
Preheat over to 350 degrees
Spray bottom of 11x13 cooking dish, cook time will vary from glass to dark dish
In separate pot, boil spaghetti pasta according to instructions, once done, line bottom of baking dish
In separate sauce pan, saute onions, carrots and peppers. Add al fresco Chicken Apple Sausage and keep heating until meat is brown. Add 2 jars of spaghetti sauce and ½ cup of parmesan cheese. Keep cooking until hot.
Pour sauce mixture atop of spaghetti in baking dish. Cover with 2 cups of shredded Mozzarella cheese. Bake at 350 for 10-15 minutes, or until cheese is done on top.
Serve and enjoy.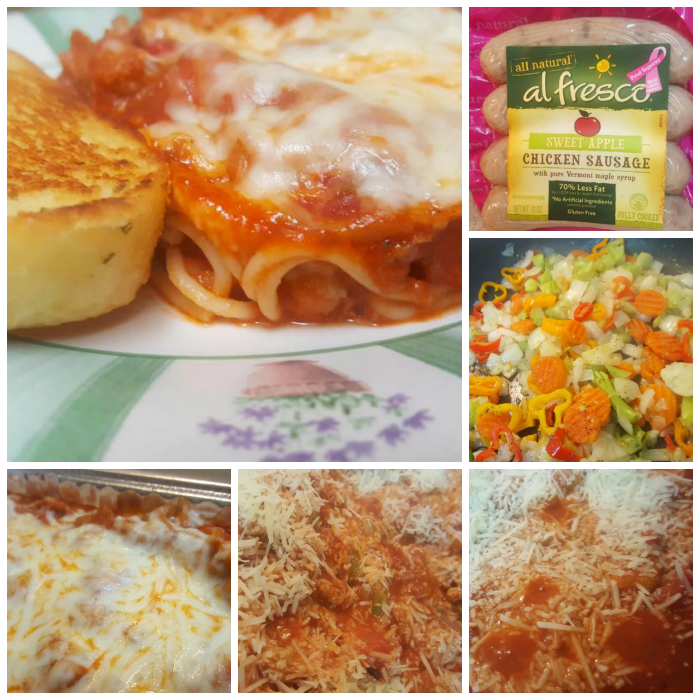 How do you Fight Back Better on al fresco Team Pink?
Join al fresco Team Pink this month and fight back against breast cancer. Do you know someone fighting breast cancer? What ways do you help them out? Pick up some al fresco chicken products today and make them a delicious spaghetti bake. Join them for dinner and catch up on how things are going.
al fresco supports the American Cancer Society's Making Strides Walk in Boston. To find out about a local event or walk in your area, check online and see how you can participate.
Create a wellness plan for the month of October that incorporates healthy eating and exercise. Tell me in a comment below what you plan to do and why a healthy lifestyle is important during Breast Cancer Awareness Month.
Why participate?
Every time someone uses the hashtag #fightbackbetter, al fresco donates a meal to The Ellie Fund, an organization in Massachusetts that provides essential support services for breast cancer patients and their families like free meals and grocery store gift certificates. As an influential blogger with a community of female readers, we would love for you to show us how you #fightbackbetter.