Save 25% of Products and Make Your Health Priority #1 with Superior Source Vitamins #SuperiorSource
This post may contain affiliate links or I may have received the product free in exchange for my honest review. See full disclosure for more information.
February is one of the coldest months of the year and the last thing that most want to to is think about getting outdoors for fresh air, exercising and being active. That is why it is important, now more than every, to make your health Priority #1 and it can be done with the right mindset and some great assistance of Superior Source Vitamins. To help you get into the right frame of mind, Superior Source Vitamins are ON SALE for 25% off at CVC4health!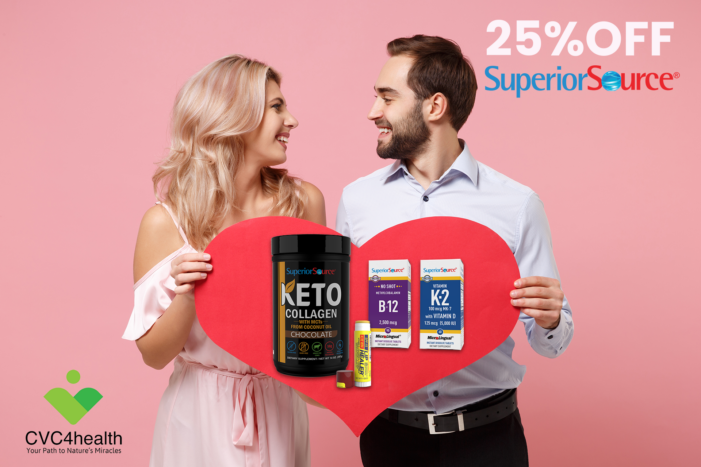 The month of February is featuring the CVC4Health.com website that exclusively carries the Superior Source Vitamin Supplements. Get your favorite vitamins for a healthy 25% off all products, plus enjoy the benefits of their newest best-selling product – KETO Collagen chocolate powder (just mix it into your favorite drink). Stock up on the special savings of the KETO Collagen powder now with the special "Buy 2 Get 1 FREE" deal going on. Also, protect your lips against the cold with the amazing Lip Healer Lip Balm 3-pack deal – Buy 1 3-Pack Get 1 3-Pack FREE.
Superior Source Vitamins are MicroLingual® – "Under the Tongue Technology". They work fast and are quickly absorbed into the body, dissolving in seconds – NO pills to swallow! Supplements that are swallowed lose as much as 50% of the potency in the high acid environment of the stomach.
No pills to swallow
GMO FREE and Sugar FREE
90% smaller than regular vitamins
No chemical binders or fillers
Make Your Health Priority #1! 
Let's look at the vitamins that can help keep your loved one healthy!
KETO Collagen
Collagen is the most abundant substance in the body and helps give structure to our hair, skin, nails, bones, ligaments and tendons. When we get older, the production of collagen begins to slow down. Supplementing with collagen peptides (or hydrolyzed collagen) may help with the body's need for these building blocks. MCT's (Medium-Chain Triglycerides) are quickly metabolized and shuttle energy to your body. Pairing Grass Fed hydrolyzed Bovine Collagen Powder with MCTs offer your body alternative fuel for recovery. Directions: As a dietary supplement, mix one scoop of Keto Collagen with 8 to 10 ounces of water or your favorite beverage.
Vitamin B-12
NO SHOT B-12 Instant Dissolve MicroLingual® Tablets go to work fast, under the tongue. B-12 is essential for top energy levels, heart health and mental clarity. Each tablet provides 2,500 mcg of  Methylcobalamin, the "activated" form of B12. The innovative MicroLingual® delivery system is designed to make B-12 immediately available for immediate absorption.
Vitamin K-2 with Vitamin D
This formula combines vitamins K-2 (MK-7) and D3. The benefits of Vitamin D (maintaining strong bones, immune system support, healthy muscle function, etc.), are well known but many don't realize that Vitamin D requires vitamin K-2 to maximize its benefits. If you're supplementing with vitamin D, it is a good idea to take vitamin K-2 as well. Vitamin D3 helps your body absorb calcium, and Vitamin K-2 (as MK-7, a form with high bioavailability) directs the calcium to your bones instead of your joints and arteries, where too much calcium could be problematic. Just one MicroLingual® Tablet per day provides 100 mcg of K-2 (as MK-7) and 5,000 IU of D3 which helps support strong bones, a healthy cardiovascular and immune system.
Lip Healer – Lip Balm: 3-Pack
All Natural "Lip Healer" Lip Balm is Petroleum free and contains Aloe Vera, Vitamin E, Calendula and Chamomile to soothe and moisten lips while providing SPF-15 protection from the Sun's rays.
Where can you find Superior Source Vitamins & Supplements
You can find these MicroLingual® vitamins and all Superior Source Vitamins at major retailers. Use their handy store locator tool to find a store near you. Or, you can purchase from online retailers!
Hurry and stock up on these savings exclusively at CVC4Health.com today and make your health priority #1, not just the month of February, but all year long.
Connect socially with Superior Source