Shark Rocket Complete with DuoClean Technology Makes Cleaning Easy!
This post may contain affiliate links or I may have received the product free in exchange for my honest review. See full disclosure for more information.
Sometimes I feel like I have an army living in my home. Seriously! I can clean and vacuum one day and the next day it looks as though I never touched it! Keeping the floors and furniture clean is difficult, especially if you have pets or kids. And, I have came to the conclusion that dust bunnies really do exist! They move in, set up homes, and start their own families and communities! It is with this realization that I knew I needed a serious vacuum to tackle the problem. That's where the Shark Rocket Complete with DuoClean Technology comes in!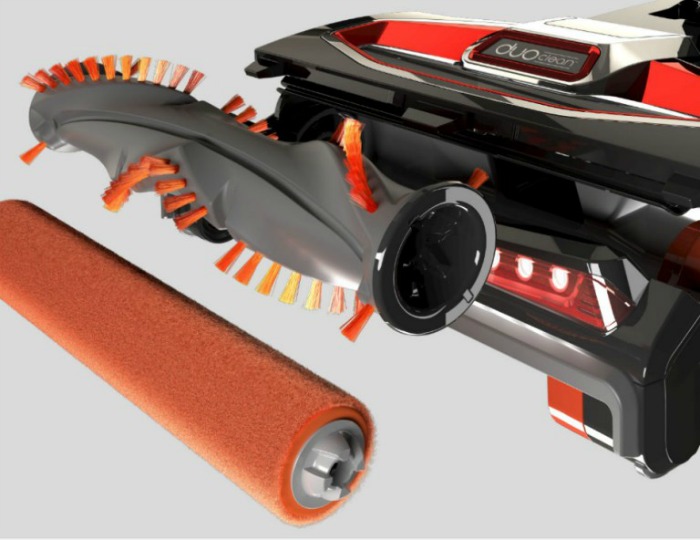 About Shark Rocket Complete
The Shark® Rocket® Complete with DuoClean™ Technology has the power of two distinct brushrolls spinning in unison to remove dirt from carpets and bare floors of every type.

The dirt that gathers on floors and in carpets comes in three sizes – small, large, and stuck-on. Cleaning all three can be a real challenge for an ordinary vacuum. With Triple Particle Cleaning™, there's no need to rely on dustmops and brooms to get the dirt left behind.
I had been hearing about the Shark Rocket Complete with DuoClean Technology. What is DuoClean Technology? DuoClean Technology means it has the power of 2 distinct brushrolls spinning in unison to pull in large, small and stuck-on particles on floors and carpets – that's Triple Particle Cleaning. I was very impressed with all the great things I was hearing, the DuoClean Technology, and the Shark Rocket Complete had all the bells and whistles I was looking for! I decided it was the vacuum for me!
Let's look at the Shark Rocket Complete with DuoClean Technology!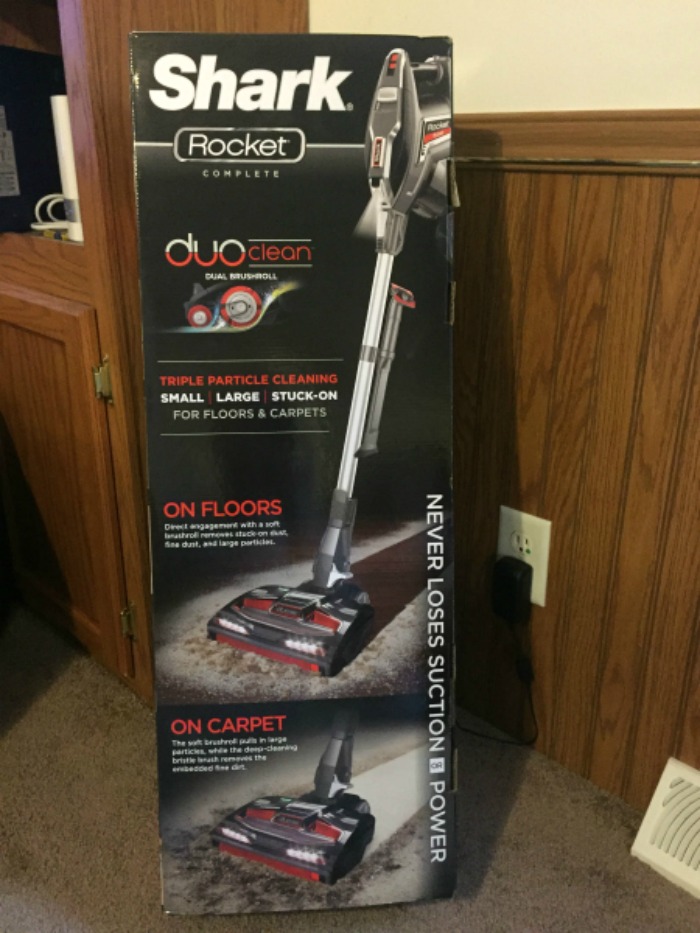 I was so excited the day it arrived! I was amazed at how light it was! It weighs in at approximately 10 pounds! My immediate thought was – there would be no more struggling with my overweight monster of a machine! And, the Shark Rocket Complete comes with several amazing accessories! I went from "I dread vacuuming" to "I can't wait to vacuum"!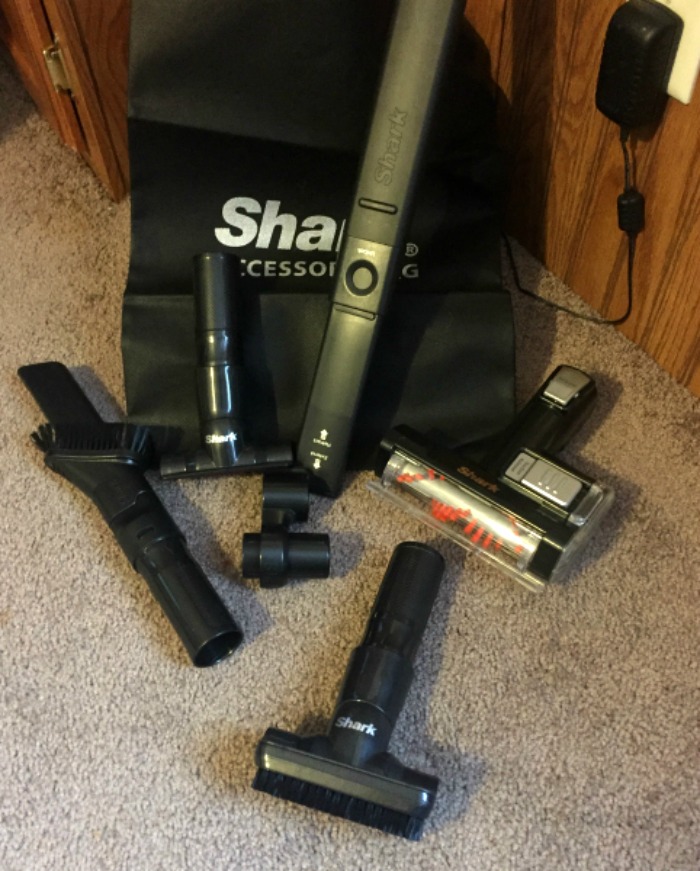 I took a few moments to familiarize myself with all the attachments. Look! It even comes with an "under appliance wand"!
The Shark Rocket Complete comes with these handy accessories:
Dusting Brush
12" Crevice Tool
Upholstery Tool
Under Appliance Wand
Multi-angle Dusting Brush
Duster Crevice Tool
Flexible Hose
TruePet® Motorized Brush
On-Board Storage
30′ Power Cord
Wall Mount
Accessory Bag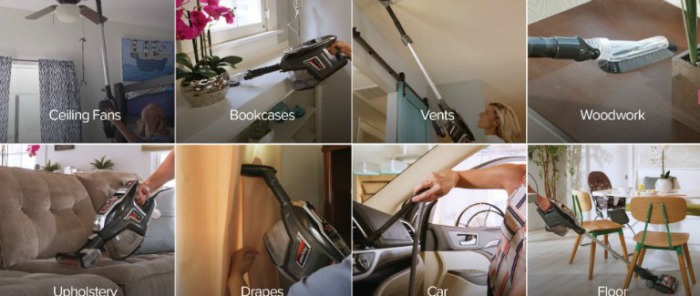 I couldn't wait to get started cleaning with the Shark Rocket Complete! The vacuum is light and easy to handle, cleaning everything from ceiling fans (don't ask me how much dust came from up there!), to vents, upholstery, cracks, and crevices! And, it made quick work of the carpeted areas, tile, and hardwoods!
Most impressively, I cleaned under the fridge and stove with the "under appliance tool". Oh, my word! I had a couple of critters living under there that I didn't know I had! I probably should be embarrassed, but I am to excited about the new "under appliance tool" to not tell you! At least now, it won't get that way again!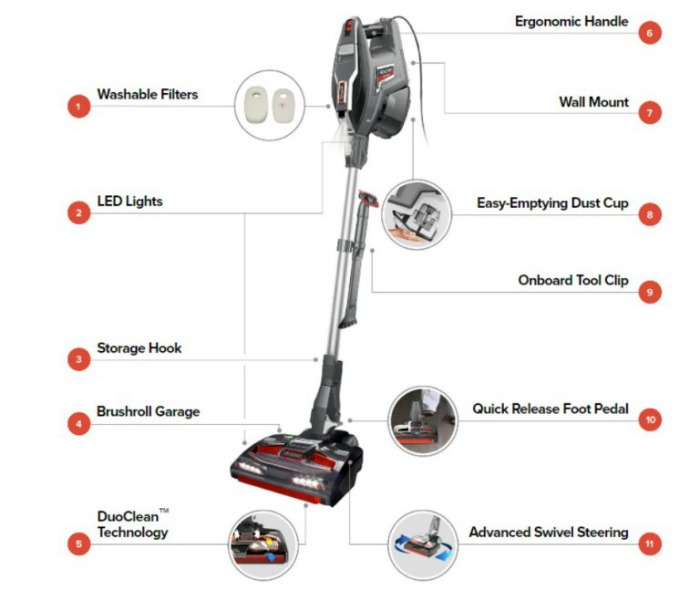 Another feature that I love is the light on the powerhead. The light makes it easy to see what you are doing when vacuuming under beds and furniture. The dust cup is easy to remove and empty when it becomes full and the vacuum has washable filters!
When finished with the vacuuming, simply hang up on the handy storage hook.
Shark Rocket Complete Features in a nutshell:
Washable Filters
LED Lights
Storage Hook
Brushroll Garage
DuoClean Technolgy
Ergonomic Handle
Wall Mount
Easy-Emptying Dust Cup
Onboard Tool Clip
Quick Release Foot Pedal
Advanced Swivel Steering
After my cleaning spree, my house looks, smells, and feels clean! I am truly enjoying the Shark Rocket Complete with DuoClean Technolgy! I won't go so far as to say I like "having" to vacuum (that would be crazy, right?), but I don't dread it like I use too! And, you guessed it! My old heavy monster of a vacuum has been kicked to curb!
If you are in the market for a vacuum that can handle all the jobs from ceiling to floors, take a look at the Shark Rocket Complete with DuoClean Technology! It is a workhorse of a vacuum and makes cleaning your entire home easy!
Connect socially with Shark