Sleep Better with PeachSkinSheets #MEGAChristmas18
This post may contain affiliate links or I may have received the product free in exchange for my honest review. See full disclosure for more information.
Are you a fussy sleeper? I wasn't when I was younger, but over the years, I've found it difficult just to grab a quick nap or sleep anywhere, even on an uncomfortable bed! So I try to make sure that my bedroom at home is nicely decorated, uncluttered, and boasts of a large, comfortable bed. And I have also learned that a decent set of quality sheets can make a huge difference, which is great if you can't go out and buy a hugely expensive bed! That's just one of the reasons that I've learned to sleep better with PeachSkinSheets!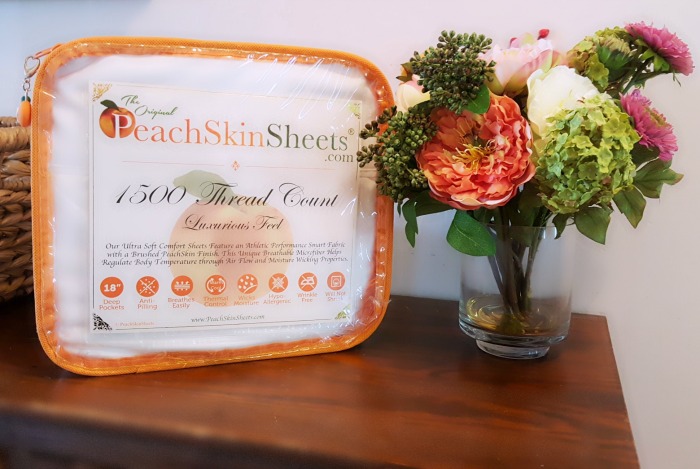 The Original PeachSkinSheets® was founded in 2013 and is based in Atlanta, Georgia. We pride ourselves on being The Original, One and Only Authentic Brand, and our signature peach zipper pull is featured on every sheet package. Our affordable bed sheets are made from a breathable, high performance athletic grade SMART fabric that is great for hot sleepers due to its thermal control and moisture wicking properties. In addition, the ultra soft brushed finish provides a softness level that parallels 1500 thread count cotton but without the shrinkage, wrinkles and pilling. We thrive on being a quality company with a quality product and going the extra mile for our customers. You can find us online and at local pop up events in Georgia and surrounding states. Once you've tried them, we know that you will never sleep on anything other than The Original PeachSkinSheets®!
From college dorm twin xl to California King, PeachSkinSheets® offers sets for all sizes. So you can have every bed in the house ready for a wonderful night of sleep, from your child's room to a busy college student, and best of all, your own bed!

Have you ever bought something online and then when it arrived..it wasn't the same color or material you were expecting? Yep, so have I. With PeachSkinSheets® you are encouraged to order a FREE swatch so you can get just the right color for your room. No more guessing and hoping for just the color you want for your bedding. Whether you go with an all year classic like white or a soft blue, or purchase a few sets to match your seasonal decor or new accent pieces of furniture! There are over 18 colors to choose from, including the "Colors of the Month" selections, which are offered at a lower price than other collections; $55 for any regular size set and $75 for Split King & Duvets. Their regular sale price is $79.95 for any size set while Split King/Adjustable Bed & Duvet specialty sizes are $99.95.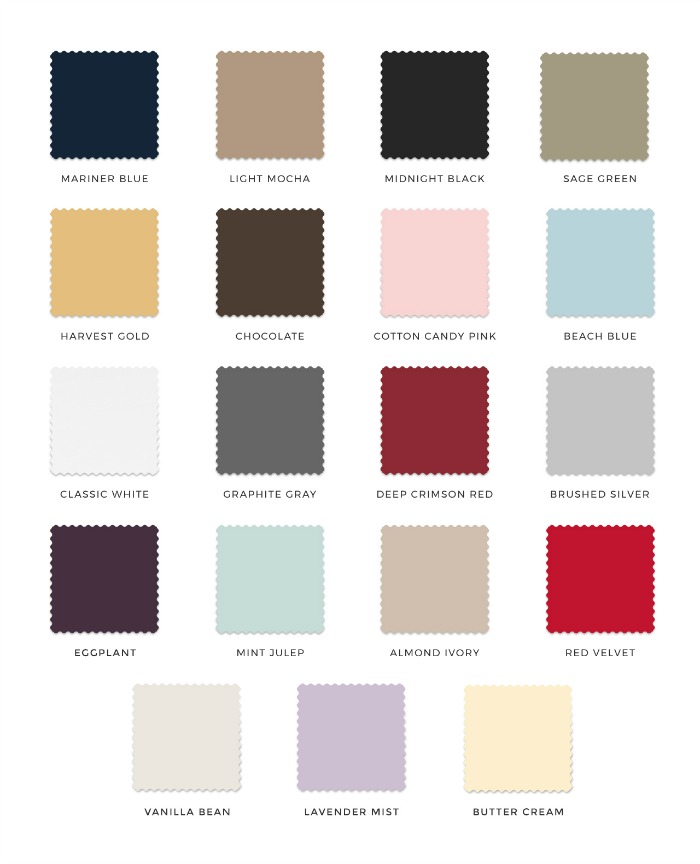 In addition to sheet sets, ordering extra pillow cases to match or compliment as well as a new duvet cover set makes completing your bedding easy. The 3 piece duvet cover sets include the cover and two pillow shams.
My Thoughts:
I am in love with these sheets! No kidding – I do not want to get up the mornings because they are so soft. We have a king size bed and these sheets fit like a glove. As you can tell, my little ones also love these sheets because they make my bed so comfy!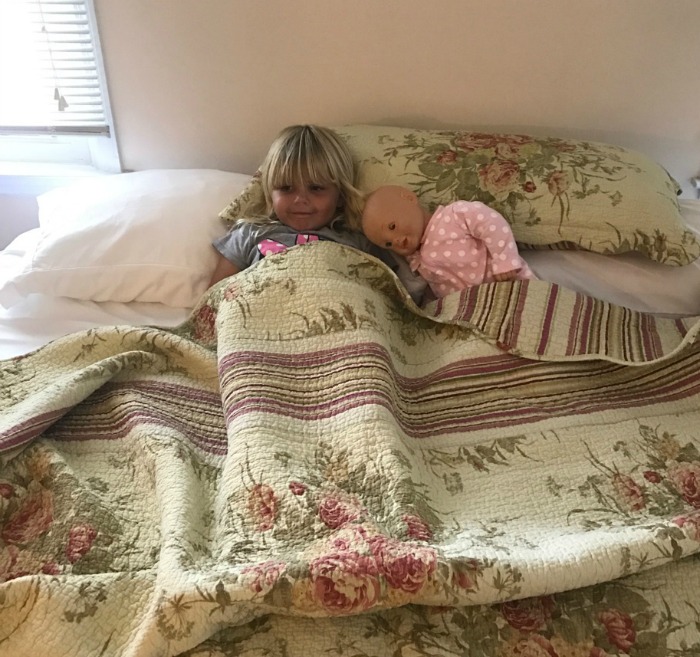 Slipping into 1500 thread count soft sheets is not something you can easily describe. To just say they are soft doesn't do them justice at all. You really have to try them yourself. I am enjoying the
King White set
in their Vanilla Bean color. I love white sheets on my bed and these may never come off except to be laundered and returned. Just kidding, I bought myself another set so I would not have to wait for them to be laundered! Oh, and no need to iron these sheets. Simply wash, then toss in the dryer on medium or medium/high heat. The built in wrinkle release technology assures you will have wrinkle free sheets ready to be put on the bed in about 20 minutes!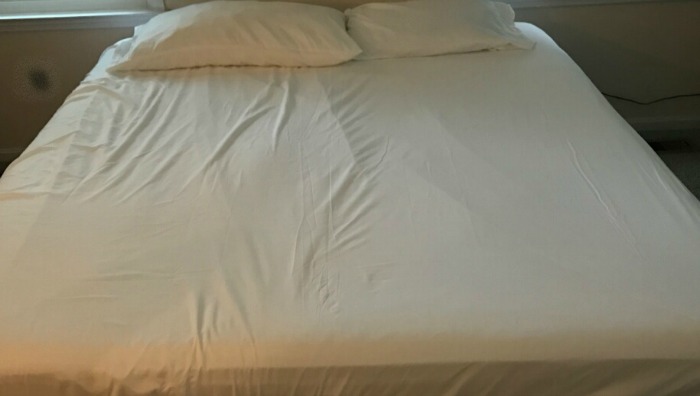 One thing I haven't figured out but love about these sheets is that both my husband and I are comfortable while sleeping. Usually I am a heater and end up tossing off the sheets and covers during the night, while my husband is cold and wrapped up tightly under his side of the bed. But with these sheets, I find myself snuggled under them and not hot at all, and my husband says he stays nice and warm too. I think it has to do with the thermal control and moisture wicking properties so that we are both comfortable during the night. And the sheets stay smooth without getting snagged from rough skin or developing pills from constant washing and use.
Not only are these sheets soft and luxurious to sleep on, but they have some great benefits that my old sheets didn't have. Like being breathable for those who get hot at night or having extra deep pockets so they don't pop off in the middle of the night! They are also anti-microbial and stain resistant which is wonderful so they are that much easier to keep clean and fresh looking. You can learn more about their SMART Fabric before you purchase your own sheets.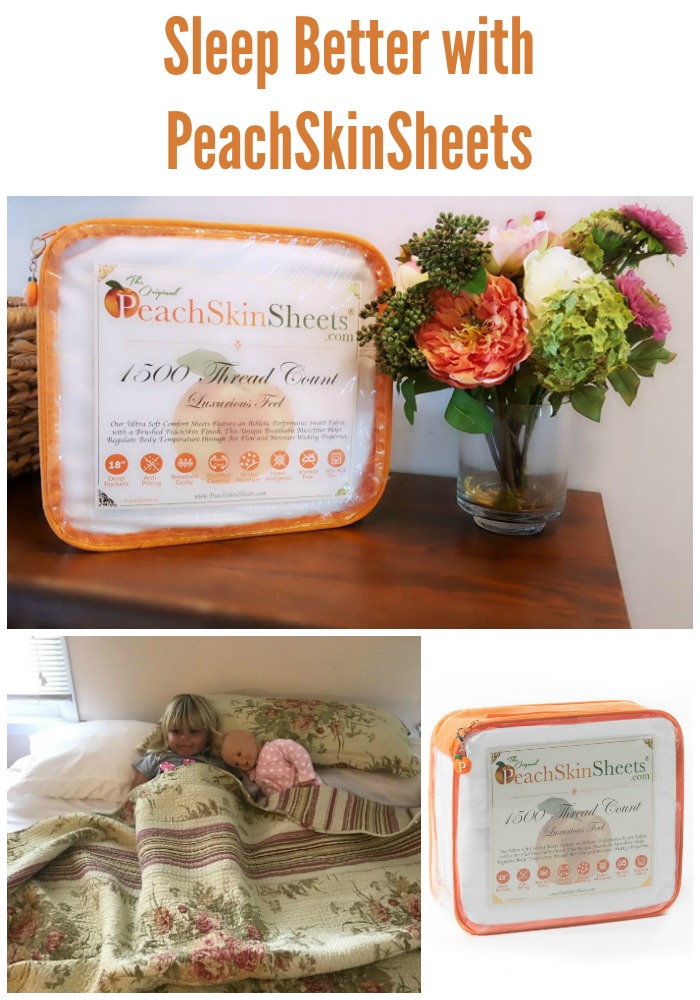 If you are looking for a special gift for someone (including yourself), a set of sheets will help everyone sleep better with PeachSkinSheets®. And if you are planning on updating your bedroom, PeachSkinSheets® even has matching paint colors through Benjamin Moore paints so you take your PeachSkinSheets® to the next level with PeachPerfectPaint™ match.
Make sure to follow PeachSkinSheets on social media:
Facebook | Twitter | Instagram

We've added PeachSkinSheets® to our 2018 MEGA Merry Christmas Gift Guide! Check it out here!