With warmer weather here, we want to stay healthy and active for all the fun outdoor activities. And, well let's face it! Sometimes being sick is more than colds and sniffles. Stress is something we all face every day! Whether you have a stressful job, stress from school, home or job worries, stressing out from a test you have to take, etc. All these little worries and stressful situations can take a toll on your health. Be prepared, and at your healthiest, with Superior Source Vitamins!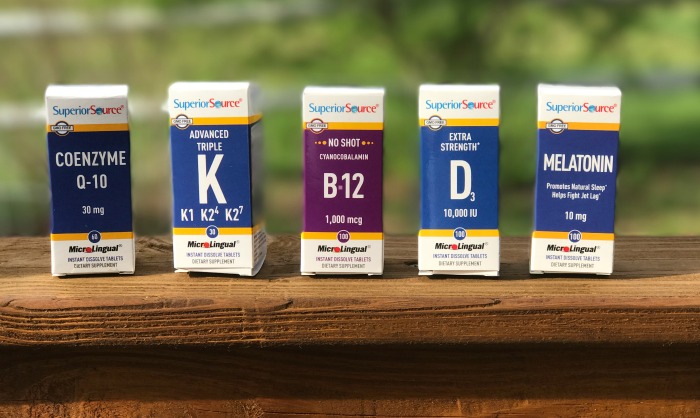 So, you are probably wondering what makes Superior Source Vitamins unique, right? For starters – NO MORE PILLS TO SWALLOW! Check them out below and I'm sure you will agree they are amazing!
What Makes Superior Source UNIQUE?
Superior Source Vitamins are MicroLingual® – "Under the Tongue Technology". They work fast and are quickly absorbed into the body, dissolving in seconds – NO pills to swallow! Supplements that are swallowed lose as much as 50% of the potency in the high acid environment of the stomach.
No pills to swallow
GMO FREE and Sugar FREE
90% smaller than regular vitamins
No chemical binders or fillers
Stress Less 4 Health with these Superior Source Vitamins
Vitamin B-12
No Shot® B-12 provides essential nutrients for the well-being of the heart. The combination of vitamins works synergistically to help lower homocysteine levels, lowering the risk of developing heart disease as well as providing nutritive support for healthy cardiovascular functions.
CoQ10                                         
CoEnzyme Q-10 is present in most energy-producing areas of the body and appears to have a connection to the support of healthy heart function among other possible protective and regulatory functions.
Triple K
Vitamin K supports normal blood clotting and the formation of prothrombin.
Vitamin D
Vitamin D works in conjunction with calcium to promote the development and maintenance of strong bones and teeth. Our Vitamin D products are D3, the finest source of Vitamin D available.
Melatonin
Melatonin acts as a natural aid for healthy sleep regulation and the promotion of normal sleep cycles during travel. Chamomile is an herb that works together with melatonin to promote calmness and restfulness.
Vitamin C
Vitamin C is an essential nutrient that cannot be produced by the body, therefore, it must be replenished daily. Vitamin C has several beneficial purposes including developing and maintaining healthy skin and bones, to form collagen and enhances the absorption of iron from plant-based foods we eat. Vitamin C also provides support to the body's immune system. NO sugar added; only sweetened with a little stevia. This is preferable to most "chewable" vitamin C products that typically are loaded with lots of sugar.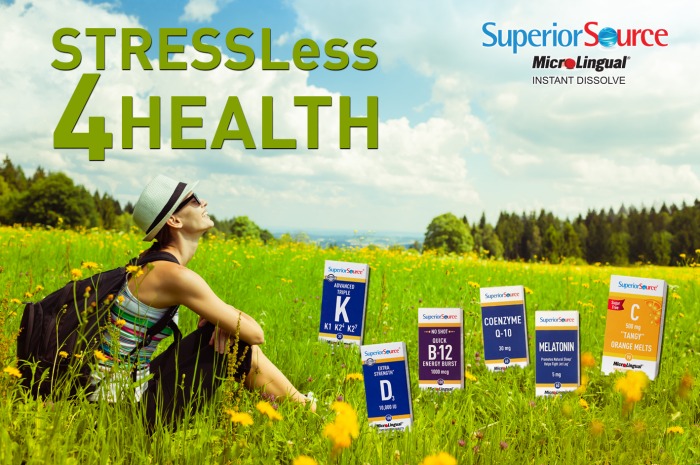 Where can you find Superior Source Vitamins & Supplements
Take care of your health and stress less with Superior Source MicroLingual® supplements! You can find these MicroLingual® vitamins and all Superior Source Vitamins at major retailers nationwide and from online retailers such as iHerb and Lucky Vitamins.
How would you like a chance to TRY THEM FREE?
Don't you love "try before you buy" items? I know I do! Well, we are excited to let you know that Superior Source gives you that chance! Simply like the Superior Source Facebook page and you can take advantage of the fabulous promotional offers below!
•FREE Vitamin B-12 – 60-Day Supply – 1,000 mcg (only pay $3.95 S&H)
• FREE Vitamin D – Any D product (baby, child, adult) (only pay $4.95 S&H)
•BOGO – FREE Vitamin C (Sour Cherry or Tangy Orange) – 500 mg – Buy One Get One Free
Connect socially with Superior Source