Take Your Honey on a Trip this Summer and 'Bee' Healthy! #ManukaHealth #ShopPRI
This post may contain affiliate links or I may have received the product free in exchange for my honest review. See full disclosure for more information.
Summer is here and for many of us, that means fun family vacations, road trips, or maybe just a weekend camping trip. Whatever your family is up to this Summer, why not take and enjoy healthy "Travel Treats" and body care products with Manuka Honey from Pacific Resources. Don't let unexpected scrapes, cuts, and bites ruin your vacation! Manuka Honey is great for treating them by adding just a little dab under the bandage. Or, to keep the travel tummy bugs away, use 1 teaspoon once a day on an empty stomach. You can enjoy these safe and soothing products every day and feel great using them because they have NO artificial flavors, colors, no corn syrup or refined sugars and NO preservatives.
As a Pacific Resources International (PRI) ambassador, I'm excited to tell you that I have a great discount that you can use to try out a few of the amazing PRI products yourself! Right now, you can get 15% off and FREE shipping! To shop, go to shoppri.com and use discount code: Travel15 at checkout. But first, I can't wait to tell you about all the wonderful AND HEALTHY items I got to try this month!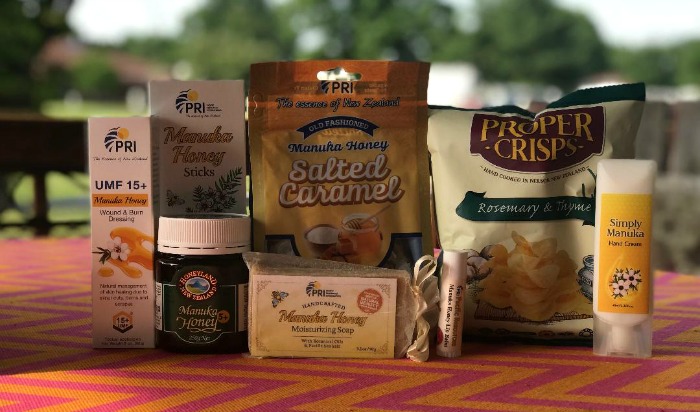 What Makes PRI Manuka Honey Products Special?:
Pacific Resources International is an exclusive importer of various New Zealand Manuka Honey, health and beauty care products. Their award winning products include Manuka Honey, Pacific Sea Salt, Propolis Lozenges, Proper Crisps Chips, Manuka Caramels, and Manuka Honey Health and Beauty Products!

Pacific Resources International (PRI) was the first company to introduce Manuka Honey to the U.S. and owner David Noll has dedicated his career to bringing native and natural New Zealand wellness products to U.S. soil. David works closely with a variety of New Zealand companies to ensure that products are made with pure, natural, and quality ingredient.
Fabulous PRI Manuka Honey Products Perfect to take on Vacation!
Honeyland Manuka Honey – ½ lb. Jar
Manuka Honey Wound & Burn Dressing
Manuka Honey Lip Balm
Manuka Honey Hand Cream – Simply Manuka
Manuka Honey Caramels
Manuka Honey Sticks – 10-pack
Proper Crisps – Rosemary and Thyme – 40g
Manuka & New Zealand Sea Salt Soap
Manuka Bites.
'Bee' healthy
with Manuka Honey products from New Zealand!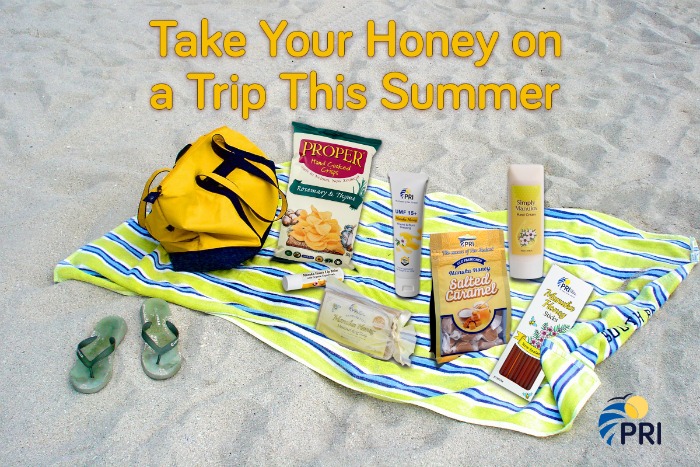 Honeyland Manuka Honey – ½ lb. Jar
The Honeyland Manuka Honey is fabulous! Pacific Resources sources their honey directly from New Zealand beekeepers. It is collected from native Manuka trees in New Zealand's remote, pollution-free forests to produce the highest quality Manuka honey. The is also cool processed. which means the honey is filtered to extract bee particles or bits of honeycomb that have fallen in the honey. This honey is 100% raw honey and is equally amazing for both the digestive tract and as an antibacterial.
Manuka Honey Wound & Burn Dressing UMF 15+
If you are looking for a fabulous wound and burn dressing, look no further than PRI's UMF 15+ Manuka Wound & Burn Dressing. It contains Manuka Honey and is an essential item for your first aid cabinet to help heal cuts, burns, and scrapes. It contains naturally occurring special non-peroxide antibacterial activity. Ingredients: Manuka Honey UMF 15+ tested under the New Zealand UMF regulations for purity.
Manuka Honey Lip Balm
Protect the tender skin of your lips! PRI's Manuka Honey Lip Balm is uniquely formulated with the healing power of Manuka Honey and Organic Ingredients to protect, restore and hydrate your lips. Keep your lips smooth and supple for that perfect kiss!
Manuka Honey Hand Cream – Simply Manuka
I don't know anyone that doesn't need a fabulous hand cream. Am I right? Manuka Honey Hand Cream is exotic botanicals combined with New Zealand Manuka Honey. It will keep your skin supple and smooth during the long warm days of summer. Their hand cream comes in 3 refreshing scents: Cool Citrus, Coconut and Lime, and Simply Manuka (un-scented) and in a handy take anywhere size.
Manuka Honey Caramels
I have told you before how much I LOVE Manuka Honey Caramels! PRI's mouth-watering caramels are so good it's hard to put them down! The Manuka Honey soft chews are packed full of flavorful goodness from the Manuka Honey and the clean Organic Flaky New Zealand sea salt.
Manuka Honey Sticks
The mouth-watering Honey Sticks are the perfect snack and a great nutritional alternative to candy. Kids love them! They come in a 10 pack, making them great for lunches, after-school snacks, and perfect for road trips!
Proper Crisps – Rosemary and Thyme – 40g
If you love crispy snacks, then you will love the flavorful Proper Crisps! These French-inspired crisps are created with real rosemary and thyme. They are dried and ground just prior to the cooking process, which releases their natural oils to ensure the freshest taste and nutritional properties. You will also love knowing that Proper Crisps are 100% Natural, Gluten Free, GMO Free, 100% High Oleic Sunflower oil, Suitable for Vegetarians, Dairy-free, and No added MSG. The delicious Proper Crisps come in 5 Delicious flavors: Kumara (Sweet Potato), Marlborough Sea Salt, Cider Vinegar & Sea Salt, Smoked Paprika, Rosemary & Thyme.
Manuka & New Zealand Sea Salt Soap
For a truly amazing experience, you have to try the Manuka & New Zealand Sea Salt Soap! It is a handcrafted, moisturizing soap that brings together the healing power of Manuka Honey, nourishing Botanical Oils, and all-natural New Zealand solar-dried sea salt. It will bring out the best in your skin!
ShopPRI on Amazon.com.
Ready to try these amazing products for yourself?
Head on over to shoppri.com to shop and remember to use discount code: Travel15 at checkout to receive 15% off your order and FREE shipping!
Connect socially with Pacific Resources International