The Voices Behind Incredibles 2 Kids Huck Milner and Sarah Vowell #Incredibles2Event
This post may contain affiliate links or I may have received the product free in exchange for my honest review. See full disclosure for more information.
Have you yet been enthralled with the INCREDIBLES 2 in theaters? If not, what are you waiting for? The 14 year wait is OVER! Now is the time to gather up the family, the neighbors, friends of all sorts and fill up that theater for the sequel!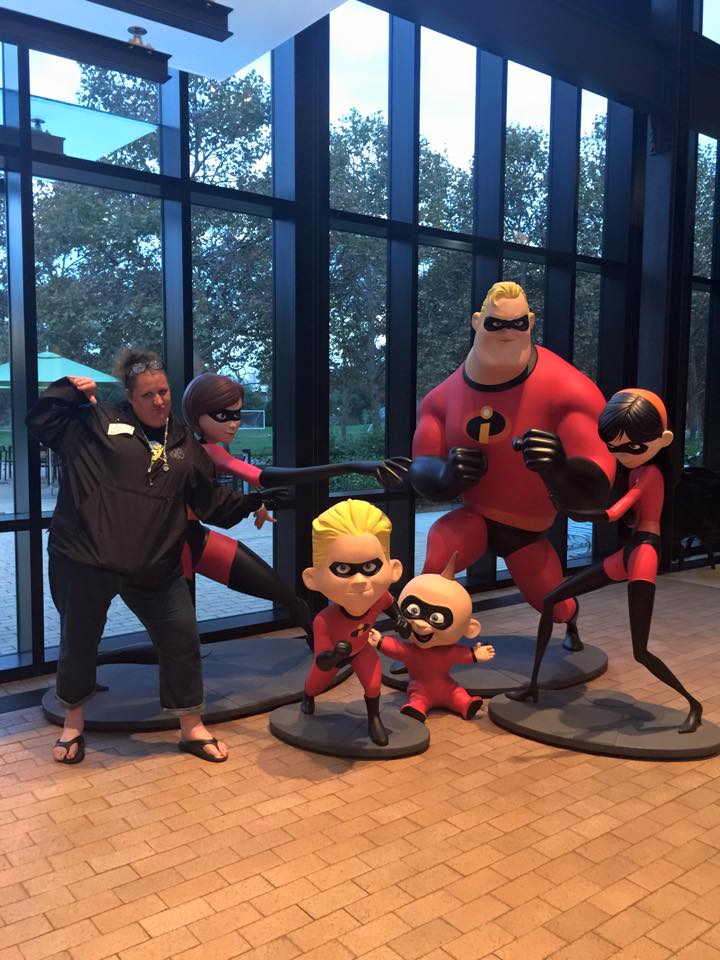 I have shared some amazing information with you over the past week or so. From our interview with voice cast members Holly Hunter (Elastigirl) and Craig T. Nelson (Mr. Incredible), to Samuel L. Jackson (Frozone). Today, I am sharing the voice talent of the INCREDIBLE kids, Dash (Huck Milner) and Violet (Sarah Vowell).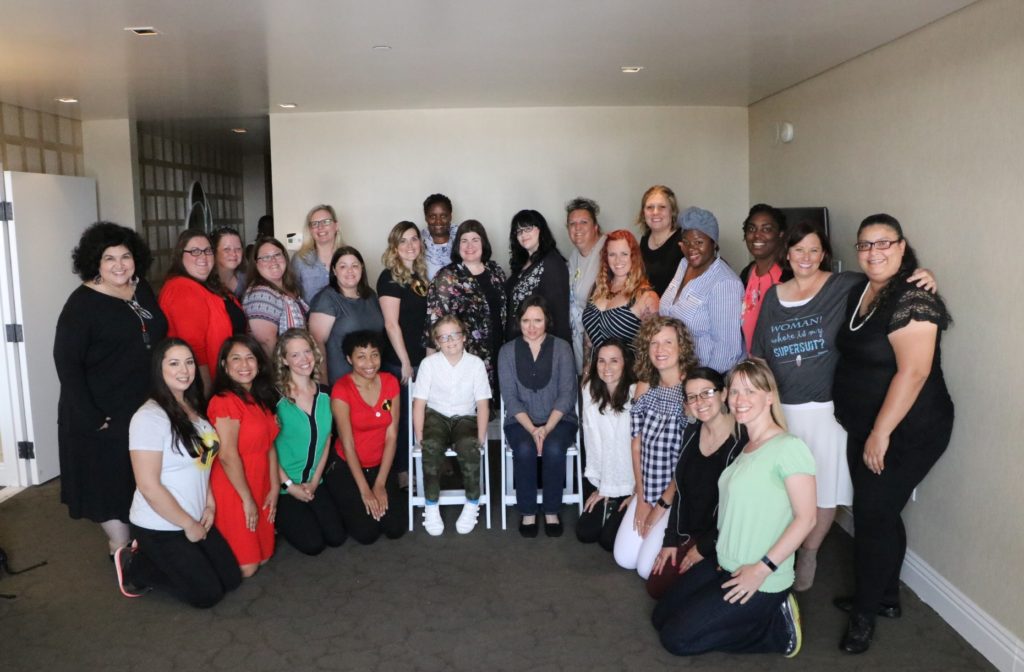 As they walked into the room, we asked Huck who is favorite superhero was. It was no surprise that we all chucked at his response, "Dash probably." If he had to choose a second one, it was Flash, no irony there, right?!
Interesting fact, Huck is only 10 years old. That means the original INCREDIBLES movie is older than he is! We asked if he was a fan of the first movie, to which he responded:
Yeah, I was a big fan. My dad showed me it, and I really loved it. Yeah, it was just a really big fan.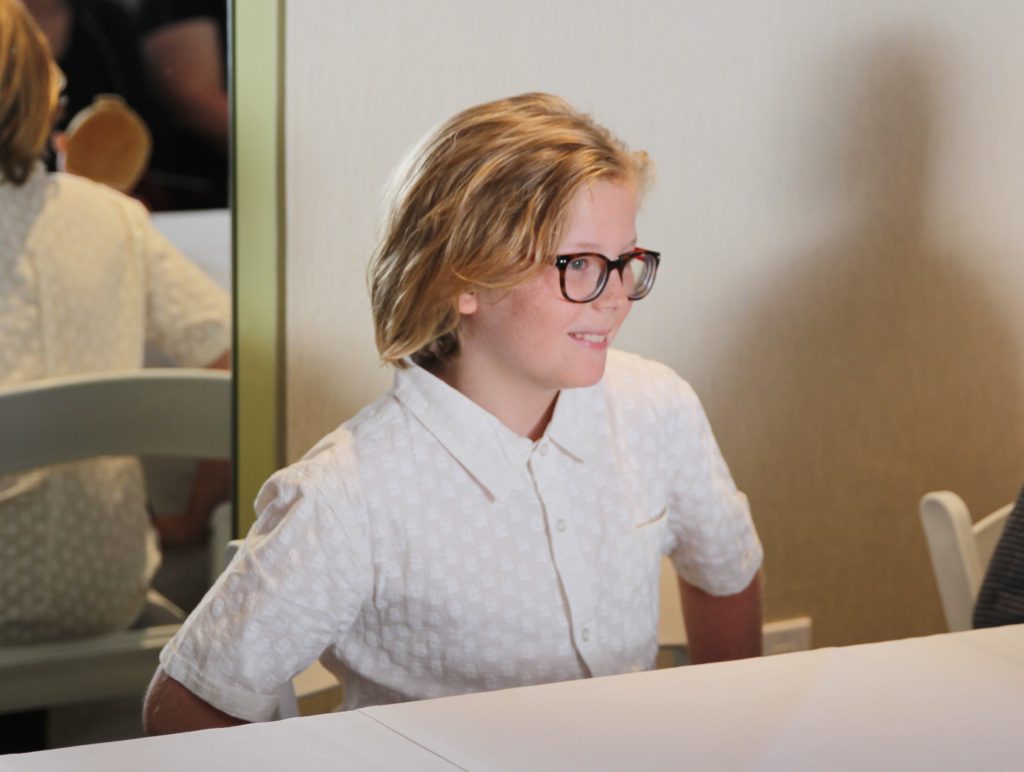 We then asked the young actor what it was like playing in such a big movie with such a prominent role.
It was actually really fun. Brad Bird made it really fun, and he just made everything really fun and it was really amazing.
Same question posed to Sarah, who was just as captivated by the young Mr. Milner as we were.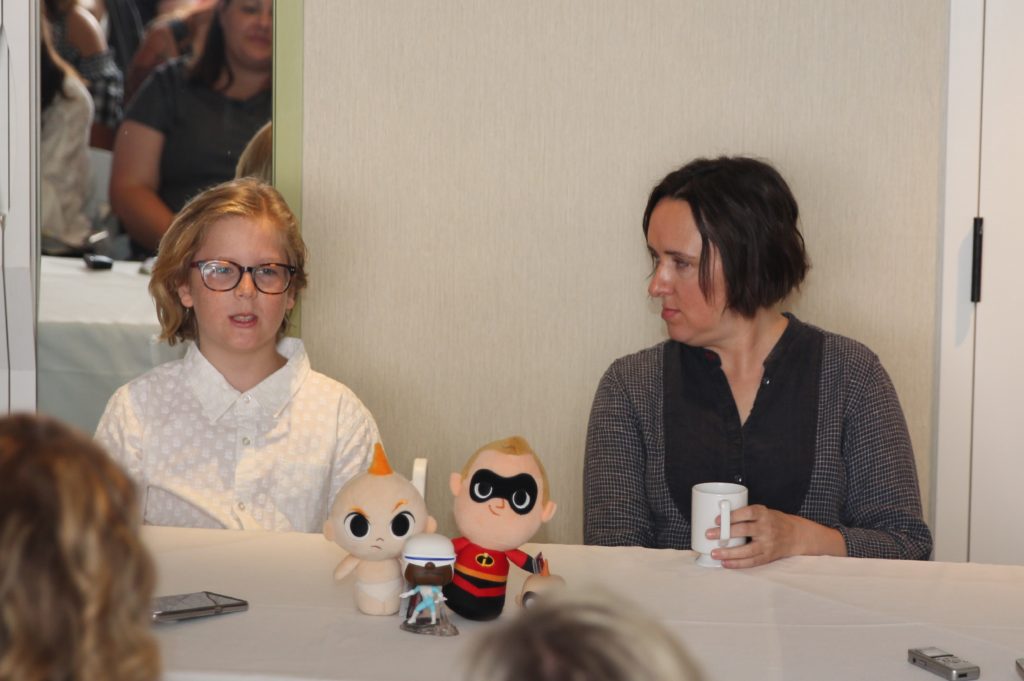 Oh, I'm sorry. What? [LAUGHS] I was hanging on your every word, about being in the — with Brad? I mean I really love that he (Brad)… I just trust him so much, especially after the first film. He always uses the best take, and he is like really entertaining. You know, because he's the voice of Edna Mode. He is an exceptional voice actor himself.  

And usually the first take you never use. I don't know about you, but because he does such great impressions. Like he does such a good Holly Hunter impression that if he is doing Elastigirl's part, I always laugh first because of the — kids' impressions are just so dead on. But, yeah, it's always really fun to do the things that come naturally, and for me that's Violet's sarcasm. She's kind of a wise guy, and that's what I'm like.

But he's very useful when it — you know, the more emotional scenes. And I was brought up to hide that stuff when you're around people and especially sound engineers. So there's a scene where Violet has to cry, and Brad was very delicate and very helpful with me and like really respectful. I trust him and because he really does believe in me and had to because I had never acted before the first film. So that relationship — because, you know, it's been a third of my life now, I like being in that room with him.

I mean, for those of you who get older, you know like the number of people who really believe in you and know what to do with you, it's a pretty small number. And he has definitely been that for me.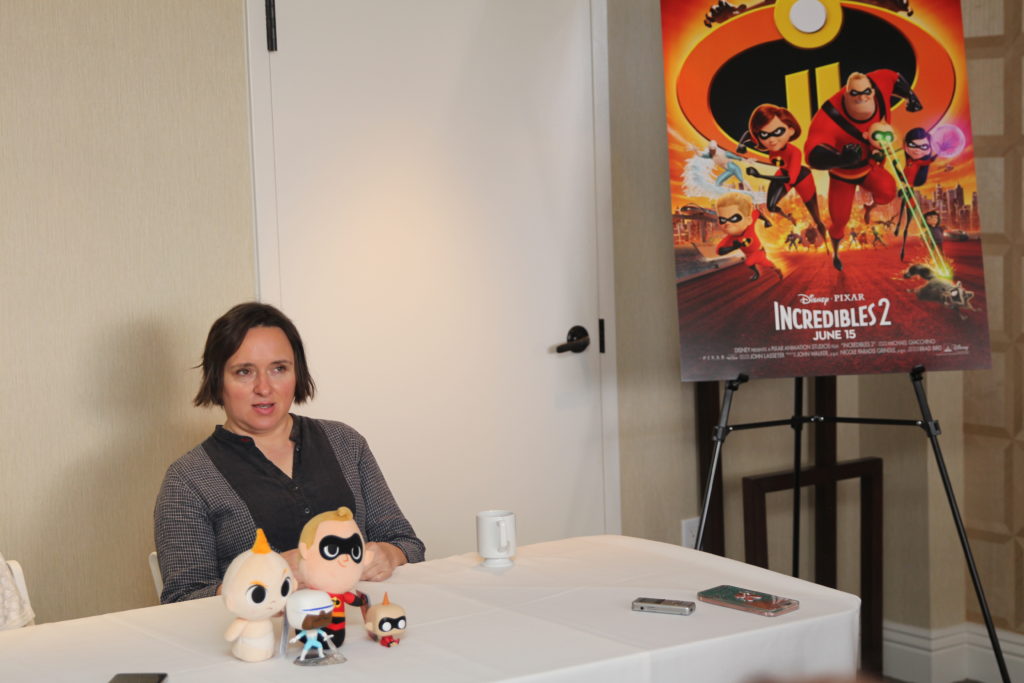 If you are a Sarah Vowell fan, you will recognize her from  the work she has done with It's An American Life and on public radio. We wanted to know how she ended up getting the role of Violet in the first movie.
It was because they were casting or thinking about casting the first film, and I think Brad was in his car listening to the radio and heard one of my public radio documentaries [CHUCKLES] and was so taken with the gravitas and maturity of my voice that he heard a junior high school student who becomes a superhero in that. So, yeah, people who are actors are like 'How do I become a voice actor?" (I tell them)…Like, go into journalism.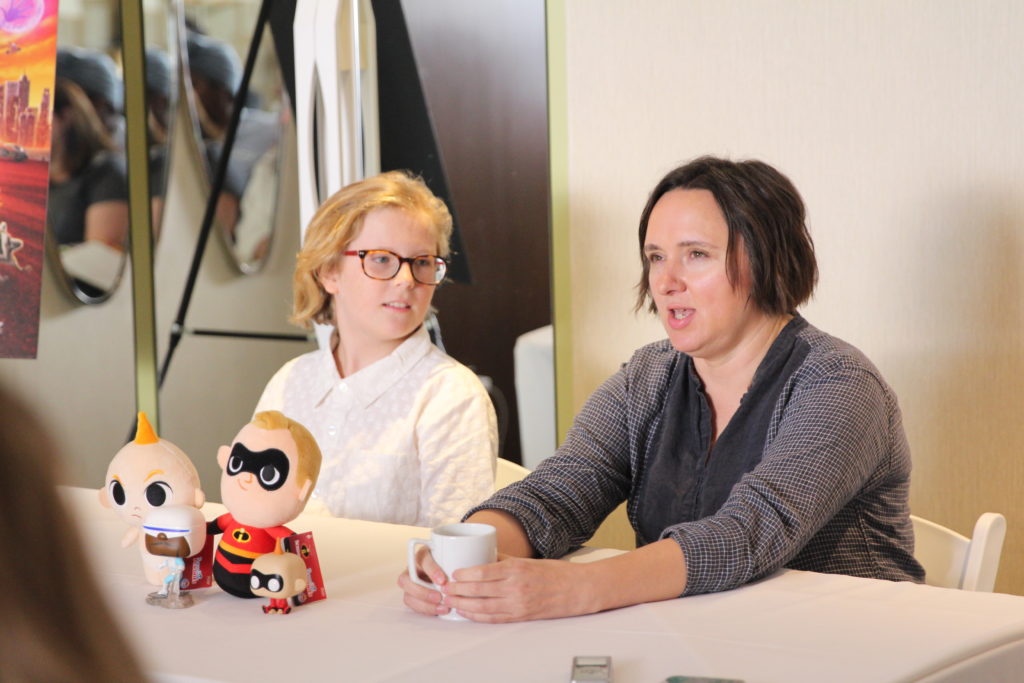 Wanting to know what it was like stepping into these roles of Dash and Violet 14 years after the first film. Each had a great response, respectively.
I mean she (Violet) and I sound a lot alike, so there's that. And, you know, Brad and I became friends in the first film. And, you know, some of the other people who work behind the scenes. So, I have kept in touch with everybody. I would just go there just to have lunch with them sometimes. So, I was perfectly happy to just, you know, move into another room and get paid to be there.

I think it has been a while since the first film, but like when you become one of these characters — you will learn this, (she motions to Huck) 'Huck — you are Dash until you die.' [LAUGHS]

Like, that lady who was Snow White got old, and she was always Snow White. And so, not a week goes by I haven't talked to someone who wants to talk about how much they love the film or what Violet means to them or — you know, like they always stay alive.

Like when I was a kid, there weren't even VHS tapes yet and, you know, if you saw a movie, it was gone. I think since then because of VHS and then DVD's and now streaming and children watch these films over and over again and I'm sure, as you know, so do their parents. And so, at any given day someone is watching that movie. So, Violet stays alive just because of other peoples' fandom.
We all I think have secretly harbored a feeling at some point of having super powers of our own and thought of tons of ones that we would have. We asked each of them what super power they each would love to have in real life, given a choice:
Huck: Mine would be super speed like Dash, probably because I'm really slow in real life. [LAUGHS] I cannot beat my cousins or my sisters at any game involving running. So, I wanna be able to go somewhere and then just come back and be like 'I was here the whole time.' [LAUGHS] Yeah, so I would just love to have Dash's power.

Sarah: As a middle-aged lady, I would love super strength, because I don't know if any of you have like those rubber jar opener things. [LAUGHS] Like, wouldn't it be great to just open a jar of jam with your own like without pounding it on the counter.

Yes. Or like have you tried the trick where you like boil water in the tea kettle, pour that over the jar and then use the rubber jar opener to get it open. That's the stage I'm at now. If I could just like go back in — if I could just open a jam jar or like move a car with my hands, either of those two things, I would love.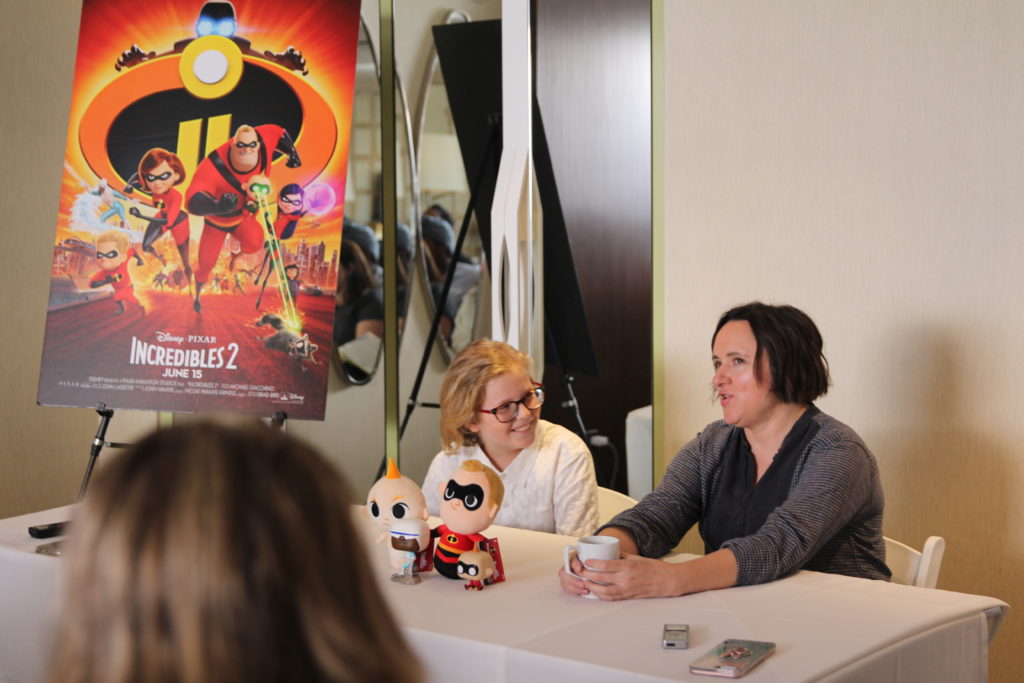 Being the kid he is, it will come as no surprise that young Huck "actually one time put on the Incredibles suit and ran around the entire Pixar Studios."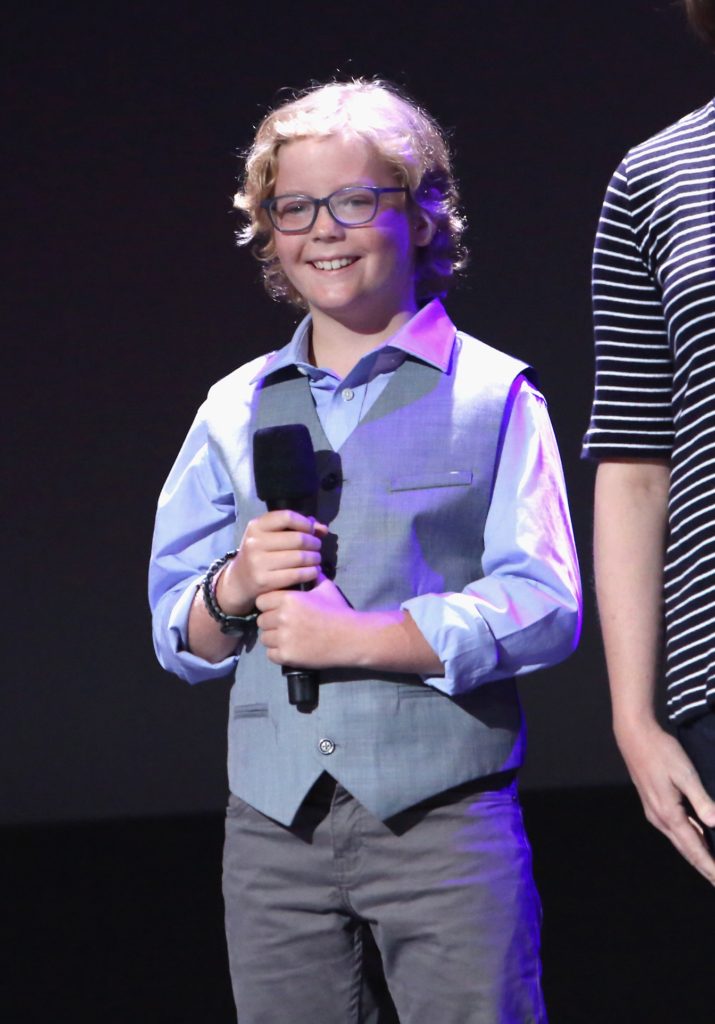 At the young age of 10, this was Huck's first movie premiere and we asked him what his thoughts were on it. Before I tell you, let me say that I have covered several red carpet events as media and it was a lot to take in! Imagine it as the actor for the first time through 10-year old eyes!
Overwhelming [CHUCKLES], a lot of it was. But I thought it was actually pretty fun, and it was — the party afterwards was really fun. And seeing the movie and listening to everyone's reactions and laughing, and it was just — fun to be in the giant theater with everyone.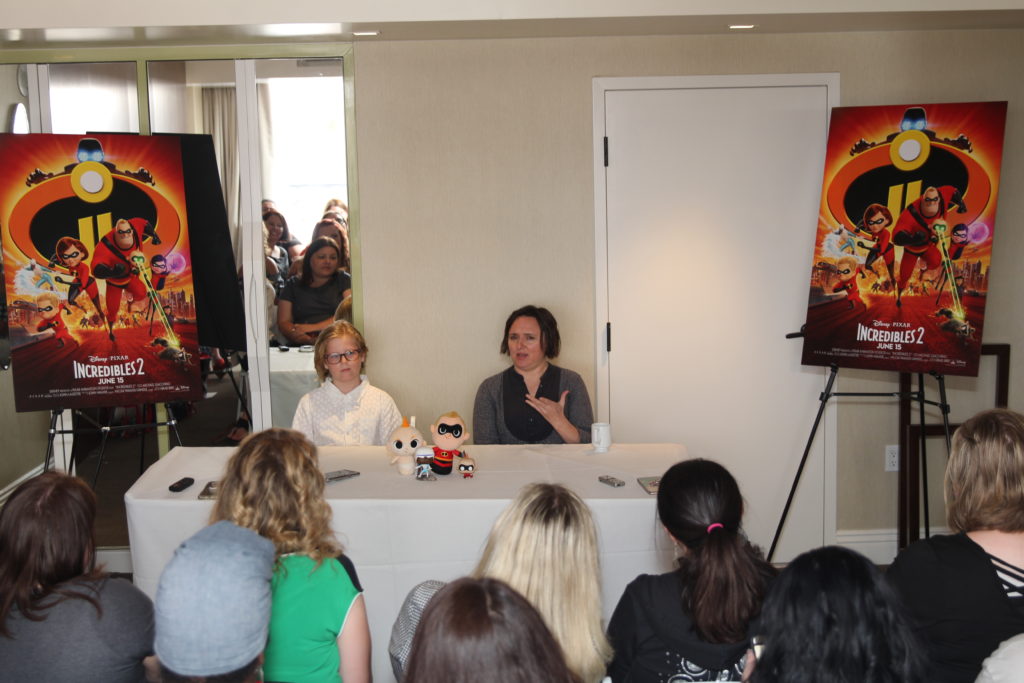 Sarah Vowell is such a marvelous conversationalist. Listening to her candor and talk of Violet was such a joy. We asked her how she would like to Violet's character growing up.
I mean I do, like fantasize about it sometimes. Like, is she gonna be a foreign exchange student? And will she live with a superhero family? And in what country? And like what if she's living with a superhero family in a country where, you know, women aren't allowed to drive? How would that work, you know? Or how would she deal with all of that kinda stuff?  I mean she's so apart of her family. What happens when she leaves the family? Like, that is actually the story of every kid growing up.

So, I mean I think while, as a superhero, I'm glad the film takes place in the same time period and to see how those powers represent a certain kinda person. But for Violet, it would be interesting to see what happens to her when she goes out into the world. I mean, not just becoming a superhero out in the world. Like the first time a young adult has to go grocery shopping. What would that be like, all that stuff? So, I don't know what is her life going to be like?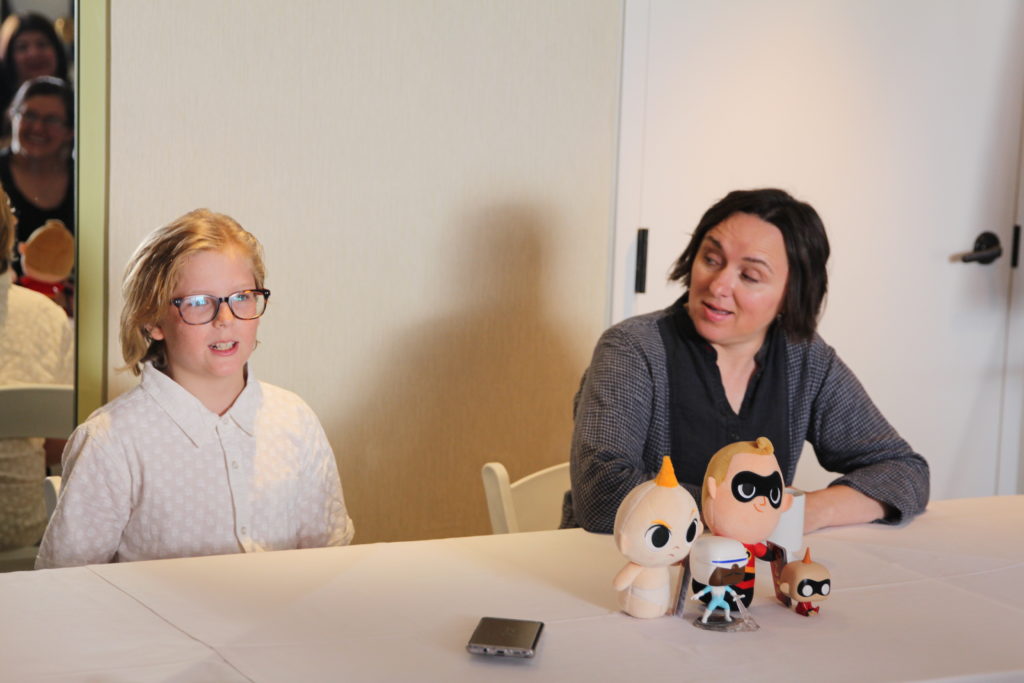 Such a great interview with these two. I cannot wait to see where each respective actor takes their career. Be sure to stop back on the blog tomorrow as I share our interview with Catherine Keener (Evelyn Deavor) and Bob Odenkirk (Winston Deavor).
---
Get ready for an INCREDIBLE TIME!

ABOUT THE MOVIE
Everyone's favorite family of superheroes is back in "Incredibles 2" – but this time Helen (voice of Holly Hunter) is in the spotlight, leaving Bob (voice of Craig T. Nelson) at home with Violet (voice of Sarah Vowell) and Dash (voice of Huck Milner) to navigate the day-to-day heroics of "normal" life. It's a tough transition for everyone, made tougher by the fact that the family is still unaware of baby Jack-Jack's emerging superpowers. When a new villain hatches a brilliant and dangerous plot, the family and Frozone (voice of Samuel L. Jackson) must find a way to work together again—which is easier said than done, even when they're all Incredible.
Voice Cast includes Craig T. Nelson, Holly Hunter, Sarah Vowell, Huck Milner, Samuel L. Jackson, Brad Bird, Bob Odenkirk, Catherine Keener, Jonathan Banks, Sophia Bush and Isabella Rossellini
Here is the OFFICIAL Trailer!
In theaters on June 15th, 2018, stay connected socially with Disney•Pixar's INCREDIBLES 2 for the newest film information and clips
 Facebook |  Twitter | Instagram | Website
---