The 3 Best Gifts for the Special Bride in Your Life in 2020
This post may contain affiliate links or I may have received the product free in exchange for my honest review. See full disclosure for more information.
Anyone getting married this year — or in the near future — needs all the TLC they can get. While moving into this phase of life and forming a family is such a blessing, these are trying times and nothing is easy. If you can help provide even a little something extra to the bride in your life, she will be sure to appreciate it now more than ever.
Unfortunately, this doesn't necessarily make it any easier to pick out the right gift. Sure, there's always a registry to fall back on, and while picking something off the list can be worthwhile, certain times — and certain loved ones — call for a more personal touch.
What's the best gift for any bride at a time like this? The following options are definitely a great place to start.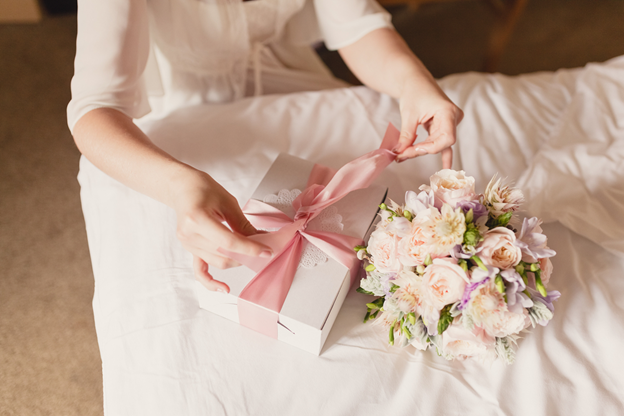 Self-Care
At this point, we all need a little assistance when it comes to taking care of ourselves. After all, it's easy to get into a little funk and slip up on our healthy routines. Especially with such a big event and transition coming up, that is very likely to be the case for any bride. That's why a self-care package of goodies can do so much good. Skincare products can be at the top of the list, including an essential oil set. Indeed, everyone can use some new luxury items to help them feel their best, or you may even be able to fund a trip to the salon or day spa if the timing is right.
Intimate Garments
If you listen to standup comics, there are some things that disappear once you get married. Well, perhaps for some people that may, in fact, happen in time — but we're talking years or decades down the line. Newlyweds usually have other interests and needs. Some even have a very one-track mind right off the bat. So, what's better to help the bride really enjoy her new life than with some quality bridal lingerie? This fun, romantic gift idea is a great way to make sure she feels sexy and confident as the lucky couple gets their marriage off to a good start.
Sipping Well
One thing most people can agree on is enjoying a good, quality drink. In that vein, this makes some fine wine, champagne, whiskey or another spirit of choice a great gift option. Naturally, the goal here is to go high end, so buy something special that the happy couple is unlikely to splurge on for themselves. Or, rather than the beverage itself, you can also go with some nice wine glasses, flutes or a decanter. These are the types of items everybody needs and can work great when you find the right antique or modern style with the right look.
The Best Bridal Gift Before the Big Day
Love is a celebration. Family is everything. Big changes in life are exhilarating. When they all combine in the form of a wedding, it's a truly magical time. Now you need to commemorate it properly.
When looking for the best gift, consider something that will help with self-care. Look toward the bedroom with some bridal lingerie. Or, think first about what luxurious drink you can help the couple pour into their glasses. Any of these ideas can be the perfect, thoughtful gift for the loved one in your life before their big day.