'The Chosen' Returning to Theaters for Season Finale
This post may contain affiliate links or I may have received the product free in exchange for my honest review. See full disclosure for more information.
'THE CHOSEN' SEASON 3 FINALE TO PREMIERE FEB. 2&3 INTERNATIONALLY IN 2000+ CINEMAS
Final Two Episodes of Season 3 of The Chosen TV Series Goes to the Movies
THE CHOSEN – the global phenomenon, multi-season episodic television drama based on the life of Jesus – will launch the highly anticipated final two episodes of its third season in more than 2000 movie theaters across the United States and in English-speaking territories.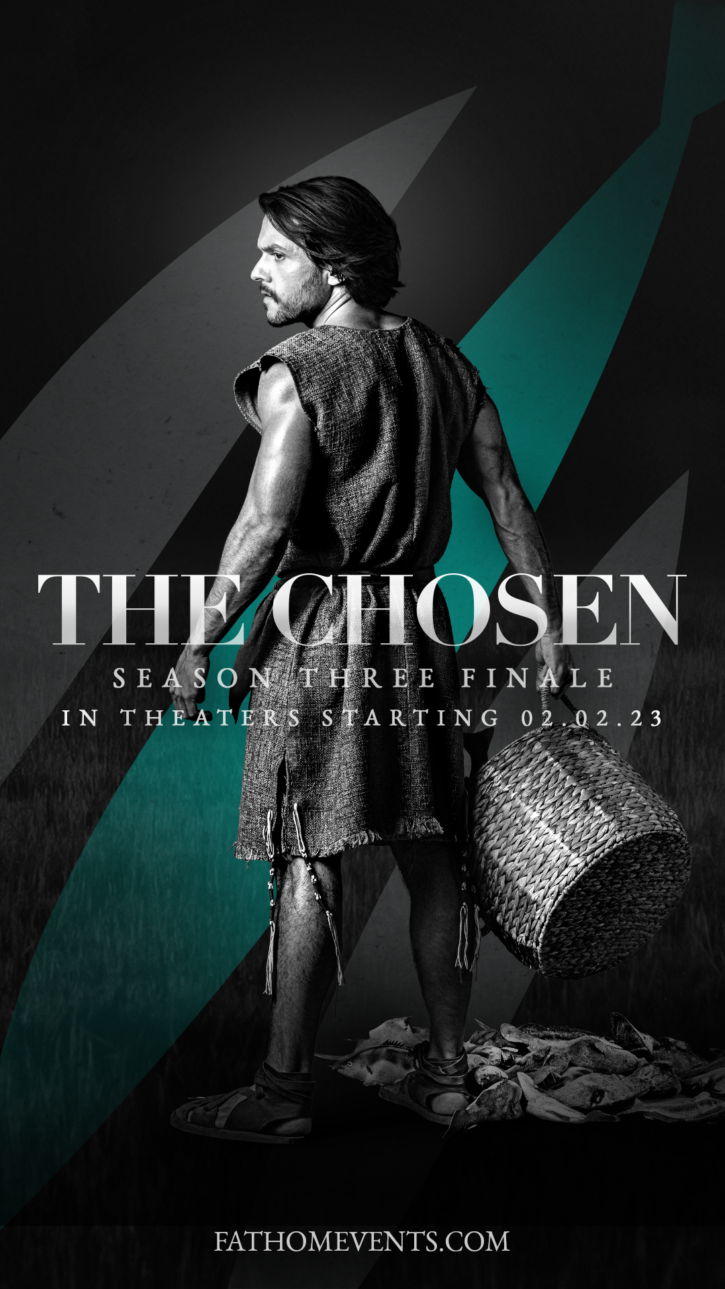 Episodes 7 and 8 premiere:
Thursday, Feb. 2, 2023, at 3 p.m. and 7 p.m. local time
Friday, Feb. 3, 2023. at 3 p.m. and 7 p.m. local time
Participating theaters may add additional dates and times.
With more than 450 million episode views from around the world, THE CHOSEN is a fan-supported, seven-season television series that creates an authentic and intimate picture of Jesus' life and ministry, seen through the eyes of the people who knew him.
"Once we saw Episodes 7 and 8 finished with the incredible music and the biggest story we've told yet, we all said this has to be on the big screen," said Director Dallas Jenkins. "And knowing what I know about some shocking twists, I cannot wait to see the fans respond in a room together."
"We're excited to team up with The Chosen again in bringing these dramatic episodes to theaters
nationwide," said Ray Nutt CEO of Fathom Events. "Fans love this series and the shared communal
experience they can get only in theaters — we can't wait for them to see the Season Three finale."
Distributed through Fathom Events and beginning Feb. 2, THE CHOSEN episodes 7 and 8 of Season 3 will show at least two times per theater over two days with extended runs possible both domestically and in the U.K., Ireland, Canada, Australia and New Zealand.
Tickets for THE CHOSEN episodes 7 and 8 of Season 3 can be purchased online by visiting www.FathomEvents.com, or at participating theater box offices. For a complete list of theater locations visit the Fathom Events website (theaters and participants are subject to change).
Season 3 comes to a stunning conclusion in this perfect-for-the-big-screen event. In episodes 7 & 8, the season's storylines reach an epic climax as Simon and Eden face their marital crisis while the thousands of people gathering for Jesus grow restless…until a boy brings five loaves and two fish.
Over the course of its first three seasons, the series has garnered praise from critics and fans alike for its historical and biblical accuracy, playful spirit, stirring drama, genuine humor and disruptive impact. It has been translated into 62 languages (and counting) and is consistently one of the top-searched shows.
About THE CHOSEN
THE CHOSEN completed filming of its third season in September 2022, continuing its unprecedented success as the largest fan-supported entertainment project of all time. It has been translated into 62 languages and counting. With no fee or subscription required, it's completely free to watch and available as both a standalone mobile and TV app, plus available on multiple streaming services. Viewer support enables the show to remain free around the world. THE CHOSEN, an Angel Studios Original, is produced by Loaves & Fishes. For more information, visit
thechosen.tv/3
.