The Making of The Good Dinosaur: From Paint on a Canvas to Visually Appealing Special Effects #GoodDinoEvent
This post may contain affiliate links or I may have received the product free in exchange for my honest review. See full disclosure for more information.
Earlier this fall, I had the opportunity to visit the Pixar Animation Studio in Emeryville, CA. While there, I had the chance to see what it was like to visit each department, meet with teams and see what it takes to create a Pixar Animation movie. From the first, raw sketch based on a fun idea, to the visually appealing movie we all see in theaters, the process is a lot more intricate and detailed than anyone could possibly imagine.
In my last post, I shared with you the fun art department and character animation and motion research. This time, I am excited to share with you the fun world of lighting, special effects and the creative research both inside and outside the animation studio.
LIGHTING with Sharon Calahan
 Sharon Calahan. ©2015 Disney•Pixar. All Rights Reserved.
While it may not sound very intriguing, lighting is one of the central, key focal points of any perfect movie or picture. Capturing the property lighting, whether dim or bright is what really gives a crisp, clear visual of the movie. We first met with Sharon Calahan, Director of Photography. Sharon is an amazing artist as was responsible for capturing some of the most important pieces of scenery and the characters look in this movie. Sharon has worked on amazing films including Never Cry Wolf, Dances with Wolves and Heaven's Gate. Sharon has an amazing eye for natural scenery, as she loves nature and would often go on trips with natural landscape to paint and gather inspiration. Here is just a sample of some of Sharon's contribution to The Good Dinosaur.
Set Design and Direction with David Munier
David Munier. ©2015 Disney•Pixar. All Rights Reserved.
Lighting and research work very closely with the designing of the setting and direction of the movie. David Munier was the set director for The Good Dinosaur and did extensive research with both Sharon Calahan and the film's lead director, Pete Sohn. They traveled to Jackson Valley, WY and most particularly, the Grand Tetons Mountain Range to get a crisp, visual idea of what they wanted to capture and bring to the film. The picturesque terrain really does come to life in this movie.
Some interesting things that David and his team did was actually download data from the USGS for Yellowstone Park geometrics that was free online and it included over 13,000 square kilometers of data and landscape information. This technology has been used in many movies, including Cars 2 and Mount Fuji. This helps them fashion and model canvasses to create the most realistic set imaginable.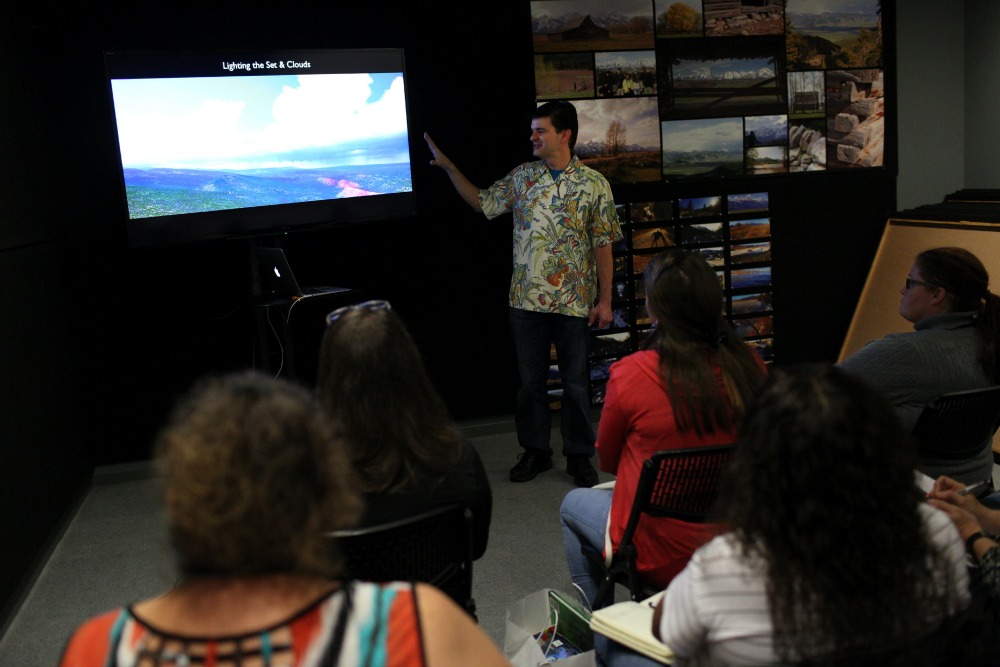 Special Effects with Jon Reisch
Photo by: Marc Flores. ©2015 Disney•Pixar. All Rights Reserved.
After all of this extensive research work, one of the final pieces is Special Effects and that is where Jon Reisch puts his artistic touch into a movie. Jon is the Effects Supervisor for The Good Dinosaur. Some of his work includes Brave.
One of the most noteworthy things Jon did for The Good Dinosaur was give the realistic look to the water and rain within the movie. I myself have watched dozens of movies and really love special effects that draw me in and give me a sense that I am there, apart of that scene.  This is what Jon does best. He noted that in Special Effects, water has to be one of the hardest elements ever to create. He wanted to put a lot of detail and effort into the water scenes within this movie, as the river is the heartbeat, or lifeline if you will, of this movie, so it was crucial to him to make it as altruistic as possible.
This movie had 31 effects artists working on the special effects. That is 2 times the normal amount for any movie. That shows you how much detail and time, love, compassion and dedication went into the making of The Good Dinosaur.
I love that all departments have a crucial, pivotal role in bringing these lovable movies to life. They work together so cohesively and it becomes a part of them.
The Good Dinosaur movie comes out on the big screen on November 25th and is a MUST SEE! Also, watch for more fun and exciting posts regarding The Good Dinosaur, Disney, Pixar and much more to come. To get you excited, here is a sneak peek of the new trailer recently released.
"The Good Dinosaur" asks the question: What if the asteroid that forever changed life on Earth missed the planet completely and giant dinosaurs never became extinct? Pixar Animation Studios takes you on an epic journey into the world of dinosaurs where an Apatosaurus named Arlo (voice of Raymond Ochoa) makes an unlikely human friend. While traveling through a harsh and mysterious landscape, Arlo learns the power of confronting his fears and discovers what he is truly capable of.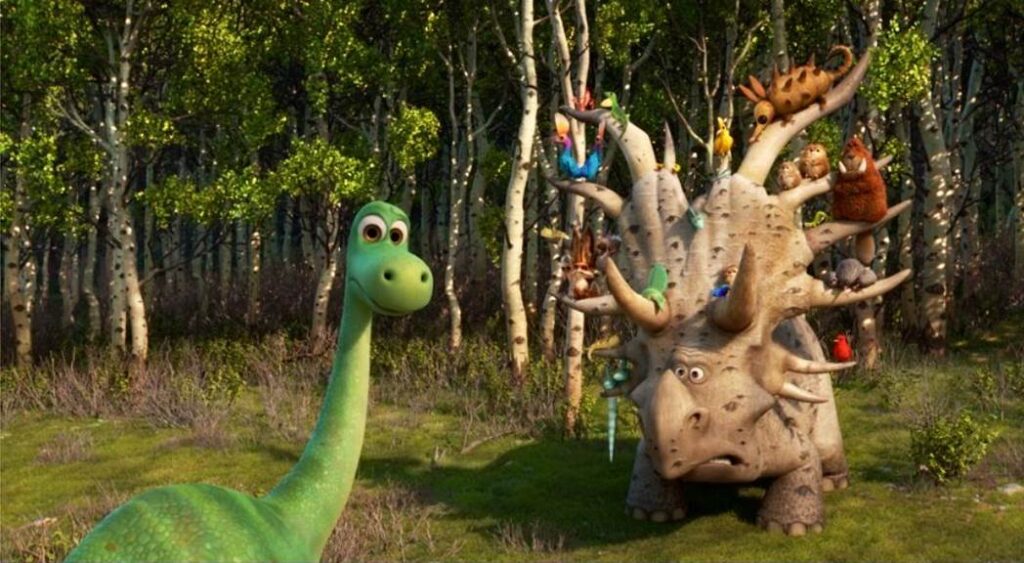 Directed by Peter Sohn and produced by Denise Ream ("Cars 2"), Disney•Pixar's "The Good Dinosaur" opens in theaters on Nov. 25, 2015.
Be sure to stay socially connected and up-to-date on The Good Dinosaur