The Nail Grooming Product You Didn't Know You Needed: Lil Nipper Automatic Nail Clipper #MegaChristmas22
This post may contain affiliate links or I may have received the product free in exchange for my honest review. See full disclosure for more information.
Have you ever tried to clip a baby's nails? Better yet, how many nail clippers have you misplaced? Whether you're a parent trying to clip the tiniest nails, kids learning to cut their own or just need a new one, we bring you the automatic trimmer, Lil Nipper! Lil Nipper is available in 3 sizes: Infant, Child and Adult.
This battery-operated trimmer is designed to safely clip fingernails without harming surrounding skin. With an LED light shining over the nail, the tool is gentle yet precise! Nail clippings are captured in a hidden compartment for a mess-free solution and the product is antimicrobial to reduce the spread of germs and bacteria.
When my kids were babies I was so worried I would nick them while cutting their nails. I wish we would have had this when they were little, it would have made it so much more stress free. Now that they are teenagers they are able to use the adult size, and I feel confident enough that by using this they won't cut themselves and No Mess! This would make a great gift for a baby shower, or for the upcoming holidays!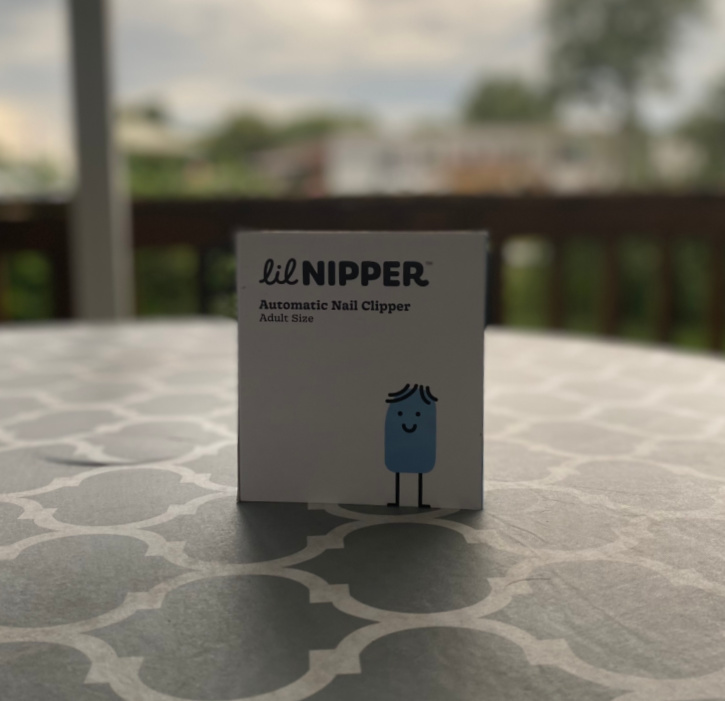 About Lil Nipper:
Joy and confidence come with accomplishing small tasks, no matter how seemingly-simple. Because "simple" means something different to each and every one of us.

Which is why we build joy and confidence into each of our products. Whether it's encouraging your toddler's independence, helping an elderly loved one maintain their self-reliance, or giving dad a new way to help with the infant, our nail clippers are safe, easy, and reliable.

So welcome to our world, where each day means a new opportunity to manufacture joy–collecting smiles with every clip.

Clever clippers that are "transforming ordinary".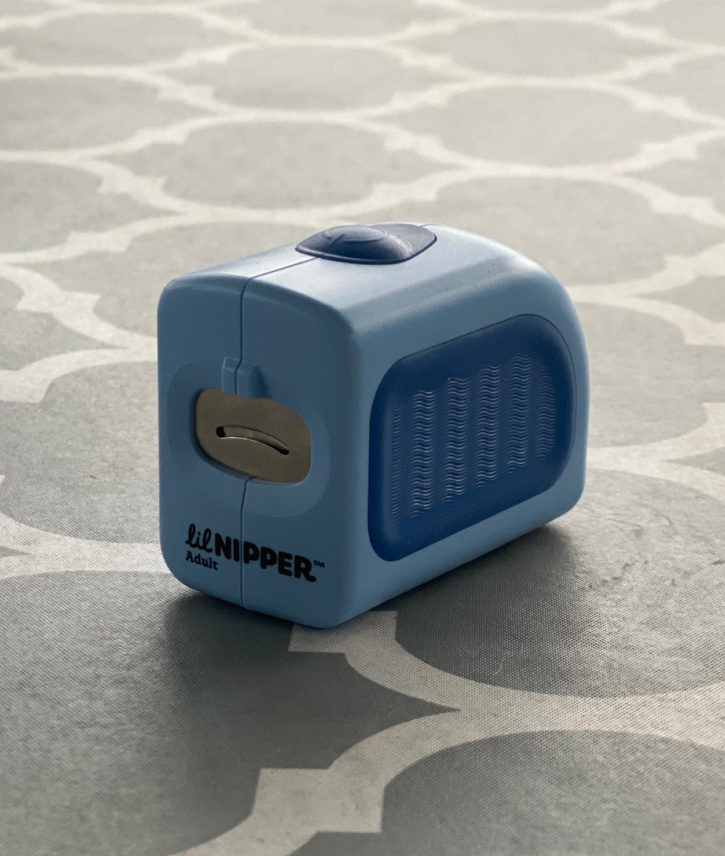 Soft On/Off self-locking button and easy grip side panels.
All plastic materials contain an antimicrobial additive to minimize microbial growth.
Bright LED indicator light shines over the nail slot to aid in clipping of nails and provide battery and charging status.
Medical-grade stainless steel nail plate and blade. No sharpening required.
Hidden nail compartment with sliding bottom for convenient storage and disposal of nail clippings.
Automatic, rechargeable high capacity battery so it is truly effortless and long-lasting.
Small & compact so it is perfect for on the go!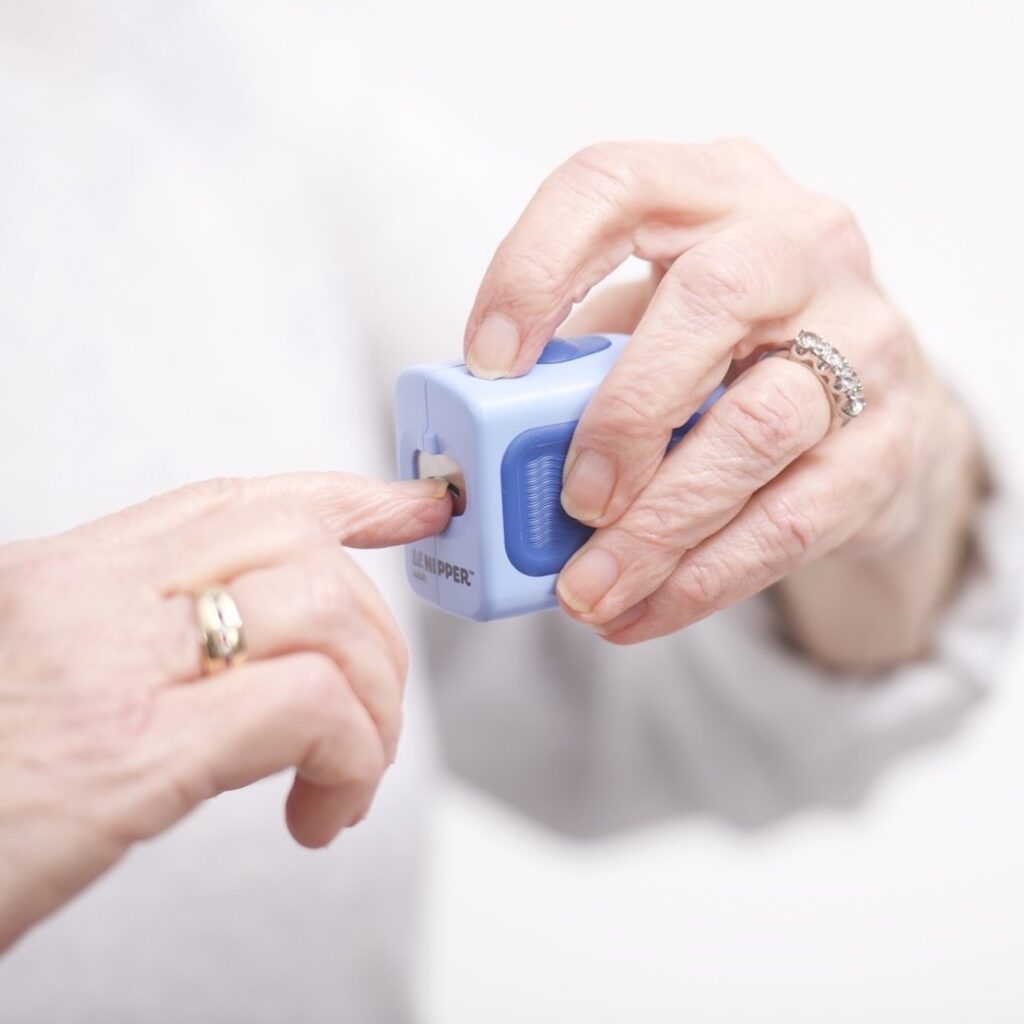 Lil Nipper – Infant
Designed for delicate nails, a safety shield helps protect tiny fingers. A small LED spotlight shines over the nail slot to aid in clipping and all plastic materials contain an antimicrobial additive.
Allow for increased independence with toddlers and older children by letting them learn to use the Lil Nipper on their own. With a soft on/off self-locking button, the tool is designed specifically for small hands and provides easy-to-grip plastic and a hidden nail compartment for convenient storage and disposal.
Small and compact for on the go, the rechargeable Lil Nipper is an effortless solution for adults too. Made with a medical-grade stainless steel nail plate and blade that never requires sharpening, the patented trimming mechanism provides a continuous clean clip.
Lil Nipper Nail Trimmer is available for purchase on their Website.
Order 2 or more Lil Nippers and receive free shipping. Available in 3 sizes: Infant, Child and Adult
Stay Socially Connected with Lil Nipper:
________________________________________________________________________________________________
We have added the Lil Nipper Automatic Nail Trimmer to our 2022 Holiday Gift Guide