tinyB Chocolates Make Tasty Stocking Stuffers #MegaChristmas18
This post may contain affiliate links or I may have received the product free in exchange for my honest review. See full disclosure for more information.
I have got THE BEST recommendation for a stocking stuffer delight this holiday season – tinyB Chocolate's brigadeiros, a heavenly Brazilian cousin to the chocolate truffle, with a smooth, creamy texture, but no hard shell.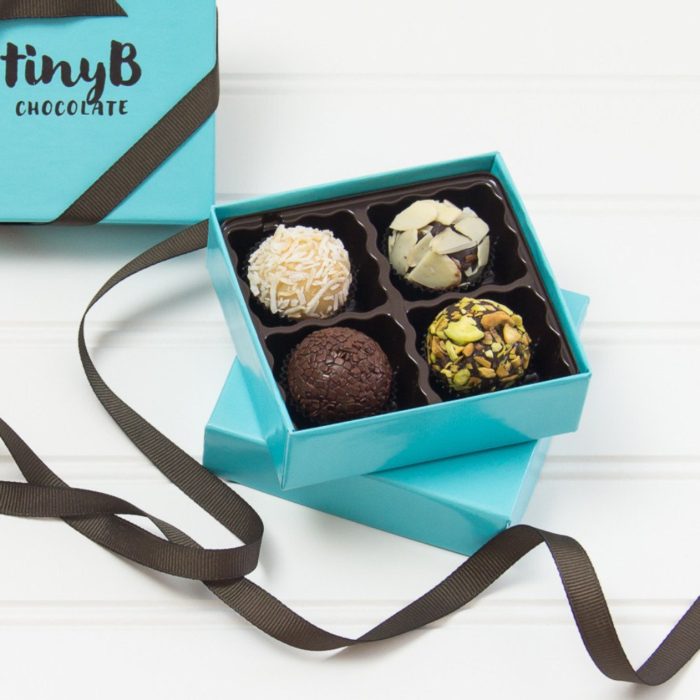 More about tinyB Chocolates
Brigadeiros have an interesting history. They were invented byBrazilian women in the mid-1940s as a product to sell to raise funds for the women's rights-conscious presidential candidate—Brigadier Eduardo Gomes. They were the Brazilian MAGA hats or HOPE posters of their day! 

Brigadier Gomes didn't win the election, but "brigadeiros"became a national tradition and are still made across Brazil to this day. Now, San Franciscan and tinyB founder Renata Stoica (a Sao Paolo native) is using her old family recipe to bring the tradition to America. Renata infuses the brigadeiros with flavors that remind her of home, like passion fruit, pineapple, cayenne pepper, and Brazilian coffee.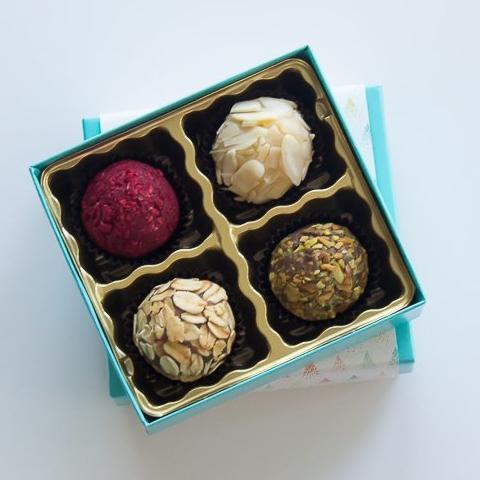 Each box of chocolates is handmade and made-to-order in their location of San Francisco, CA. The 4 Brigadeiros sampler comes with 4 decadent flavors to try. They can include any of the following flavors, including milk chocolate with sprinkles, coconut & cream, dark chocolate & almonds, dark chocolate & pistachio and dark chocolate & sprinkles. You can also customize the box utilizing their flavor chart.
Our sampler included Strawberry Cheesecake and "Oh My Word!" was it ever delicioso! tinyB Chocolate comes is assorted flavors and sizes. This 4-pack brigadeiros sampler would make a wonderful present for your delivery drivers, child's teacher or nestle it lovingly into someones stocking.
Find out more about what tinyB Chocolates has to offer and pick some up today for a great Christmas present or to try out on your own.
---
We have added tiny B Chocolates to our 2018 Holiday Gift Guide