This post may contain affiliate links or I may have received the product free in exchange for my honest review. See full disclosure for more information.
Have you ever found yourself at the end of a long, hard day sitting on the couch or laying in bed and realizing, even though you're totally vegging out and binge-watching, you aren't relaxed? You can literally feel the tightness and stress in your shoulders or your neck. And, no matter how you reposition or if you pour another glass of wine, you're just not relaxing? If this resonates with you, you're not alone. Being able to relax genuinely is something that all too many people struggle with. Keep reading for some tips on how to actually relax and how it will benefit you.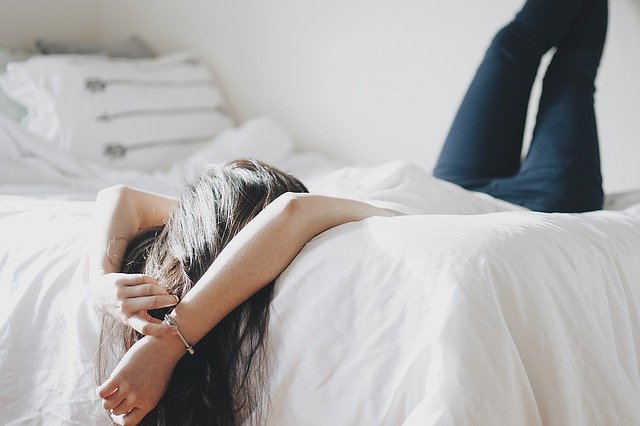 Pleasure
Let's just start things off fun and spicy. One of the easiest and quickest ways to relax your mind and body is through pleasurable activities. Whether that's browsing vibrators for sale to keep things interesting or knitting sweaters to stay warm, doing activities that bring you true pleasure. Bonus points if that get a sense of accomplishment (both knitting and sex do that, by the way) is a sure-fire way to release essential relaxation hormones in your brain, and your body's muscles will follow the brain. You should be feeling chiller in no time.
Ditch Screens
Oh, we've heard it a million times, and we've also told our children. Numerous studies show that screen time isn't the best for us. Especially these days, a trip onto Instagram can quickly turn into doom scrolling. If you don't know what that is, don't look it up and keep your positive vibes vibing. But, there is truth, in fact, that whether we're trying to fall asleep or relax our minds and hearts, screens may not be the best way to do it. Next time you want to reach for your Roku or your iPad, try picking up a book you've been meaning to read for a while. The simple act of reading words on pages is not only calming but allows you to focus on a calm task instead of a flashy, fast-paced moving screen.
Ditching the screens (all kinds, including your phone) is especially important if you are trying to fall asleep or have difficulty falling asleep in general. If this is the case for you, you'll want to minimize all screen distractions at least two hours before bedtime.
Scent Sense
The sense of smell is so much more important than we sometimes realize. Of course, scents can bring on feelings of nostalgia or alert you to danger, but they also play a critical role in our emotional and mental state. Try burning incense or using calming essential oils in a diffuser in your home to set a tone of relaxation in your household. If you own pets, be sure that you run by which oils you want to diffuse in your home, as some animals, primarily cats, are highly allergic to essential oils. If this is the case, incense and wax warmers are a great alternative. All this to say, the smells you surround yourself go a lot further towards your overall relaxed mood than you may have realized.
Sparking Joy
We all remember Marie Kondo and how she took the world by storm a few years ago. And, of course, just the buzz around minimalism in general. But there is some proof in the minimalistic pudding. If you find that you have so much clutter in your home that you're struggling to stay on top of it, it's definitely messing with your abilities to relax at the end of the day. It could be worth looking into simplifying your life and minimizing the number of possessions you own. The bottom line – the less you have – the less you have to worry about. Fewer worries equal more relaxation.
Diet
Lastly, diet and nutrition have to be mentioned as your gut is your second brain. As they say, you are what you eat, so if your diet is high in fast and processed foods, chances are you're not getting the adequate nourishment your brain and body needs. The food you eat has a direct impact on your overall health – mood included. So, whether you want to try going plant-based for a week to see if that helps you, or you just want to cut soda out for a week or two – it's worth taking a hard look at what you put into your body, especially if you're trying to get more out of it.
Hopefully, some of the things on this list resonated with you, and if none of them did, then you're probably on a path to zen most of us are envious of. The bottom line is there are many ways to get towards a more relaxed state of being, and maybe this list will be a catalyst to get you headed there. Happy trails!