Top Gift Ideas for Someone Special
This post may contain affiliate links or I may have received the product free in exchange for my honest review. See full disclosure for more information.
Finding the perfect gift for someone special can be a daunting task. There are so many things available that you might not know where to start looking. Some of the first things to consider are what type of person they are and then what occasion it is. By thinking about these essential elements will help you plan an ideal gift. Most often you'll know the person really well, so identifying their tastes and preferences will be an easy task. However, it's often more challenging to translate this into gift form, especially when the person may be a little picky.
If you're struggling for ideas, check out some traditional and non-traditional gifts to make them smile.
Jewellery
This might be quite an obvious one, especially if that someone special is a loved one. But, it's surprising just how hard it can be to pick the perfect piece. Jewellery can be a real test of your knowledge of an individual's style and tastes, and getting it wrong could be an expensive mistake. If you don't have a clue where to start, be sure to take a look at what they wear on a daily basis. If your someone special doesn't wear a lot of jewellery, there's no point in buying them something outlandish that they'll never wear. In this instance, try a delicate piece such as a bracelet or necklace, but nothing too bold.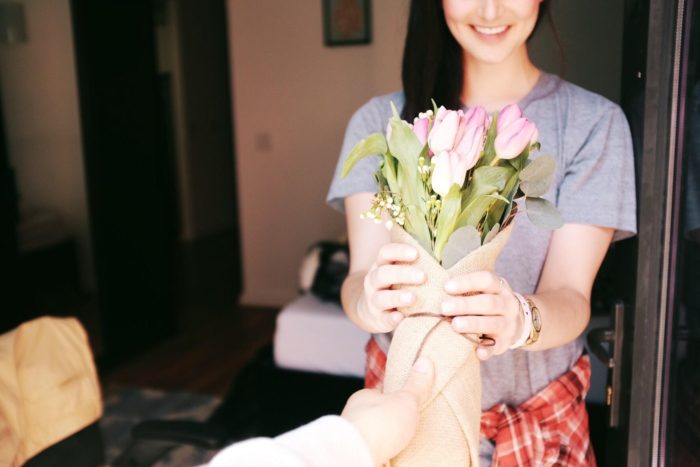 Source
Flowers
Floral bouquets and plant hampers are a traditional way to treat someone special. They are perfect for all occasions whether it's a birthday, new baby, a new home or you want them for anniversary wishes. The selection of blooms also means you'll never be short on ideas to choose from. To get the perfect bouquet for a loved one, a great idea is to get their favourite flowers delivered. Most people love specific colours or species of flower, so it's easy to find a suitable gift to make them smile on their special day. You can also get huge bouquets and other small gifts such as cards and balloons to accompany your present.
Personalised presents
If you want to make some truly unique, personalisation is a great place to start. Individuals love gifts that are well thought out and tailored to their preferences, and you can choose from a host of options to spark the imagination. You can get everything from personalised photo frames, teddy bears, t-shirts and chocolate, all with personal messages to complement the gift. There are also options to incorporate photos and sometimes videos into some products, to bring back fond memories of family and friends.
Experience gifts
One of the best presents you can give is the gift of an experience. This is ideal for anyone that loves to try new things or indulge in something they'd never usually splurge on themselves. Experiences come in all shapes and sizes and include everything from driving a sports car to relaxing in a spa for the day. Many experience companies also cater to people of all ages so whether you're buying for a child or adult, there's something suitable for everyone.
Holiday time
Another great gift is to treat someone special to a holiday or mini-break. Of course, it depends how much you'd like to spend, but there is plenty of options on cheap flights and city breaks without breaking the bank. You could also just spend a few nights in a retreat in the country or opt for a day trip to the city for some retail therapy. Whatever you decide, a holiday will undoubtedly surprise them for a birthday or anniversary.
Chocolate and sweets hampers
Who doesn't love chocolate or sweet treats! Most people love receiving these types of gifts as they are a tasty treat on a special occasion. You can opt for big boxes of treats or choose artisanal chocolate handmade with delicious ingredients. Chocolate gifts are usually a no-go for people that have an intolerance, but there is a range of options that are specially made to cater for vegans, gluten-free and dairy-free diets. They all taste great too, so everyone can experience the same great gifts for their special day.
Eating out
If your someone special loves eating out, treating them to a slap-up meal is a great way to celebrate. The choice in restaurants and eateries offers you something for all tastes and budgets. During your meal, you could also surprise them with a few little extras such as a celebratory bottle of bubbly, small gifts at the table and an embarrassing moment of getting the whole establishment to sing 'Happy Birthday' to them at the end of the meal. Whatever you decide, it'll certainly be a night to remember.
Gift vouchers
Vouchers or money is often classed as a half-hearted gift as it doesn't take much effort to go and buy them, however, it can be a real treat for someone who is famously picky about presents. Some individuals would instead also put the money towards something they've had their eye on for some time but haven't been able to afford outright. You could even club together with family and friends to build up a kitty to gift as well.
Surprise them
Many families live apart from one another, and when life gets in the way, it can be challenging to get to them on special occasions. So to make their event super special, why not plan a surprise appearance to make their day. They will be totally shocked, and even if you don't bring a gift, this will potentially be the best gift they've ever received on their special day.
Finding the perfect gift doesn't have to be challenging with these top tips. Presents don't have to cost the earth either to be unique. Whatever you choose, each gift can be given with heart and that someone special will treasure your kind gesture for years to come. Why not check out the range of options available across the net and discover a host of personal ways to tell your family and friends just how special they are.