Top Oregon Travel Tips for the First-Time Visitors
This post may contain affiliate links or I may have received the product free in exchange for my honest review. See full disclosure for more information.
Oregon is a popular travel destination. For tourists, there are lots of awesome spots to explore in Oregon. The state has diverse natural magnificence – from snow-clad mountain peaks to miles of stunningly beautiful coastline, from vast stretches of deserts to majestic forests – the state is a paradise for nature lovers and outdoorsy travelers. Apart from its mind blowing scenic beauty, the state also boasts uber-cool towns where visitors can enjoy shopping, taste fantastic craft beers, enjoy great food, or lost themselves in the largest bookstore in the world. From adrenaline-boosting outdoor adventures to exciting wine tours in small-town vineyards, travelers are spoilt for choice in Oregon. If visiting the 'Beaver State' is anytime soon on your travel bucket list, here is a primer on must-dos and must-sees that may help you plan your trip.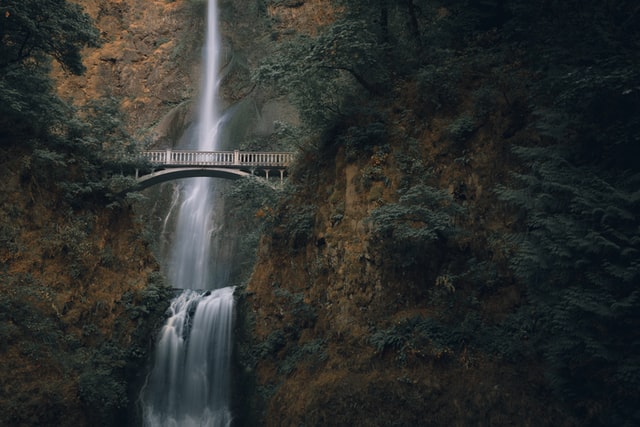 Planning a Trip to Oregon? Check Out These Facts
Oregon in Different Seasons:
Though cold and rainy, winter is the perfect time to visit Oregon for adventurous winter sports such as skiing, cross-country skiing, and snowshoeing. Also, this is the time to watch frozen waterfalls in the state. If you are traveling through the magical coastline, you can spend some time whale watching. During winter, major tourist spots are usually less crowded, and you can have great deals with hotels.
For tourists, summer is the perfect season to visit Oregon. Summer is also the costliest time to visit Oregon. Expect high tourist traffic if you are planning to visit between June and September. Early reservations are suggested. Check out the downtown hotels for discounts. Motels offer wallet-friendly rates.
After the long stretch of cold, grey, wintry days, spring comes to Oregon with fresh blooms of daffodils, lupines, cherries, tulips, and daisies. The Oregonians welcome spring with different events. Some crowd-pullers are the NW Cherry Festival in the Dalles, Wooden Shoe Tulip Festival at Wooden Shoe Tulip Farm, The Portland Rose Festival, and the annual Florence Rhododendron Festival. However, the pandemic has forced to abandon many events this year, so please check the official websites for the latest information.
Autumn (late-September to mid-October) is the best time to enjoy the stunning fall colors and walking through the rustling fall foliage.
The Pacific Northwest state is a favorite of rain gods. So don't forget to pack a raincoat and umbrella. If you have hiking plans, pack accordingly.
If you want to explore Portland's vibrant dining scene, enjoy Portland Dining Month from 1st to 31st March. However, due to the pandemic, the 2021 event has been canceled.
Seniors can ask for special discounts. Check out the benefits of purchasing America the Beautiful Passes. Seniors can enjoy a discount of up to 50% on different services, facilities, and fees.
If you love shopping, Oregon can be your shopping heaven with no sales tax.
Things To Do In Oregon
Visit Parks: Naturally, Oregon, the state with unparalleled natural splendor, will have some great parks you shouldn't miss. The parks in the state are as diverse as the state itself is. From walking trails to caldera lake, scenic river views to windswept dunes, Oregon is a treasure trove you will want to return again and again.
Enjoy Relaxing Hot Springs: Looking for a relaxing soak inside a forest? Enjoy zenful relaxing moments in an Oregon hot spring with an amazingly wild background. The natural hot springs water is mineral-rich and may have therapeutic qualities. Depending on which hot spring you will be visiting, you should be prepared with the right gear. A brief list below may help you:
Don't forget to carry your swimsuits, bath towels, and water sandals.
There might be entry fees and passes.
Carry sunblock, body lotion, and bug repellent sprays. However, you must not use any soap, shampoo, or bath additives that might affect the water quality. Carry drinking water and light snacks.
Visit And Explore Oregon Museums: Oregon has a fascinating history of Native American culture and the famous Oregon trail that tell many stories. Oregon museums are the best places to explore its eventful past and its indigenous culture. Also, Oregon has museums that focus on different aspects of life – art and culture, science, maritime, forests, and more. The Portland Art Museum, the oldest museum in the Pacific Northwest, has a vast collection of art, photography, and silver collections worldwide. Visitors interested in aviation and automobile should visit Western Antique Aeroplane and Automobile Museum. Oregon Rail Heritage Center preserves and displays steam locomotives of yesteryears and rail artifacts. The state has many more unusual museums to explore. Depending on your interests, you can visit one. Some museums have changed time or may have restrictions. We suggest checking official websites for such information before visiting.
Spend Nights in Campsites:
If you love spending time in the untamed wilderness of nature, consider spending some nights in campsites. Oregon has magnificent camps in most scenic places. Whether you want to hike, enjoy mountain biking trails, or just gazing at mountains, rivers, lakes, and forests under a starlit sky, you will find a comfortable campsite. Imagine gazing at the snow-clad Mount Hood on a moonlit night or appreciate its reflection on the still water of the Trillium Lake!
Sign Up For A Photo Trip: Oregon is home to some jaw-dropping scenic landscapes you should want to frame and post on your social media handles. Oregon has some best star-gazing spots for stunning night photography. You can sign up for a photo tour and learn about the best sites and how to make them an eternal possession with clicks.
Taste Craft Beer in The Best Beer Pubs: For beer lovers, Portland, Oregon, is heaven with a thriving craft beer scene. The city has beer festivals every month where local breweries come together for free beer tasting, beer & food pairing, competitions, and other exciting, fun-filled events.
Explore The State's Eclectic Culinary Culture: If you are a food lover, you have a lot to explore while visiting Oregon. The state boasts of innovative restaurants and talented chefs offering lip-smacking cuisines from around the world.
Now you know how to design your Oregon vacation trip. Bon Voyage!