V8 V-Fusion Refreshers Drink Review #V8Refreshers
This post may contain affiliate links or I may have received the product free in exchange for my honest review. See full disclosure for more information.
For as long as I can remember, I always get a chuckle out of the V8 commercials and the "pop" on the head saying "You should've had a V8"
Not always eating the daily required amounts of fruits and veggies is something I am completely guilty of.  Drinking V8 products has always been great for me to fulfill the missing veggie count I need daily.  In a tasty drink, I get more health benefits in one drink, that a meal.  When V8 introduced their tasty and sweet line of V-Fusion drinks, I was really excited to try them.

What are V8 V-Fusion® Refreshers?
New V8 V-Fusion Refreshers are a light and crisp juice drink with a 20-25% blend of fruit and vegetable juices that come in four delicious – and unique – family pleasing flavors. Made with both fruit and vegetable juices, V8 V-Fusion Refreshers are naturally sweetened, contain no artificial colors, flavors or preservatives and are an excellent source of Vitamin C.
V8 V-Fusion Refreshers are available in four tasty flavors, Black Cherry Berry, Cranberry Grape, Tangerine Passionfruit and Peach Strawberry, providing premium juice refreshments that will make the whole family happy.
At just 100 calories for an 8 ounce glass, see the informative chart below to show you all the enriched vitamins you get with each drink:

I received Cranberry Grape & Tangerine Passion Fruit to try.  They are both very fresh and amazing in flavor, with no bitter aftertaste.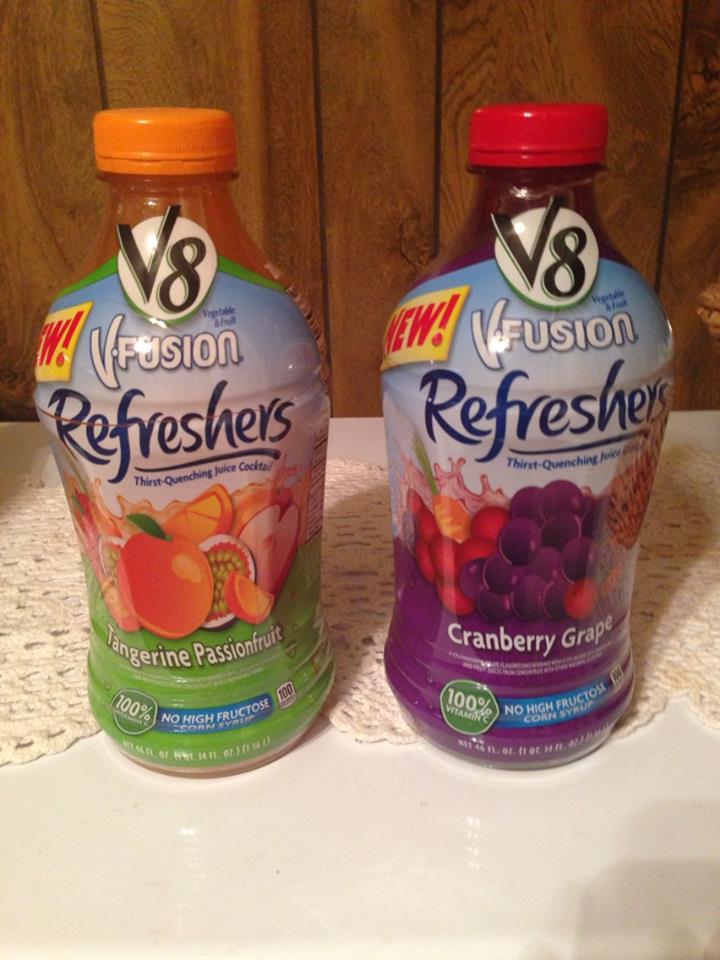 With no Fructose Corn Syrup in this beverage, this is such a nice and tasty drink anyone can enjoy.  I recommend you pick up a variety of V8 V-Fusion Refreshers Drinks for yourself and see just how tasty they are.
Disclosure: This is a sponsored post courtesy of V8 and Business 2 Blogger.  Regardless,all opinions are my own.