Velvet Ice Cream Easter Recipes and Prize Pack Giveaway
This post may contain affiliate links or I may have received the product free in exchange for my honest review. See full disclosure for more information.
While we may not be able to celebrate Easter in our traditional manners, such as gatherings at church, a meal with families, Easter Egg hunts and more. let me share some easy and tasty treats you can make for your homebound family this Easter with a sweet company right here in my hometown state of Ohio – Velvet Ice Cream.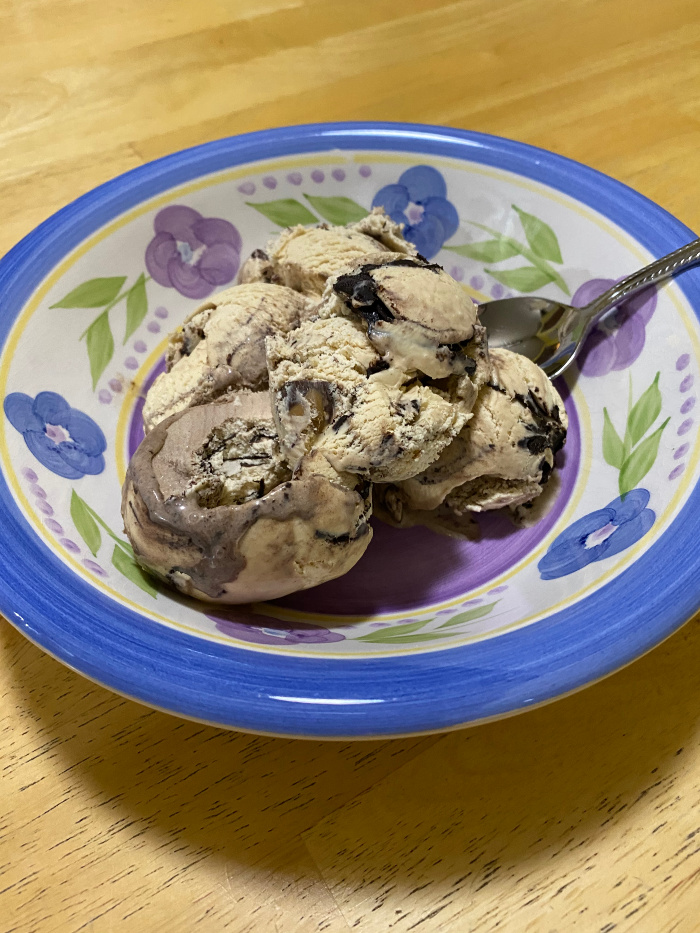 Velvet Strawberry Ice Cream Easter Egg Sandwiches:
Ingredients:
Velvet Strawberry Ice Cream
3 cups all-purpose flour
3/4 teaspoon baking powder
1/4 teaspoon salt
1 cup unsalted butter, softened
1 cup sugar
1 egg, beaten
1 tablespoon milk
Powdered sugar, for rolling out dough
Directions:
Sift together flour, baking powder, and salt. Set aside. Place butter and sugar in a large bowl of electric stand mixer and beat until light in color. Add egg and milk and beat to combine. Put mixer on low speed, gradually add flour, and beat until mixture pulls away from the side of the bowl. Divide the dough in half, wrap in waxed paper, and refrigerate for 2 hours.
Preheat oven to 375 degrees F.
Remove 1 wrapped pack of dough from refrigerator at a time, sprinkle rolling pin with powdered sugar, and roll out dough to 1/4-inch thick. Move the dough around and check underneath frequently to make sure it is not sticking. If dough has warmed during rolling, place cold cookie sheet on top for 10 minutes to chill. Cut into desired shape, place at least 1-inch apart on greased baking sheet, parchment, or silicone baking mat, and bake for 7 to 9 minutes or until cookies are just beginning to turn brown around the edges.
Take one cookie and place a ½ cup of Velvet Strawberry ice cream on it. Spread ice cream out to the edges of the cookie. Take the second cookie and place on top.
Repeat process for as many sandwiches needed, then place in the freezer until ready to serve.
Velvet Vanilla Ice Cream and Peanut M & M Sugar Cookie Nests:
Ingredients:
Velvet Vanilla Ice Cream
1 1/3 cup butter-flavored shortening
2 cups sugar
1 cup brown sugar
4 large eggs
2 teaspoons vanilla extract
4½ cups all-purpose flour
1 teaspoon salt
2 teaspoons baking soda
5 oz of Pastel Peanut M&M's
Directions:
Preheat the oven to 350 degrees. Lightly grease two 12-count cupcake pans.
With an electric mixer, beat the shortening with the sugars until light and fluffy. Slowly add in the eggs and vanilla.
In a separate bowl, sift together the flour, salt and baking soda. Slowly add dry ingredients into the wet until combined.
Using an ice cream dipper, scoop cookie dough into the prepared cupcake pans. Pressing into the center of dough to form the shape of the nests.
Bake cookie nests for 10 – 12 minutes. Let nests cool completely before removing from the pan.
Scoop Vanilla Velvet Ice Cream into the cups and serve with Pastel Peanut M&M's.
Chocolate Easter Egg Bowls filled with Velvet Ice Cream:
Ingredients:
1 cup melted chocolate

Velvet Ice Cream (of your choice)
Instructions:
Brush the melted chocolate into an egg mold.
Once you have it fully coated place it into the fridge.
The chocolate eggs will come out easily!
*If you would like you can do two coats so the chocolate is thicker. Once it's hardened in the fridge apply a second coat and harden.
Scoop the Velvet Ice Cream flavor of your choice into the bowls
You can find more recipes and information on Velvet Ice Cream here.
About Velvet Ice Cream:
Since 1914, Velvet Ice Cream has been family owned and operated in Utica, OH. Our premium craft ice cream, with its signature velvety texture, has grown to be a staple in homes throughout central Ohio and across the region (OH, KY, WV, MI, IN). With a long tradition of supporting local communities, organizations and a steadfast commitment to giving back, Velvet Ice Cream supports many organizations like: Pelotonia, the Utica Sertoma, Adopt-A-Highway, Licking County Humane Society and others.
***The Giveaway***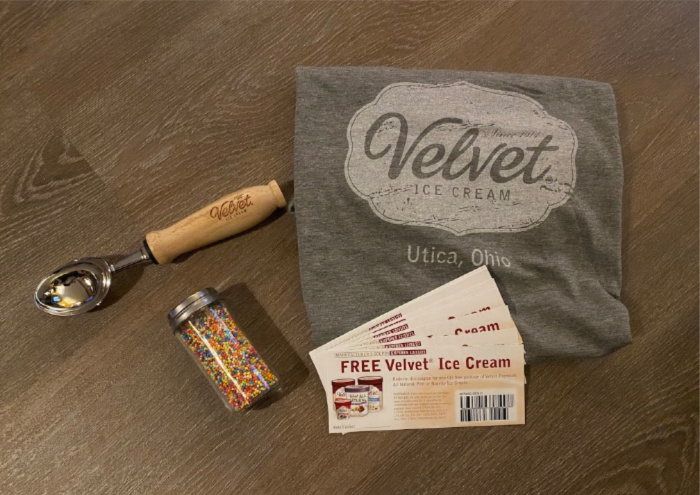 1 winner will receive Velvet Ice Cream Prize Pack (pictured above)!
Giveaway is open to US Residents, ages 18+ years of age (limited to one entrant per household).
The giveaway ends 04/17/20.
Simply follow the Rafflecopter entry form below for your chance to win.
Be sure to return tomorrow to complete the daily entries!
Good luck!