Want to Improve Your Game? 15 Ways to Get Better at Any Sports
This post may contain affiliate links or I may have received the product free in exchange for my honest review. See full disclosure for more information.
If you play a sport, you'll know how hard it can be to improve noticeably. You can try and try for months on end, and still get stuck with the same challenges. Whether you're bordering on professional, or you're playing as an amateur, you'll still face the same obstacles and need the same kind of help to get to the next level. From getting a new coach to studying the professionals, there are many different ways you can improve your ability and performance. Here are 15 tips to help you get to the top, regardless of your ability and your sport.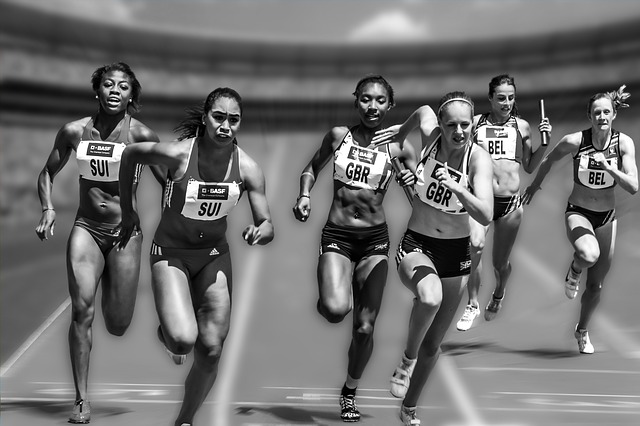 Practice, practice, practice
You won't get anywhere with your sport if you don't practice. There's nothing as good as just getting out there and doing it again and again. Work on your weak spots; understand how to isolate issues; and keep on going until you're happy with your performance. Without practicing, you can't put any of the below points into action. You need to learn from the following, then take them into your own sessions and apply them to your progress. If you can't practice using what you've found out and the steps you've taken, then you need to find someone who can help you move understanding into reality.
Get a good instructor or coach
This is where a great instructor or coach should get involved. Without a coach, you could end up going around in circles and never really progressing. Choosing a coach is down to personal preference, and how you like to be taught. You might want someone to tick every box in qualifications and training, or you might prefer someone who maybe hasn't competed to a high level, but has a good sense of empathy and strategy. At the end of the day, someone can be a highly skilled sportsperson, but not understand how to teach – so you need to judge each coach individually. A good coach should push you through your comfort zone, without pressurizing you, and help you focus on weak areas without demoralizing you.
Make a plan or training timetable
If you're stuck in a rut, you need to start making a plan or a timetable. It might be as simple as saying you'll do fitness work three times a week, then train three times a week. Or, you might want to delve a bit deeper, and plan out your exact workout regimes. This could include particular exercises that your coach has recommended or that you've found online. It could also detail how long you'll spend on certain elements, and what you need to include at each stage. Remember to mix it up a bit, so you don't get bored and feel stale by the sessions.
Set yourself goals
Setting goals is one of the most important parts of progressing in a sport. You need to make short-term goals, mid-term goals, and long-term goals. These should concentrate on the areas you need to work on, the progress you want to make, and your competition aims. So, sit down with your coach and work out what fits into each time frame, and how you'll measure it. It might simple: you'll be able to see progress through competition scores and ranking. However, judging your progress can be harder. So, it's a good idea to photograph or film your sessions or competitions occasionally. This way, you can look back on them and see how far you've come.
Prepare yourself psychologically
If you're stuck in a rut, you'll find yourself losing confidence – and fast. This might be a loss of self-belief or confidence in your ability. It might be losing confidence performing, or if you're in a sport like horse-back riding, you might be losing confidence as a rider. You need to find out where your mentality is letting you down. When you've figured this out, you should seek help with a professional sports psychologist. They'll be able to help you work through any mental barriers, and give you the confidence and ways of thinking to get you out of that rut, and onto the next rung.
Invest in the best equipment you can
While great equipment doesn't make a great sportsperson, it does help a lot. If you only use poor quality kit, you could be putting yourself at a severe disadvantage. Plus, it might mean you're not practicing to the best of your abilities, or it could be hindering your position or technique. To get the most out of your practice sessions, do research into the top equipment, such as the top 10 golf practice nets, if you're a golfer. Or, if you run, look at getting an assessment into your running style, and get shoes that can correct your faults and support the anatomy of your feet.
Stop making excuses
One of the fastest ways to give up on a sport is to make excuses. So, write down a list of the excuses you might use: you're too tired; the weather isn't right; you're too busy; you're not in the mood. Then, come up with counterarguments for each excuse. Every time you think of one of these excuses in the future, combat it with your list. Plus, start visualizing each session: picture how well it goes, what you'll do, and how good you'll feel after. This positive mental attitude will help you get over any excuses.
Learn from the professionals
Take every opportunity to go and watch professionals at the top of their game. Study their technique, their attitude, and most importantly, what they do when things go wrong. You'll learn a lot by taking these chances and watching top athletes compete.
Get to the gym
You can't expect to do well in your sport if you're not fit enough to train hard. So, it's vital to include going to the gym in your training regime. You need to do everything from cardio to weights to help you stay fit and in the best possible shape to move up the ranks in your sport. Plus, this means paying close attention to your diet. Try to cut out the processed meals, and eat meals made from scratch, with all the essential building blocks: protein, carbs and fats. You need to stay hydrated too – so don't skimp out on water. Electrolytes in the summer will help your body recover faster, as they replenish everything that you sweat out.
Read up on theory
It's a good idea to stay up to date on the latest developments in your sport. Nowadays there are so many influencers, vloggers and bloggers to follow that you've got plenty of places to get inspiration and help from. Plus, going old-school and picking up a book will help too! However, you do need to put the theory into action, so see how you can apply it to your training sessions.
Dedicate more time to it
If most of your problems stem down to a lack of dedication, then you need to make a decision. Do you really want to do this, or are you just carrying on for the sake of it? If it's the first, then you need to start prioritizing it more. Yes, sometimes you want a lie-in, or you want to go to that massive party – but you need to put your training sessions and competitions first. However, if you're not sure that your heart's in it anymore, then take a step back. Give yourself a break and see if the time apart from it reignites your passion. It might be that you just do it a few times a month as a hobby instead.
Learn from mistakes
One of the best ways to grow as an athlete is to understand your mistakes. Don't ignore them and pretend they didn't happen, even though it might be embarrassing to relive them. Instead, analyze them and understand where you went wrong and why. Once you know this, you can start putting training plans in place to either stop it from happening or again, or knowing how to correct it when it goes awry.
Watch and observe your competitors
Just like you should be watching professionals, you should keep an eye on your peers and competitors too. These people aren't just your rivals, but they're your team-mates, and understand the challenges and pressures that you face. Compare notes and see how they cope with various struggles and issues. See if they can recommend certain equipment, various medical professionals, or coaches if you're looking for a new one. Plus, watching your competitors will give you an idea of the level you need to be performing at.
Don't ignore aches, pains and niggles
Ignoring an achy joint or a pulled muscle is never a good idea. You should be getting regular check-ups by physiotherapists and chiropractors, to ensure that you're fit and healthy. Ignoring anything that hurts can cause untold damage – if you keep working a body part that's in pain, you could end up with a much more severe injury that the original niggle.
Pace yourself and take breaks when needed
Regardless of how hard you want to work, everyone needs to take breaks. Give yourself a day off a week, at least. Take time out of your schedule to forget about training, and enjoy the other parts of your life. Working too hard could make you stale – and that's a quick way to performing badly.