Join this summers latest challenge – the #WatermelonSmashChallenge!
You've got to use your head for this challenge!
YULU Toys introduces Watermelon Smash, a hilarious twist to the water roulette challenge. Will you end up dry or getting splashed when the watermelon gets smashed on your head?!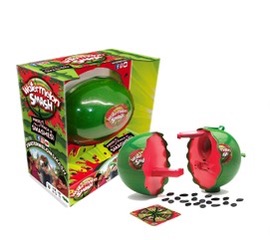 Players take turns spinning the spinner to determine their fate. A suspenseful game in which you never know when the watermelon will fully crack open. If it cracks on your turn, you either get covered with water or plastic watermelon seeds and you are out of the game.
Following the spinners' instructions, players press the watermelon against their head. When the watermelon opens, that player is out of the game AND drenched! If you're playing inside, watermelon seeds are included for a dry game!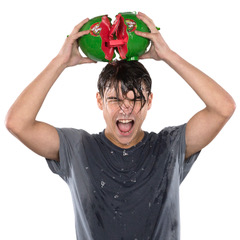 Be sure to record and share the fun using #WatermelonSmashChallenge! Watermelon SmashWhat are you waiting for, pick up your game today and spend all summer long keeping track of who gets drenched the most!
You can find this and other games available from YULU online and in stores. Tell us in a comment below some of your favorite games to play with your kids.
Stay connected with YULU for their latest game information