What Is Travertine Tile and Where Can You Install It?
This post may contain affiliate links or I may have received the product free in exchange for my honest review. See full disclosure for more information.
If you want your home to be a vision of elegance, consider putting in a travertine tile feature. The limestone comes in a wide range of neutral colors and several different finishes. So it's the perfect choice for any number of surfaces.
On the one hand, you can use this type of tile for any kind of interior and exterior floor surfaces. On the other, it also looks fantastic on vertical surfaces, like accent walls. You could even have a travertine tile backsplash for your kitchen or bathroom.
But before you go window shopping for the right color and texture, you might want to learn the history of this fascinating material.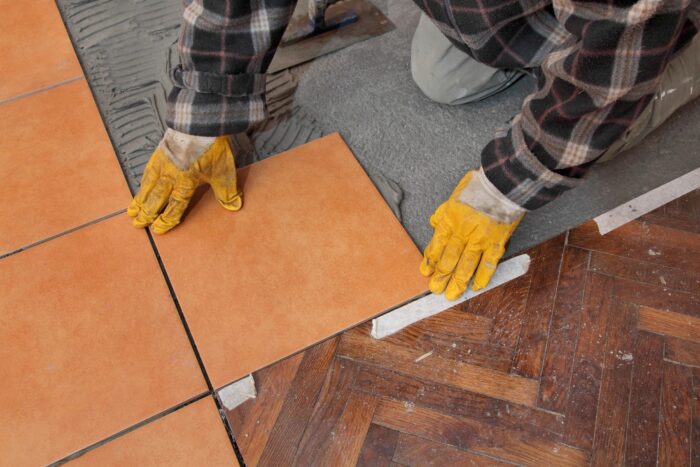 What Is Travertine Tile? A Brief History of the Limestone
Travertine is a naturally occurring stone that is formed by mineral deposits from hot springs. Historically, people have sourced this limestone from quarries around Italy, where the material was used to construct the Colosseum, as well as many other significant structures. But nowadays, most of the stone comes from quarries in Mexico, Peru, Turkey, and Iran.
The characteristic swirls and veining you'll see throughout the limestone are the result of various minerals mixing. That gives the stone its natural color, which can be brown, beige, taupe, or grayish.
Ultimately, each tile you order will have a slightly different pattern of veining. That should make replacing damaged tiles easy enough. After all, you'll always be able to find ones with similar color variations to the ones you have. But how likely are you to damage your tiles?
Well, even though travertine is harder than marble, it's still softer than granite. That makes some kind of physical damage inevitable, particularly if you're thinking about installing a travertine floor tile. Still, since the color runs all the way through the stone, you probably won't even notice any chipping. And when you need to, you'll be able to find replacement tiles with similar color variations to the ones you have easily.
Travertine Tile Styles
As we have established, travertine tiles are available in a range of different styles and finishes. For example, your tiles can be:
Brushed (with a brush or wire wheel), if you're a fan of the natural, textured finish of the stone
Honed with a smooth matte finish (that style can also be filled or unfilled, depending on whether you want to see the naturally bumpy texture of the stone)
Tumbled in a barrel with abrasive particles and water to soften the edges of the stone and give it a worn texture
Polished or sanded until smooth and glossed
No matter which style you choose, the durability of your tiles will ultimately depend on how well you apply them.
How to Install Travertine Tile and Keep Them in Pristine Condition
Since travertine is natural limestone, these tiles are fairly porous. That makes using a sealant during the installation process a crucial step. In fact, if you don't seal the tiles every three to five years, you'll never be able to clean them properly. As such, they would be more susceptible to discoloration, chipping, and cracking.
Other than that, installing a travertine floor tile is straightforward enough. First, you'd have to put a cement board underlayment on top of your subfloor. Then, you'd use a thin layer of adhesive to set the tiles before grouting the spaces between them.
If the tiles you get are already sealed, you can grout as usual. But if they're not, you'll want to seal them before grouting or risk staining them.
How to Cut Travertine Tile
If you end up having to work around the toilet or sink while installing your tiles, you might have to cut a few of them to fit the shape of the floor. Luckily, they're fairly easy to manipulate as long as you have the appropriate tools.
Since travertine is a pretty hard stone, ordinary tile cutters may not be strong enough to get through it. Instead, you might want to get a wet saw with a diamond blade.
How to Clean a Travertine Tile Shower or Floor
As long as you keep up to date with the sealing treatments, you'll be able to keep the tiles clean indefinitely. It's all a matter of using a gentle, non-staining cleaning solution. Between the occasional cleaning session, dusting or vacuuming the surface should keep it spotless.