Win a Nat Geo Kids Birthday Prize Pack!
This post may contain affiliate links or I may have received the product free in exchange for my honest review. See full disclosure for more information.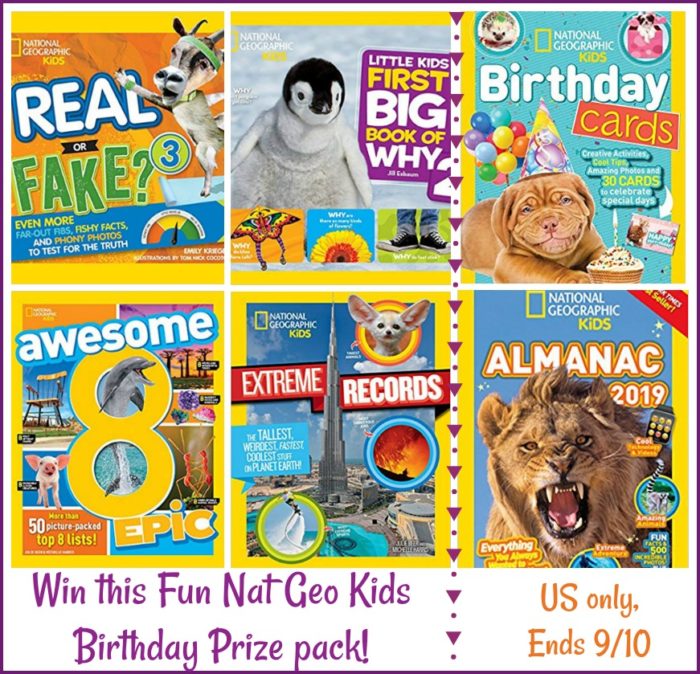 Nothing is better than lots of fun books with fun facts!   If you're looking for Birthday Gift Ideas, now that the kids are back in school and those party invites are coming in, here are some ideas.  Here are a few of National Geographic Kids Books' latest offerings that make terrific birthday gifts for kids of all ages, whether they are book lovers or reluctant readers.
National Geographic Kids Almanac 2019 (ages 8-12) is the best selling almanac for kids on the planet!! Kids love it because its curated and created just for kids and it's packed with incredible photos; tons of fun facts, crafts, and activities; and fascinating features about animals, science, nature, technology, and more. New features include an updated "Fun and Games" chapter filled with all-new games, jokes, and comics; all new weird-but-true facts; "19 Facts for 2019" feature in every chapter; updated reference material; and cool stuff on topics today's curious kids care about.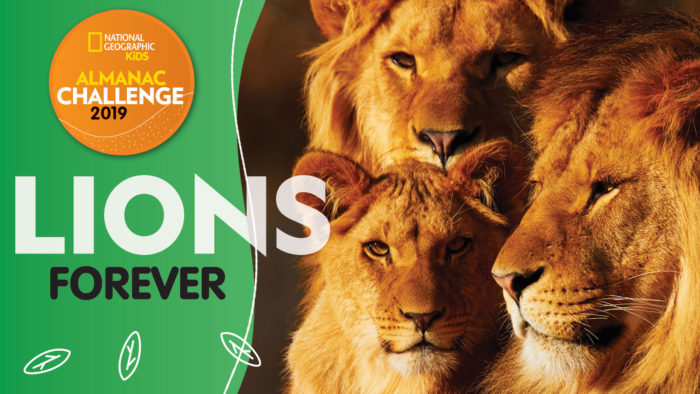 Plus This year's Almanac Challenge 2019 — Lions Forever!  —  encourages kids to get involved and make a difference. The focus is on highlighting the threats lions face and the importance of saving them.  Kids are encouraged to visit natgeokids.com/almanac to create a lion poster and send a message with their entry about why they feel lions must be saved.  Winner will receive a $500 cash prize!
Awesome 8 Epic (ages 8-12) Want to know the who/what/where of the coolest stuff on the planet? Count down with this fun picture list book, featuring the 8 most awesome things in over 50 fun categories that are absolutely epic! 
Real or Fake? 3 (ages 8-12)  Can you detect a hoax from the real deal? See right through photo trickery? Spot the phony logic in a story in seconds? Kids put their sleuthing skills to work in this riotously fun book to see if they can find the truth behind bizarre stories, faulty facts, iffy lists, news headlines, and more. Check the Fib-o-Meter to find out!
 Extreme Records (ages 9-12) Get ready to go the the extreme — it's time to set the record straight! This book explores the most out-there records the world has to offer — from the tallest mountain to the deepest cave, from the smallest drone to the fastest trains from the the most dangerous thing underfoot to the most dangerous jobs around  and from the oddest ancient creatures to the tinniest, deadliest and most extreme animals on Earth.
Little Kids First Big Book of Why 2 (ages 4-8) Following up on the best-selling Little Kids First Big Book of Why, the next book in the hit Little Kids First Big Book series features even more of the endless "Why?" questions preschoolers love to ask!
And, no gift is complete without a birthday card!:
National Geographic Kids Birthday Cards (ages 4-9) Make birthdays magical with this book, filled with creative activities, cool tips, amazing photos and 30 cool pull-out birthday postcards.Precious animal photos paired with heartfelt and funny (and pun-ny!) captions help kids celebrate that most special of days.
ENTER TO WIN!
One lucky reader will win the Birthday Gift Prize Pack Giveaway from National Geographic which consists of a copy of all six books highlighted above (ARV $76).
The giveaway is open to U.S. only, ages 18+
The giveaway ends 9/10 at 1159p est
Be sure to come back daily for more chances to win~