Have you heard? This summer, the world's favorite super-powered family is returning to the big screen in Disney•Pixar's Incredibles 2! With it's return, Zak Designs is helping kids across the country get in on all the animated action! They are releasing four different versions of its popular Embossed Top Tumbler that each feature different characters from the much-anticipated sequel. Take a look at this super fun drinkware!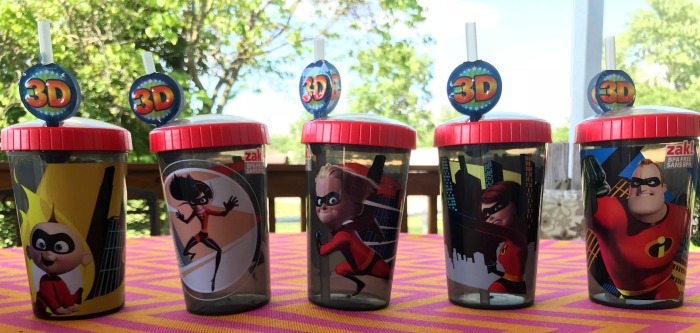 Headquartered in Spokane, Wash., Zak is the leading distributor of licensed mealtime products and active lifestyle beverageware. The global company is also a top distributor of trend-focused everyday tableware and on-the-go products. Whether it's for children, adults, or the whole family, Zak makes mealtime fun. Visit www.zak.com.
Pixar Animation Studios, a wholly owned subsidiary of The Walt Disney Company, is an Academy Award®-winning film studio with world-renowned technical, creative and production capabilities in the art of computer animation. The Northern California studio has created some of the most successful and beloved animated films of all time, including "Toy Story," "Monsters, Inc.," "Cars," "The Incredibles," "Ratatouille," "WALL•E," "Up," "Toy Story 3," "Brave," "Inside Out," and "Coco." Its movies have won 32 Academy Awards® and have grossed more than $11 billion at the worldwide box office to date. "Incredibles 2," Pixar's 20th feature, opens in theaters on June 15, 2018.
These fun 16.5oz tumblers are durable enough for kids to take wherever the day's adventure leads them! To help make sure it's a tumbler the kids want to carry with them, the screw-on lid features an embossed likeness of one of the Incredibles characters.
Zak is releasing four different versions of the Embossed Top Tumbler to help kids get in on the action! Each one includes different action artwork on the tumbler and another character featured on the lid. Because even in families this super, everyone deserves a little time in the spotlight!
The tumblers are perfect for kids and they will love them all! Don't miss out on the action! Visit Zak Designs to get yours today!
Connect socially with Zak Designs