10 ways Knitting Can be Good For You
This post may contain affiliate links or I may have received the product free in exchange for my honest review. See full disclosure for more information.
Hobbies, as we all know, are a great way to divert our attention from our busy lives. They give us a great way to escape the day-to-day stresses and just relax. One particular hobby that can make your life healthier and happier is knitting. If you're planning to start learning how to knit, it might be a good idea to join a yarn club subscription and check out knitting tutorials online.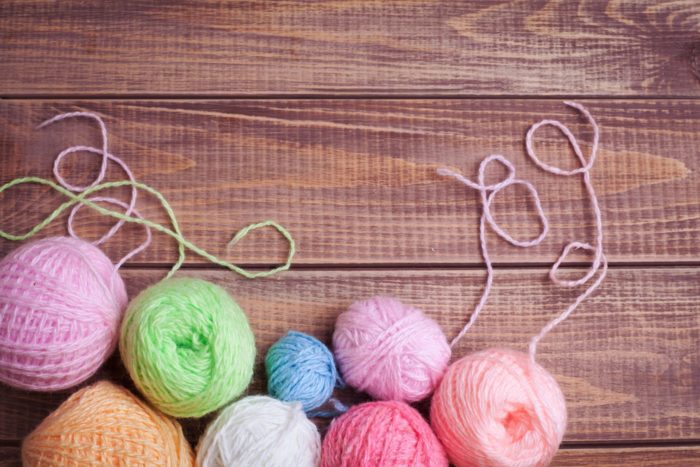 In case you're wondering how fun and relaxing knitting could be, we've put together a list of ways this hobby can make your life better. The number of unexpected uses and benefits you can get from knitting might surprise you. Do check them out!
1.Knitting Improves Your Concentration
Knitting might seem like an easy activity for those who are not familiar with it. But the truth is, it's an activity that involves high amounts of concentration, to make sure you don't stitch wrongly and stick to your pattern. You also need good sense of imagination to visualize your finished product/s, so it's a great way to give your brain a good work out.
2.Effective Stress-reliever
According to experts, the repetitive motion of knitting stimulates the body's relaxation response, lowers heart rate and blood pressure, and muscle tension, making it an effective stress-reliever.
If you need to distress or unwind after a physically (and mentally) exhausting day, nothing's better than letting your mind relax and be calmed by the powers of knitting.
Collecting beautifully colored yarns can relieve stress too. Join a yarn club subscription to get your monthly stock of carefully chosen yarns and tools!
3.Gives You A Realistic Goal
Knitting challenges you. Nothing feels more rewarding than setting yourself a challenge to complete a knitting project, and actually completing it! The best part is that you end up making beautiful items that showcase your creativity and perseverance.
4.Helps You Set Other Goals—and Accomplish Them!
You'll feel a huge sense of accomplishment after completing a knitting project you've been working for weeks. You can apply this kind of dedication in the same way to other tasks outside knitting. Apply it to numerous goals that require a lot of motivation to accomplish.
Improves Your Memory
Want to exercise your brain and improve your memory? Forget Sudoku, crosswords or jigsaw puzzles—knitting is better than all these! According to a Mayo Clinic study, knitting, reading, quilting and other social activities in midlife can reduce the risk of people from developing memory loss in their 70s and 80s by 30%.
You'll feel younger than you ever felt in years by using various techniques and patterns that trigger your memory recall.
6.Strengthen upper limbs
Let's admit it; no one ever thinks of knitting as a form of exercise. But, it is! You can knit as fast or as slow as you want—do it at your own pace. Don't worry about other's fast pace. The rhythmic actions of knitting can help prevent arthritis and tendinitis.
Gets You On A "Digital Detox"
Knitting is a great way to take a break from technology, a sort of "digital detox" if you must. The time you spend knitting provides the perfect means of escape from your phone or computer! Give your eyes a breather and use them to focus on something better, like your knitting project!
It Makes You Happy
Research has proven that knitting is good for you. In a way, Knitting works as a sort of meditation. Meditation-like activities, like knitting, helps reduce blood pressure.  In a study done by The British Journal of Occupational Therapy, 81% out of 3,500 knitters say they felt a lot happier after knitting.
The study also adds that there's a significant correlation between knitting frequency and feeling happy and calm. Additionally, frequent knitters were reported to display higher cognitive functioning. Knitting in a group is also important and highly encouraged. The study concluded that knitting in a group improved perceived happiness, social contact and communication with others.
It Keeps You Busy and Occupied
Knitting can distract you from bad habits like smoking, or binge eating, by keeping your hands busy and mind active. Knitting is also a great distraction if you just want to de-stress and take your mind of certain things for a while.
It Helps You Create Beautiful Designs
Probably one of the best things about pursuing knitting as a hobby is the fact that your efforts will be rewarded with a tangible proof of your creativity and time. Not all hobbies can give you beautifully-crafted items you can use, wear and enjoy, like knitting does. So it's a huge win!
Knitting works in two ways—it allows you to create beautiful textile artworks while improving your mental and physical health. Recent studies have confirmed that engaging in hobbies like knitting and crochet ay help prevent or control mental issues like memory loss, eating disorders, and anxiety.
If you're willing to go and start your first knitting project, start by getting all the basic knitting supplies. You can get them from craft stores or stores that specialize in knitting and crocheting products.  You'll see a variety of yarns, knitting and crocheting tools, and even designs you can copy from.
If you're not sure about what to get when you go to a craft store, why not join a yarn club subscription? If you love getting goodies in the mail, then you might consider getting a deal like that. Yarn club subscriptions are a fun and exciting way to get unique and specially-sourced knitting and crocheting supplies every month for a reasonably priced monthly fee! Sounds like a good deal?  Go ahead and check knitting and crocheting websites online.
Knitting is a hobby everyone and anyone can get absolutely behind to. It's fun, it's relaxing and it's a great way to release your creative juices and channel them into something you can see and admire at home everyday. So, what are you waiting for? Start getting into the knitting habit now!