3 Stress-Free Dinner Ideas
This post may contain affiliate links or I may have received the product free in exchange for my honest review. See full disclosure for more information.
No matter how much you love cooking, creating tasty and nutritious dinners for the family can quickly become a chore! Thankfully, with these super-quick and delicious dinner ideas, those days of desperately searching for dinner inspiration can be put to rest.
All of these stress-free meals are incredibly easy to master, filled with ingredients you're likely to have in your pantry, and most can be thrown together in under 30 minutes! Perfect for beating the mid-week rush without turning to take-outs!
We've even aimed for recipes that include as few utensils as possible, so you don't need to worry about dealing with piles of dishes well into the night… Simply cook, enjoy, and relax.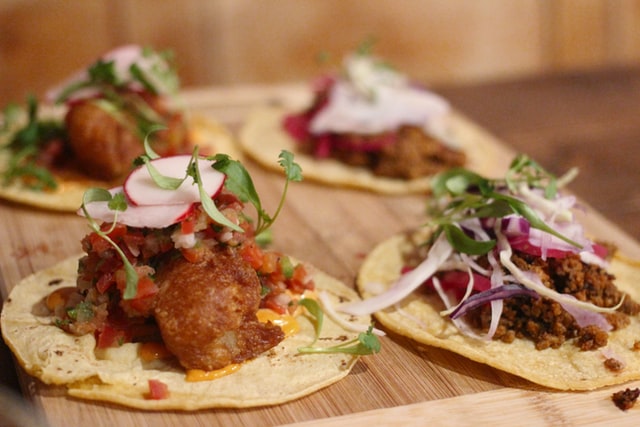 1. Cheese Taco Sloppy Joes
Ingredients
1lb ground beef

2 tbsp butter

1 medium red onion, diced

10 cloves garlic, minced

3 jalapenos, diced

1 can tomato sauce

1 tbsp taco seasoning

½ tsp Kosher salt

½ tsp freshly ground black pepper

1 tbsp cornstarch

¼ cup beef broth
To serve:
6 brioche hamburger buns

2 tomatoes, diced

Sour cream

Fresh cilantro or parsley, chopped

Fresh lime
Method
Set a big cast-iron skillet on medium heat with 2 tbsp butter.

Add the onion, garlic, and jalapenos. Cook, regularly stirring, for around 3-4 minutes until the veggies start to soften.

Add the beef and use a wooden spoon to break it up, mixing it with the veggies until evenly distributed.

Cook, occasionally stirring, for around 10 minutes, then drain any excess fat.

Add the taco seasoning, tomato sauce, salt, and pepper to the pan, stirring to ensure everything is well coated.

In the meantime, mix together the beef broth and cornstarch with a fork.

Pour the broth mixture into the pan, stirring until well combined, then cook for 5 minutes until the liquid is mostly absorbed.

Turn the heat off the stove and fold the Mexican cheese into the dish.

Serve your sloppy joe mixture in lightly toasted brioche buns, piled high with your choice of toppings.
2. Salsa Fresca Chicken Bake
Ingredients
2lb boneless, skinless chicken breast

¼ tsp cumin

½ tsp salt

¼ tsp black pepper

¼ tsp garlic powder

¼ tsp red chili pepper flakes

2 cups grape or Roma tomatoes, diced

½ cup onion, chopped

1/3 jalapeno peppers, chopped

½ cup fresh cilantro, chopped (plus extra for serving)

½ lime, juiced

1 cup mozzarella, shredded
Method
Preheat your oven to 400'F and chop the chicken breasts into small chunks.

While the oven warms up, combine the tomatoes, onions, jalapenos, cilantro, and lime juice with ¼ tsp of salt in a salad bowl.

Prepare the chicken pieces on a large baking dish, spreading them evenly, then sprinkle with the cumin, garlic, red chili pepper flakes, salt, and pepper, stirring to ensure every piece is well coated.

Arrange the diced tomato salsa mixture on top of the chicken, then sprinkle over 1 cup of shredded mozzarella cheese.

Bake in the middle rack of the heated oven for 25-30 minutes or until the chicken is cooked through.

Serve with your choice of sides, garnished with extra chopped cilantro.
3. Smoked Sausage and Potato Skillet
Ingredients
1 ½ lb small baby potatoes, quartered

1 onion, minced

1 red bell pepper, sliced

1 package smoked sausage

4 tbsp olive oil (you can also use butter, ghee, or another oil)

2 tbsp

Italian seasoning

½ tsp red chili pepper flakes

½ tsp garlic, minced

¼ cup low-sodium chicken stock (beef or vegetable stock will also work)

1 tsp hot sauce

Salt and pepper

Fresh parsley, chopped (to garnish)

Parmesan cheese, grated (optional)
Method
Set a big cast-iron skillet over medium heat and warm 3 tbsp of oil.

Add the baby potatoes to the skillet, seasoning generously with salt and pepper.

Sauté the potatoes for 10-12 minutes or until they're cooked through and golden brown, then remove and set aside for later.

Add the sausages and the rest of the oil to the skillet, then brown the smoked sausage on all sides (approximately 5 minutes).

Add onion, garlic, and red bell pepper, season generously with chili flakes, Italian seasoning, and more salt and pepper.

Cooked the smoked sauces in the spices for 2-3 minutes. The sausage should have softened slightly.

Pour ¼ cup of stock into the skillet, then stir in the hot sauce and mix everything together to ensure the sausages and veggies are well coated.

Return the potatoes to the skillet, mixing everything together well.

Adjust the seasoning to taste.

Once the potatoes have warmed through, garnish the dish with fresh parsley and sprinkle over grated parmesan, then serve immediately.
Final Thoughts
We love all-in-one pot cooking for weeknight dinners, and these skillet recipes are brilliant for reducing washing up and making your life a little easier.
We also love using our cast-iron Dutch oven for unbelievably easy dinner recipes that you can throw together and leave to cook… Giving you plenty of time to help the kids with their homework or jump in the shower after work without slaving over the stove.
From the pantry to the plate in under 30 minutes, these three quick and easy dinner ideas are perfect for beating the mid-week rush and ensure that you can always find something tasty to whip up, even when you don't fancy cooking!