Whether you want to lose weight, tone your muscles and/or live a healthier lifestyle, there's definitely someone in your home — more specifically, man's best friend — who's excited to help you achieve these goals.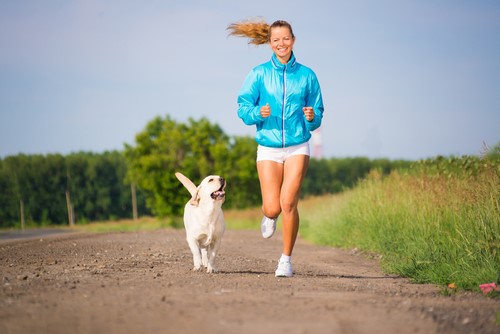 Yes, your beloved dog — he or she could likely benefit from some additional exercise, too — is an ideal workout companion. In addition to strengthening your already awesome pooch-parent bond, working out with your four-legged, furry friend can help both of you trim down, gain more energy and feel healthier.
Here are four great ways to get fit with your pooch:
1. Walk Around Your Neighborhood
One of the best, easiest and most cost-effective ways to exercise with your dog is to go for a brisk walk. As Vet Street notes, if it's been some time since either of you has left the house, start off slowly with a 20-minute walk and then strive to work up to 45 minutes of fast-paced walking between five and seven days a week.
To keep your routine interesting for both parties, vary your route or try to find neighborhoods that include hills, dog-friendly hiking paths and plenty of bushes to smell — for your dog, that is. As you're walking, also keep a close eye on your pooch; if he or she is lagging behind you, cut your walk short for the day and try to limit the distance during your next few outings.
2. Swim or Take Part in Other Water Exercises
If you have a backyard pool and your fur baby loves the water, swimming together is a terrific way for you both to get in shape. Swimming is especially great if you or Fido have joint-related health issues like arthritis, as working out in the water is non-jarring on the knees and back.
Additionally, you may want to buy your pooch some toys designed for the water as well as play fetch. You can also tread water while he or she swims around grabbing various chew toys. Dogs who are strong swimmers will enjoy padding alongside you as you swim laps. Plus, you can also jog through the water and race your dog to see who can reach the floating Frisbee first.
3. Use Technology to Boost your Fitness
Do you own a Fitbit to keep track of your daily steps? Then consider splurging on a similar device for your canine that can help both of you reach your fitness goals. For example, dog activity monitors like PitPat work in concert with a free smartphone app to help keep tabs on how much exercise your pooch gets on a daily basis.
Of course, PitPat is compatible with the latest smartphones on the market, including the Samsung Galaxy Note 3. In fact, the Galaxy Note 3 features a 5.7-inch touchscreen display, allowing you to keep better track of your daily exercise results.
The Android smartphone also features an extended battery life, so you don't have to worry about it conking out mid-workout. Plus, if you own a cutting-edge Samsung Gear Sport smartwatch, you can sync it with your smartphone to make it easier to track both your and your dog's fitness routines.
4. Consider Some Form of Agility Training
All dogs tend to enjoy hopping on the couch and/or racing up and down your staircase. With that in mind, you might want to locate facilities that offer canine agility training. As a bonus, while teaching your dog to go up and over the teeter-totter, race through tubes and jump over obstacles, you're bound to be encouraging him or her on directly beside you. Ultimately, this will provide you with a great and fun way to bond with your canine companion while enjoying a terrific workout.