4 Ways to Make Holiday Decorating Easier This Year
This post may contain affiliate links or I may have received the product free in exchange for my honest review. See full disclosure for more information.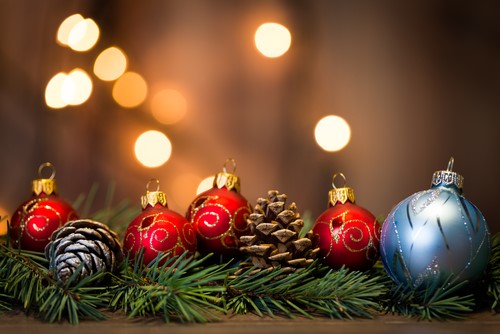 Christmas is less than 100 days away, so to save yourself some holiday stress, plan ahead to get your house looking festive without a hitch. From when to decorate to how to get the kids to help, here are a few tips and tricks to get everything done so you can sit back and enjoy the reason for the season:
Take Stock of Everything
Before you start planning your holiday decor or doing any shopping, first you need to go through all of your holiday decor to see what kind of shape everything is in. This will give you a clear idea of what you have, what you need and what items need to be replaced. Pull it all out of storage and plug in each set of holiday lights to ensure they work and check to see if any ornaments are damaged or broken. If you have an artificial tree, pull it out of the box and inspect it to make sure it is still in good condition. For a pre-lit artificial tree, plug it in to make sure the lights are all still in good working order.
Shop Early
Once you have a clear idea of what you need to complete your holiday decorating, get started shopping as early as you can. Holiday decor gets picked over within a few weeks of being on the shelves, so don't procrastinate or you may have trouble finding exactly what you want. Opt to shop online for your holiday decor in order to find a broad selection of merchandise. Online shopping also makes it a lot easier to do price comparisons so you can make sure you are getting the best prices on your purchases. Allow plenty of time for your shipments to arrive, so you'll have them a few weeks before you need to decorate. This is especially critical when it comes to personalized items like Christmas stockings or Santa bags.
Create a Plan
Now that you have all of the supplies you'll need to transform your home into a winter holiday wonderland, you need to create a plan of attack for how to get everything done with plenty of time to enjoy the fruits of your labor. When to begin decorating for the holidays is a polarizing topic, but there isn't a right or wrong time to begin decorating. It's all about what works for your family. If you still are not sure when you should begin decorating, aim to have the house looking festive during the first week of December. Here is a rough plan to customize based on your specific needs:
Early November: Take stock of your decorations and complete decor shopping.
Late November (After Thanksgiving): Hang your holiday wreath outside and begin installing your outdoor light display.
Weekend after Thanksgiving: Buy a live tree, if using one.
First week of December: Begin decorating the interior of your home. Put up your Christmas tree, whether artificial or living, adding all necessary lights and ornaments.
Make It a Family Affair
At its core, the Christmas season is about family togetherness, so aim to bring as much of this spirit into your life as possible by getting the entire family involved in holiday decorating. Have your youngest little ones craft handmade decorations and help select ornaments. School-aged kids can help string lights on the tree and hang ornaments. Tweens and teens can help you assemble your outdoor light display.