5 Key Components of Healthy Living
This post may contain affiliate links or I may have received the product free in exchange for my honest review. See full disclosure for more information.
Do you feel like your age is catching up with you? Have you been considering making a couple of lifestyle changes but are unsure where to begin?
It's a common fallacy that all you need to get in shape is exercise and a balanced diet. The truth is, it takes much more. Let us show you how to get started.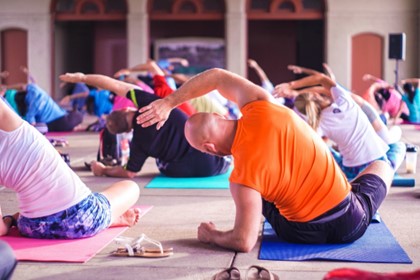 1.Regular Health Check-ups
Everyone needs regular health check-ups regardless of age. Routine physical exams are suggested once a year for those over 50. If you'd consider yourself a healthy adult, consider a checkup once every 3 years.
Of course, if you suffer from chronic conditions or have existing health issues, you will need to see your doctor more frequently.
Nowadays, EHR software makes it possible for your medical health records to follow you wherever you go. This means if you switch doctors, your previous clinic can easily transfer your health records over.
2. Drink More Water
Making the decision to drink more water and less soda appears to be a simple one.
On a daily basis, the majority of us do not drink enough water. Water is essential for the proper functioning of our bodies. It's necessary for body functions, removing waste, and transporting oxygen and nutrients.
Because we lose water through perspiration, exercise, bowel movements, and breathing, we need to quench ourselves and replenish the amount of water in our bodies on a regular basis.
3. Exercise Regularly
This should be a daily task rather than a weekly one.
Simply moving your body in some shape or form for 30 minutes a day can lower your risk of certain diseases and improve overall wellbeing. Simple ways to squeeze exercise into your daily schedules include:
Going for a walk
Swimming
Playing sports
Working out with a friend
How much exercise you need per day depends on your age. For example, adults aged 18 to 64 should engage in at least 150 minutes of moderate-intensity physical exercise per week. The hardest part is getting started! After a few days, you'll find yourself willingly getting up to exercise.
4. Get Enough Sleep
When you don't get enough sleep, your body feels tired. This can negatively affect your emotional and mental health by affecting cognitive abilities and perception.
However, the effects of not catching enough zzz's go beyond groggy feelings. For instance, you'll overeat.There's a clear link between sleep deprivation and food that can lead to obesity.
5. Eat a Healthy Diet
This brings us to our next point — do your best to eat healthy. Consuming foods that are good for you will instantly make you feel better. Fill your plate with fruits and vegetables. Don't skimp out on protein either! Eat health meats like chicken, fish, and lean red meat.
A balanced diet can help you avoid malnutrition and non-communicable diseases (NCDs) like diabetes, stroke, heart disease, and cancer. If you live with others, encourage them to jump onto this healthy eating journey with you. Having others to hold you accountable will make the process of eating healthy easier.
Final Thoughts
There is no quick fix for starting to live a healthy lifestyle. It requires dedication fueled by the desire to be your healthiest version.
Slowly implement these five components into your daily life. Begin by getting a health check-up to ensure everything in working order. Then, make small changes like substituting sweet tea with water or exercising for 10 minutes as opposed to sitting on the couch.
Starting off won't be the easiest thing in the world, but will it be worth it? Absolutely!