7 Ways to Maximize Every Aspect of Your Tiny House
This post may contain affiliate links or I may have received the product free in exchange for my honest review. See full disclosure for more information.
The tiny house trend has swept the world in the past few years. It's understandable though because tiny houses are not only affordable, they are customizable and aesthetically pleasing as well. But as great as they are, there is still a lot of room for improvement. Remember tiny houses are a lot smaller than your usual houses. This makes them somewhat difficult to decorate and outfit with furniture.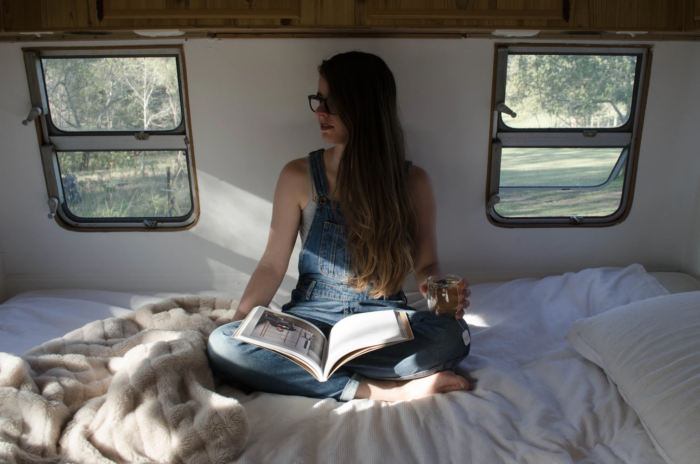 You'll not only need to be smart with your budgeting but be clever with how you use the space that is available to you. So before you go and build a tiny house of your very own, you should know how to fully maximize every aspect of your tiny house. Here are 7 ways you could maximize your tiny house.
1. Install built-in furniture
One of the best ways to fully maximize your tiny house is to install built-in furniture. Examples of these types of furniture are beds or sofas. Beds are by far the most important because it can be difficult to find a bed that will fit into your tiny house's dimensions. Thus it is better if you have the bed built into the tiny house. The same goes for sofas and chairs. You can build them into the structure itself. That way you can just store them once you're done using them.
2. Install built-in drawers and compartments
Aside from furniture, you can also install drawers and compartments into the walls. Drawers and shelves usually take a lot of space. This is especially true for store-bought ones. They tend to get cluttered and don't fit well into the dimensions of a tiny house. This is why you should have them built-in instead. For example, if you have a staircase heading into the second floor of your tiny house, you could build a hollow stairway where you can install bookcases and closets. That way you can utilize the space that your staircase is taking up.
3. Install hooks and pegs in your tiny house
When it comes to building a tiny house, utilizing every bit of space is key. This also goes for your walls. The walls should not be left bare. Instead, you can install hooks and pegs to the walls. This will help you organize small items such as hats, clothes, and umbrellas. The hooks and pegs can also be used to hold up pictures and other personal items.
4. Utilize multi-purpose furniture
It was mentioned earlier that you should install built-in furniture into your tiny house. But aside from that, you should also create multi-purpose furniture for your tiny house. That way you can have furniture that fits two or more purposes without wasting precious floor space. For example, you can construct lounge chairs that can double as a bed. Or a bookshelf that can double as a table or coffee table. Overall, the more creative you are with constructing your furniture, the more space you will be able to save in your tiny house.
5. Install ready-made portapotties and baths in your tiny house
One of the most complicated aspects of owning a tiny house is the bathrooms. Remember that tiny houses have very limited space. It is very easy to waste resources and space on plumbing if you don't know what you're doing. This is why you should have a professional build them for you. This is where companies such as www.jjchouses.com come in handy. They specialize in creating prefab structures such as portapotties out of storage containers. They can create ready-made portapotties and baths for you. Their structures are easy to assemble and install as a part of your tiny house.
6. Install as many windows and mirrors as you can
As great as tiny houses are, it is very easy for them to feel cramped. They are small and space is very limited. This is why you should do your best to create as much space as possible or at least the illusion of space. One way to do this is to install as many windows as possible. Windows allow sunlight to come in, thus creating a lot of natural light. Windows also allow your home to breathe and not accumulate dust or feel too stuffy.
Mirrors create an illusion of space and because of their reflective nature, allow the natural light from the outside to spread over the contents of the tiny house. All in all your tiny house may not have the biggest space, but this does not mean it has to be stuffy or cramped. You just need the right tools and knowhow to create more space.
7. Avoid using dividers or partitions
Although dividers and partitions work well with normal-sized houses, it is better to avoid using them in a tiny house. Remember tiny houses are already limited when it comes to space. If you add dividers and partitions as well, it will just end up feeling more cramped in the process. Instead, it is better to utilize as much free space as possible.
When you design your tiny house, you should make sure you add fixtures that allow you to have free space. For example, on the second floor of your tiny house, you can create a bedroom that doubles as a verandah. Create a sheltered area on the second floor that will serve as your bedroom, and then add enough floor space that can serve as a verandah. You can even add French windows to the division, to create even more space. This will also allow natural light to flood into your home.
Conclusion
If you want to live a minimalist and clutter-free lifestyle, then a tiny house is key. Although it can be a bit tricky at first, you are now armed with the right tools to build the tiny house of your dreams.