Creating stunning artwork by turning pet pictures into paintings!
This post may contain affiliate links or I may have received the product free in exchange for my honest review. See full disclosure for more information.
Many people in the world have dogs, cats, horses, guinea pigs, and other types of animals as pets. Oftentimes, people have incredibly strong relationships with their pets and consider them to be a part of their family. As a result, many people like to have pictures and paintings of their pets in their homes. However, despite this fact, a lot of people do not know how to get fine pet art.
PaintYourLIfe.com is one company that helps people turn photos of their pets into beautiful works of art. So, anyone who wants to get fine pet art can do so with the help of Paint Your Life.
The artists at Paint Your Life are experts in looking at photos that are submitted to them by clients and creating stunning pet portraits from them. It doesn't matter what kind of animal a person has a pet, the artists at Paint Your Life can capture the pet perfectly from their personality to the finest details of their appearance in paint. The process is very quick and just takes a few weeks to complete!
Great for Family Portraits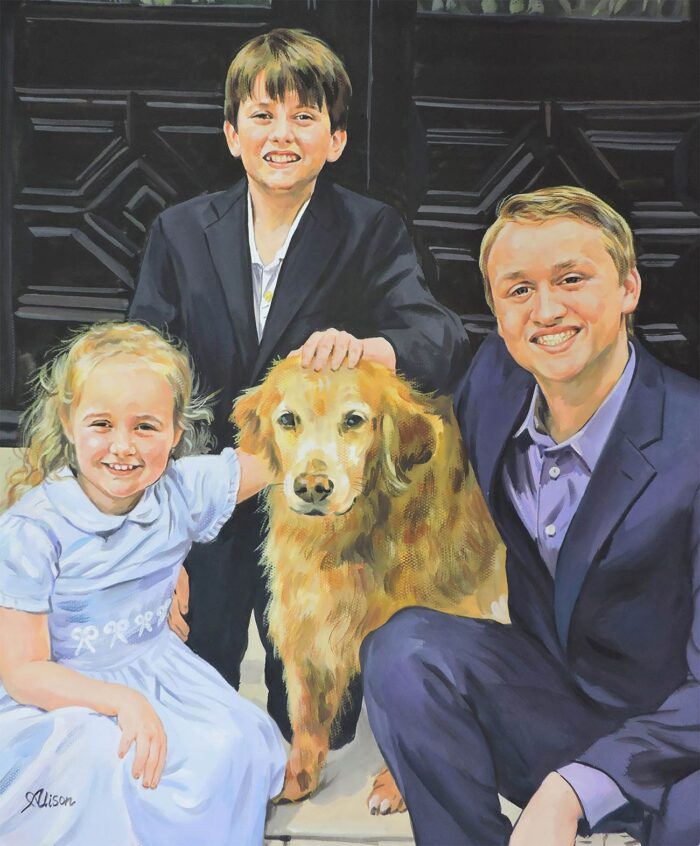 Although Paint Your Life makes great individual pet paintings, they also make outstanding custom family portraits with pets. This is great because many people feel that a family portrait without their pet and it is incomplete. Any family who has a cat a dog, or another pet that they are very fond of will understand this.
So, anyone who wants to commission a custom family portrait with a pet in it just has to send a photograph of the family and their pet to Paint Your Life. If a person cannot decide on one photo to send, then he or she can send multiple photographs and the artist from Paint Your Life can choose which one here she thinks will make for the best family portrait.
Once the portrait is complete a family can proudly hang it for display on a wall in their home. Then, everyone who comes to their house can see how happy their family is! For many parents, being able to hang a custom family portrait on the walls of their home is a truly wonderful thing. After all, parents tend to be extremely proud of their children and their pets!
Remembering a Moment Forever
Once a custom pet painting or a family portrait is hung up on the wall, it can help the family to remember a moment in time forever. Over the years, family situations tend to change. For example, children grow up, they go to college and move out, they get married, etc.
But even though family dynamics and situations can change over time, people still like to look fondly back on the past. So, a custom family portrait from PaintYourLife.com helps all family members to remember a moment that they spent together forever. So, even when children grow up and move out of the house, whenever they come back to visit mom and dad, they can look at the custom family portrait and feel nostalgic about the past.
Once the children fully appreciate how valuable custom family portraits can be, they may want to go and buy their own custom family portraits for their new families! It is common for custom paintings from Paint Your Life to become a family tradition. Pets can be included in the new family portraits too!
Choosing the Right Artist
In order to get the best possible result from a painting from Paint Your Life, one should carefully choose the artist. There are many different artists on the Paint Your Life website, and each has his or her own unique style. The artist that is the best for a particular person or family will depend on that person or family's preferences.
So, anyone commissioning a painting from Paint Your Life should carefully go through the portfolios of the artists on the site to find the artist who he or she likes the best. Once the decision is made, he or she can inform Paint Your Life and Paint Your Life will make sure that the chosen artist is the one who actually does the painting for the client.
In addition to choosing the artist who does the painting, customers also have the option to choose the painting style that is used. Paint Your Life paintings come in many different styles including acrylic, watercolor, charcoal, oil, and more! So, there is no shortage of options. The entire process just takes a couple of weeks, but the artwork lasts for generations. In fact, many people pass down Paint Your Life paintings to their children.
If you would like to see a Paint Your Life painting come to life, click the link below!
15042020131614_289913 from PaintYourLife.com on Vimeo.