Accell Home or Away Power Station
This post may contain affiliate links or I may have received the product free in exchange for my honest review. See full disclosure for more information.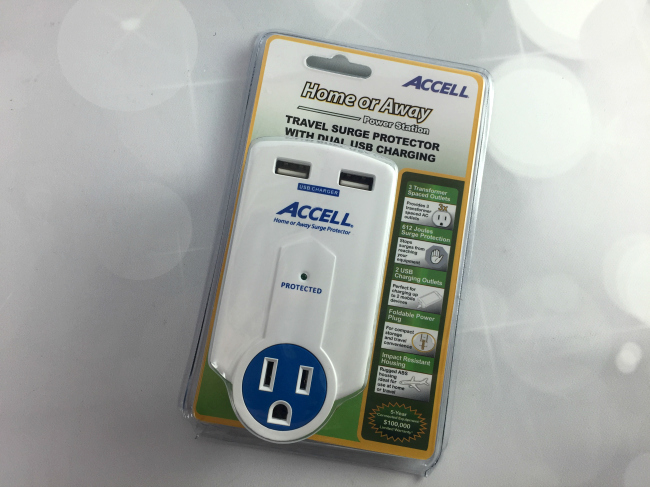 Whether you are at home or traveling, you want to make sure that the devices and items that you have to plug in are protect from surges. You can get the long surge protectors that lay on the floor – or there's a great option in the Accell Home or Away Power Station!
Accell is a customer-centric brand that has a technologically advanced foundation that is focused on quality and value. They have a lot of great produts including adapters, cables, home theater items, mobile accessories, solar, and power outlets.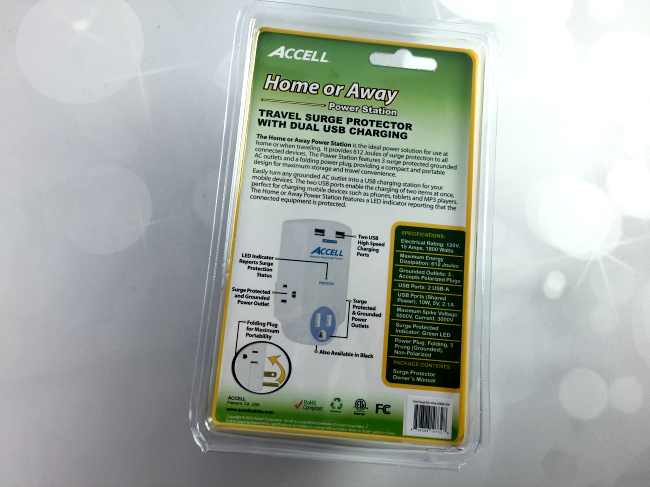 The Accell Home or Away Power Station provides 612 Joules of surge protection for the items that are connected into it. It has 3 surge protected AC outlets as well as two USB ports so you can charge two USB devices. The Folding Power Plug on the back makes this a great Power Station for traveling. You don't have to worry about it snagging on items in your suitcase or purse. The Folding Power Plug is also non-polarized, so it is compatabile with more outlets than a polarized power plug. You will also know that your items have surge protection thanks to the LED Indicator to give you the surge protection status.
Here is some of the technical descriptions for you:
Electrical Rating: 120V, 15Amps, 1800 Watts
Maximum Energy Dissipation: 612 Joules
Grounded Outlets: 3 – Accepts Polarized Plugs
USB Ports: 2 USB-A
USB Ports (Shared Power): 10W, 5V, 2.1A Maximum
Max. Spike Voltage: 6kV, Max. Peak Spike Current: 3kV
Surge Protected Indicator: Green LED
Power Plug: Folding, 3 Prong (Grounded), Non-Polarized

Product Dimensions (approximate): 2.3″W x 4.3″H x 1.4″D
Product Weight: 5oz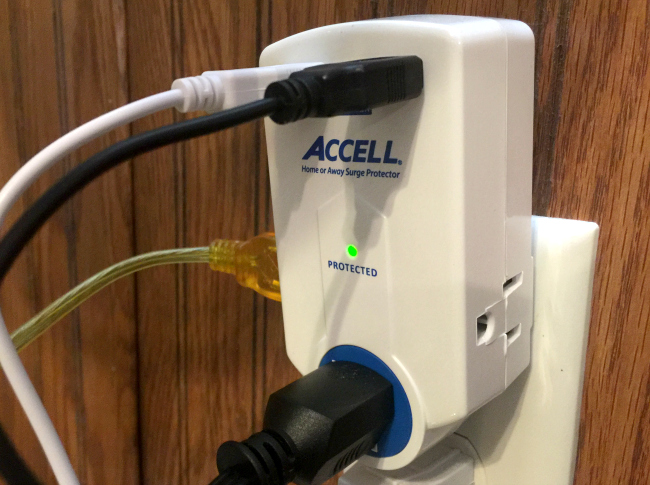 I am really loving the Accell Home or Away Surge Protector. It is nice having the two USB ports so that I can charge my iPhone and iPad at the same time and not having to take up any of the power outlets. And the fact that the Power Plug folds for easier traveling will definitely be handy for the traveling I will be doing this year. Overall, this is a great product that I recommend for anyone that has many items that they have to plug in. You can't beat having the surge protection and the three outlets and two USB ports.