Add Magic and Intrigue to Your Mother's Day Spa Gift Basket with Hallu Bath Bombs
This post may contain affiliate links or I may have received the product free in exchange for my honest review. See full disclosure for more information.
This Mother's Day, give mom something special. Create a Spa gift basket with relaxing essentials and items that will give her the day of rest, relaxation and pampering she deserves. One recommendation I have to add to that basket are Hallu Bath Bombs.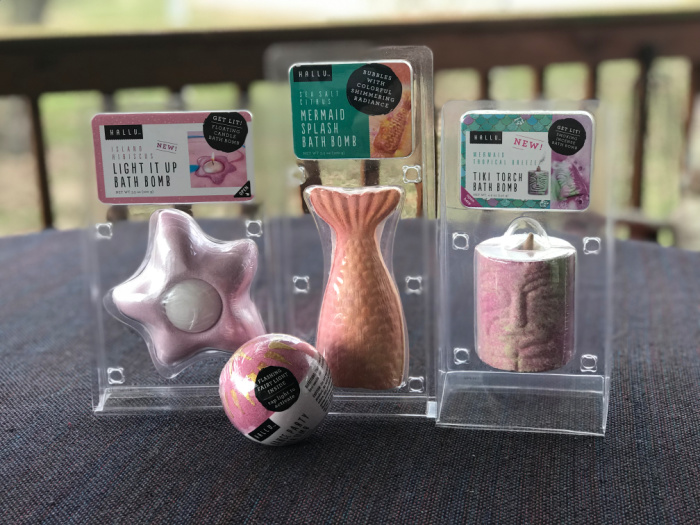 Escape with HALLU
/hä 'lū/: Noun, A warm welcoming word that evokes escape; Derived from the vibe of myth and fantasy

Find yourself in Hallu, a mythical place in time where escapism is reality. Follow your nose on a journey through four distinct fragrances that begins with a magical bath or enchanted shower to fuel your own personal power.

From swirling, bubbling bath bombs to unique scrubs and foam lotions, there's a little magic for everyone. Your Hallu awaits.
Brighten Up Bath Time with First-Ever with Hallu® Lightable Candle and Incense Bath Bombs! 
Since debuting in 2018, Hallu (pronounced ha-LOO) has been a wildly popular bath and body line that offers a mythical place in time where escapism is a reality.  They have now introduced the first lightable candle and incense burning bath bombs on the market.  Here are some of our favorite new items.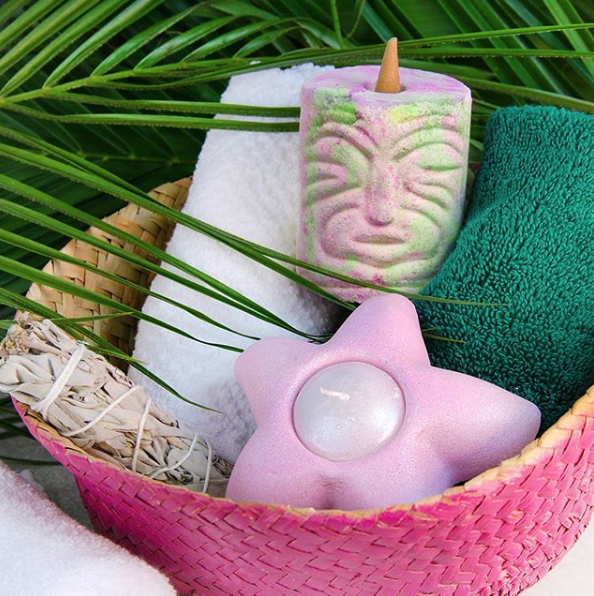 Add color, intrigue and a soft glow to your tub with the Hallu Wish Upon a Star Bomb. Light the candle as you gently submerge within the warm bath water, breathe in the soothing hibiscus and water lily fragrance and watch as the bath bomb slowly transforms the waters around you into a beautiful unicorn sky. Be sure to make a wish on this shooting bath-time star before it melts away so all your dreams may come true.
And for the most mer-mazing bath of all time, try the Hallu Mermaid Tiki Torch Bath Bomb featuring lightable incense. Simply light the cone's tip and let the Palo Santo fragrance permeate the room providing energy, cleansing and spiritual purification. Once the desiredlevel of scent is achieved, add the bomb to your bath to extinguish the ember and indulge in the swirling greens, pinks and purples while absorbing the moisturizing benefits of myrtle and almond oil.
The Wish Upon a Star Bath Bomb retails for $4.97 and Hallu Mermaid Tiki Torch Bath Bomb retails for $5.97, both available at Walmart.
Kroger Exclusives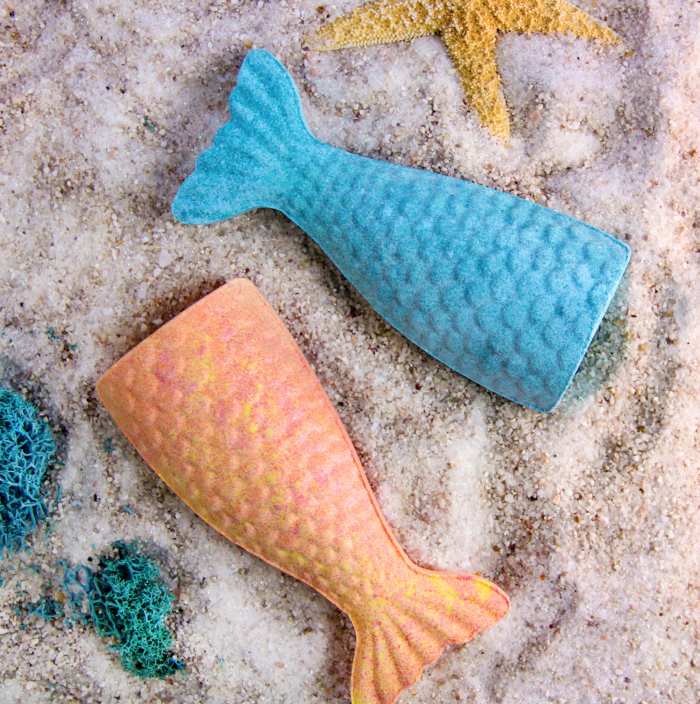 Feeling a little more whimsical? Consider the Mermaid Splash Bath Bomb. Enjoy a relaxing bath in a splash with the Hallu Mermaid Splash Bath Bombs. Die cut in the shape of exotic mermaid tails, the bath bombs come in two varieties: a swirling mix of teal, sky blue and sea foam green or sunny yellow, pink and apricot. Both bath bombs release Sea Salt Citrus scented bubbles and streams of colorful radiance to turn your bathroom into a seaside oasis. Cleanse, unwind and let your tail down with one of these 3.5-ounce bath bombs retailing for $5.75.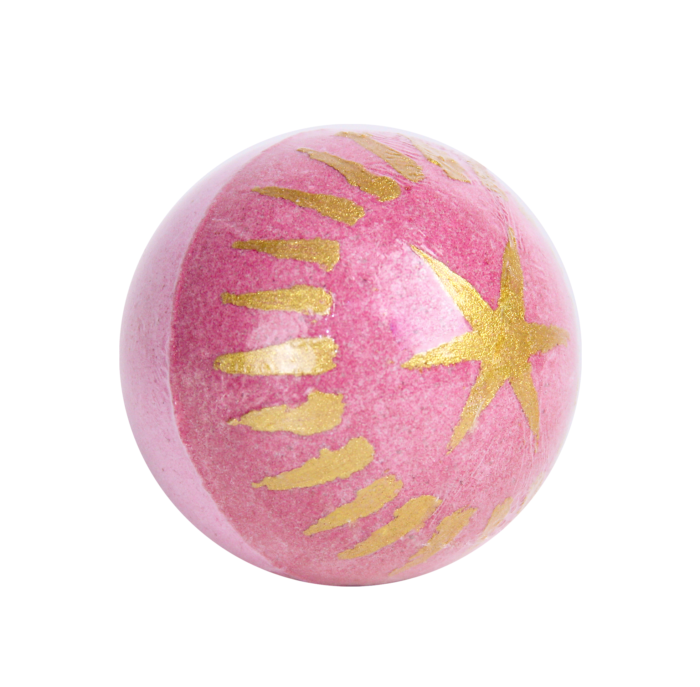 For flashier bath-time fun, check out the Hallu Fairy Dance Party Bath Bomb. The 4.9-ounce nourishing pink bath bomb floats, bubbles and streams intertwining ribbons of radiant color and naturally-derived golden mica before revealing a flashing LED light inside.
Retailing for $5.75, these spa-tastic bath bombs feature Hallu's popular Island Hibiscus fragrance — a floral scent that mingles in a garden of hibiscus, water lily, jasmine and rose rounded out with notes of sheer vanilla, musk and shaved wood.
Kroger also will offer an array of Hallu's tried-and-true fan favorites across the Unicorn, Mermaid and Fairy collections to round out your bathing routine. Top sellers include the Unicorn Rainbow Sugar Scrub, Mermaid Spray Lotion and Fairy Pink Foam Lotion.
Head to your local retailer today and find all sorts of Hallu Bath Bomb items, exclusively from The Village Company. Stay connected socially to see what new and innovative products are released from Hallu.