Casusgrill Instant Grill Perfect Earth-Friendly Camping Grill
This post may contain affiliate links or I may have received the product free in exchange for my honest review. See full disclosure for more information.
For the camping aficionado, I know that each of them are prepared with a portable grill, and all the equipment needed to make the best foods possible while "roughing it" in the wild and being one with nature.
For those of us, like me, who are NOT camping aficionados, I like to do things like more for fun, maybe an overnight in the park, some light fishing and enjoying some fresh air with the family. I don't invest a lot of money in camping gear, accessories and all that jazz, as I only do this type of stuff every once in a while. For those like me, or even those wanting to camp and grill out in a eco-friendlier way, the Casusgrill Instant Grill is the perfect answer.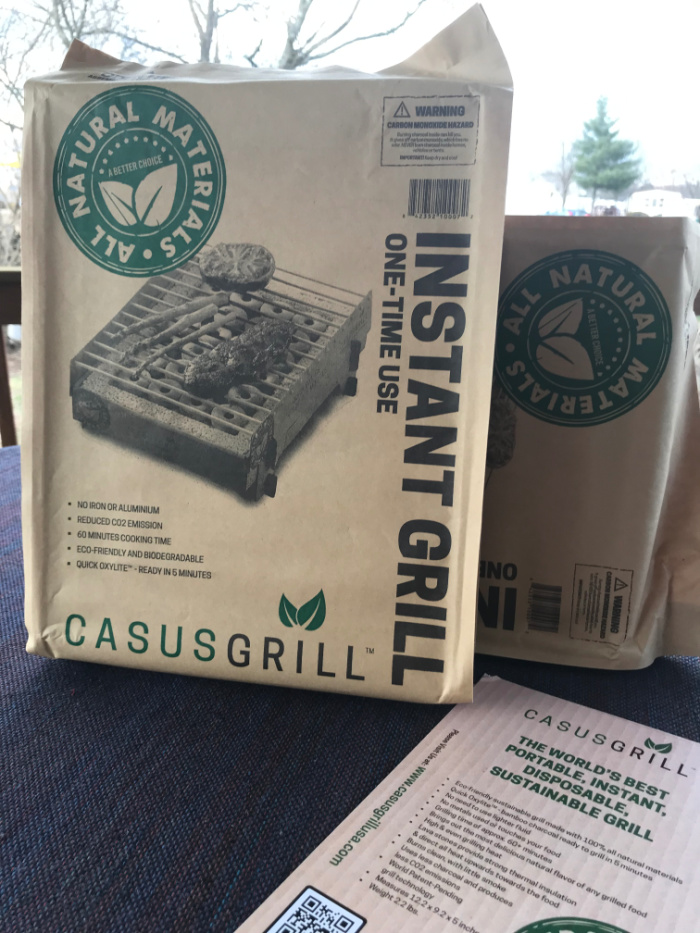 More About CasusGrill
In a world filled with new & functional appliances, we are confident you will live and love the all-new, ingenious, instant, disposable, biodegradable CasusGrill!  We have employed 100% sustainable all natural elements like bamboo, lava stone and cardboard to construct a truly effective single-use grill that gives everyone the freedom to quickly and naturally grill their favorite foods into a delicious crispy BBQ finish anytime, anywhere in the great American outdoors.

CasusGrill OxyliteTM bamboo charcoal cakes are easy to light without the need for any lighter fluids and reach even grilling temperature in 5 minutes then stay hot for more than 60 minutes. 
The Danish creators of 
CasusGrill
 came up with the idea of an all-natural, compostable grill after seeing campground trash bins full of disposable aluminum grills. Their compact, 2-pound invention is madefrom cardboard, bamboo, and lava stone. It lights with a match, heats without flames to 600°F within minutes, and stays hot for an hour or more.
Here are five ways CasusGrill makes for more healthy and environmentally friendly grilling:
It replaces dangerous and toxic one-pound propane cylinders that are among an estimated 254 million tons of trash Americans throw away each year.
The charcoal is made from sustainably sourced bamboo sawdust and produces up to 50 percent less CO2 emissions than conventional grills.
Clean, single-use bamboo grill grates replace metal grills that inevitably get rusty, charred, and caked with burned food.
Flame-free heat prevents burned meat associated with carcinogens. Instead of burned stripes, the bamboo grill leaves light strips where it touches the food.
When you're done, simply douse it and toss it in the trash, burn it in the campfire, or bury it in good conscience. In six months, it will completely disintegrate.
"It is a healthier way to grill compared to metal grills and the charcoal has no chemicals in it," says Maher Hakim, CEO of LavacaUSA, exclusive US distributor for CasusGrill. He calls CasusGrill "an organic battery that is portable, compact, and environmentally responsible."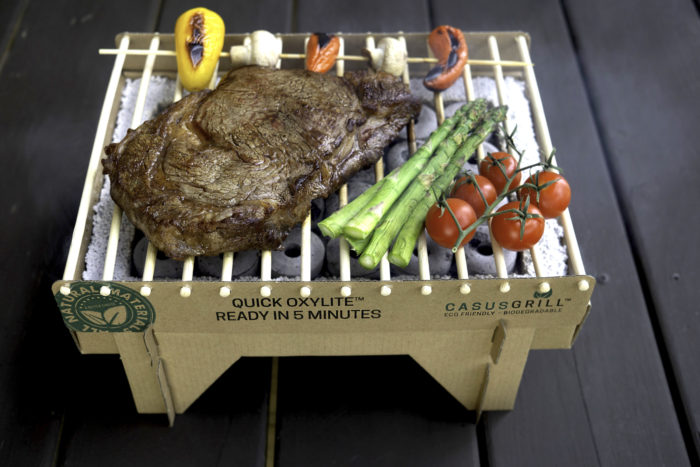 CasusGrill is designed to appeal to day hikers, backpackers, cyclists, anglers, hunters, campers, equestrians, tailgaters, and other sports enthusiasts – anyone who loves cooking and eating outdoors. It's available for $14.99 at major outdoors and sports retailers, including Ace Hardware, Bloomingdale's, Academy Sports, The Grommet, Huckberry, and others.
This is the perfect grill for me. I love that reasonable price and I love that it is perfectly friendly on the environment, reducing unnecessary waste. You can purchase your CasusGrill Instant Grill for your fun Spring and Summer outings with the family.
---
Stay connected socially with CasusGrill