Bake the Perfect Cheesecake with Silicone Springform Pan Protector from Easy Bath Cheesecake Wrap
This post may contain affiliate links or I may have received the product free in exchange for my honest review. See full disclosure for more information.
Cheesecake is a weakness of mine and there is nothing better than homemade cheesecake! Getting it to come out how you want is another story! I have tried baking it in water many times only to come out with a huge flop. I know, right? That is until I discovered the Easy Bath Cheesecake Silicone Springform Pan Protector! Want to learn the secret to perfect cheesecake? Read on to learn how you can bake cheesecake to perfection!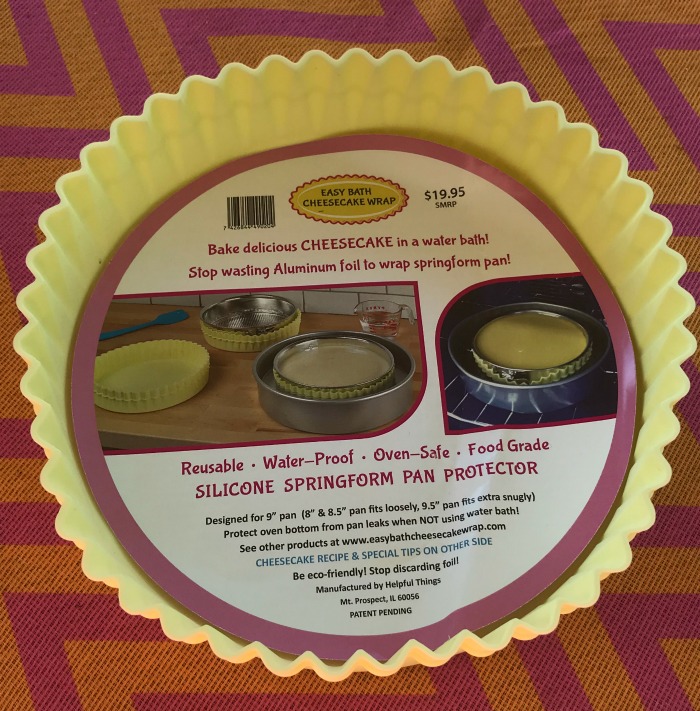 If you love the results of baking cheesecake in a water bath, but you're tired of the tedious process and waste of using layers of aluminum foil to keep the water out, we have the solution! The NEW Easy Bath Cheesecake Wrap.

Many professional bakeries get perfect looking cakes by using the water bath method of making cheesecake, but that method also comes with the risk of water leaking into the springform pan, ruining the batter. The Easy Bath Cheesecake Wrap eliminates that concern!

Just place your batter filled spring form pan inside the Wrap and place the waterproof Wrap inside a larger water filled pan. The results are rich, creamy desserts baked uniformly from the edges to the center. The water bath also keeps egg proteins from bubbling to the surface which can cause undesirable cracks!

This reusable, food-grade silicone wrap is oven-proof to 475F, dishwasher-safe, and water-proof. And even if you're not baking in a water bath, the Wrap will contain any batter leaks that may otherwise drip down to your oven floor creating a burned-on mess that is difficult to clean!
My Thoughts:
I am loving the Silicone Springform Pan Protector from Easy Bath Cheesecake Wrap! Not only does it save on the mess and my flops of attempting to do it correctly, the cheesecake comes out to perfection! My family no longer eyes my cheesecake like it is an alien form! I am actually quite proud to say I have even received compliments!
If you have been afraid to tackle making your own cheesecake, then you need the Silicone Springform Pan Protector from Easy Bath Cheesecake Wrap! Visit Easy Bath Cheesecake Wrap to learn more and get yours today!
Connect socially with Easy Bath Cheesecake Wrap