Summer is here and that means a lot of us will be taking vacations and going on fun road trips. Whether you are taking a long weekend or planning a great getaway this Summer, why not be prepared with delicious travel treats and healthy, natural, body care products?! PRI has a whole selection of healthy, nutritious, and satisfying Manuka Honey snacks, wellness, and beauty products from New Zealand. Enjoy their delicious Manuka Honey for warding off tummy ailments. And, for snacking you can enjoy their yummy Proper Crisp, mouth-watering chewy caramels, and Manuka Honey Sticks! You also don't have to let those unexpected scraps, cuts, and bites ruin your Summer trip! PRI has you covered there too! So, make it a SWEET Summer trip and don't forget to take the honey!
As a Pacific Resources International (PRI) ambassador, I'm excited to tell you that I have a fabulous discount that you can use to try out a few of the amazing PRI products yourself! Right now, you can get 15% off and FREE shipping! To shop, go to shoppri.com and use discount code: Travel15 at checkout. But first, check out the SWEET products I have been trying this month and see what the excitement is about!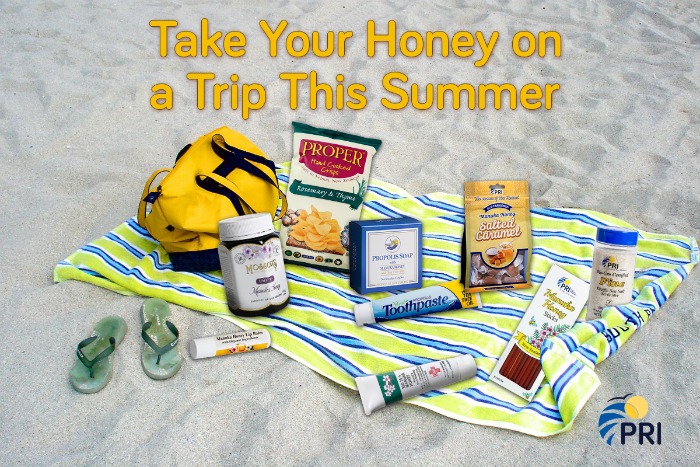 What Makes PRI Manuka Honey Products Special?
Pacific Resources International is an exclusive importer of various New Zealand Manuka Honey, health and beauty care products. Their award-winning products include Manuka Honey, Pacific Sea Salt, Propolis Lozenges, Proper Crisps Chips, Manuka Caramels, and Manuka Honey Health and Beauty Products!

Pacific Resources International (PRI) was the first company to introduce Manuka Honey to the U.S. and owner David Noll has dedicated his career to bringing native and natural New Zealand wellness products to U.S. soil. David works closely with a variety of New Zealand companies to ensure that products are made with pure, natural, and quality ingredient.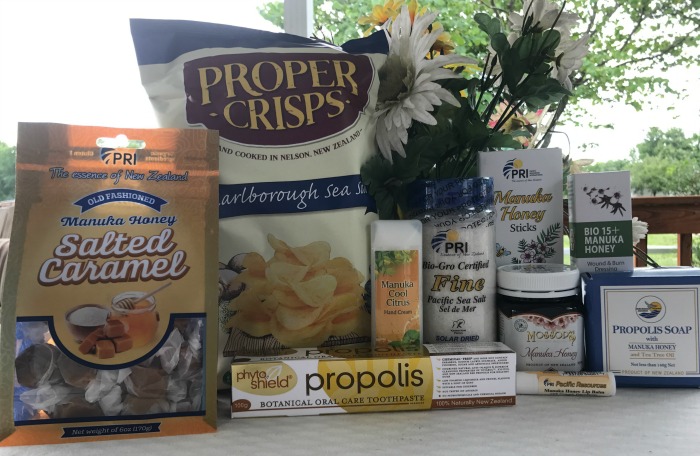 Sweet Summer Products from Pacific Resources International includes 10 delicious products:
Mossop's Manuka Honey – ½ lb. Jar
Manuka Honey Wound & Burn Dressing
Phyto Shield Botanical Oral Care Toothpaste – Propolis
Manuka Honey Lip Balm
Manuka Honey Hand Cream – Simply Manuka
Manuka Honey Caramels
Manuka Honey Sticks – 10-pack
Bio-Gro Certified Pacific Sea Salt – Fine Grain
Proper Crisps – Marlborough Sea Salt – 40g
Bonus: Propolis Soap with Manuka Honey and Tea Tree Oil
Are you ready to check out these amazing products?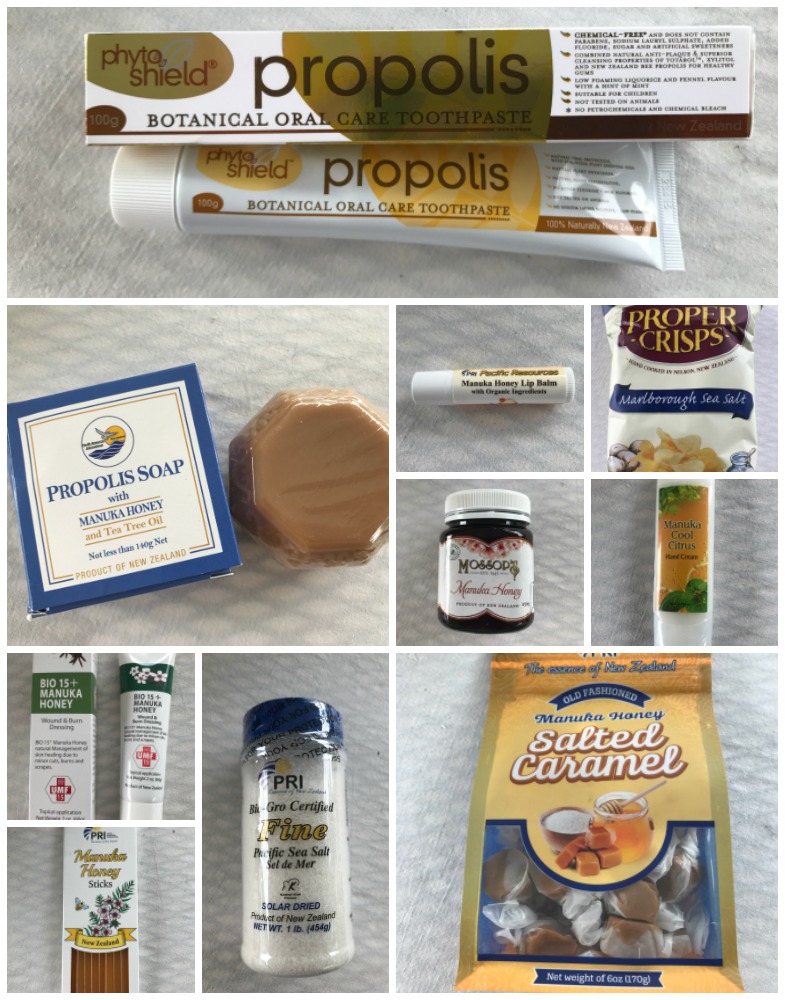 You will certainly want to try the delicious Mossops Manuka Honey! During Summer travel, staying healthy and keeping the digestive tract healthy is all the more important! New Zealand's very sweet and golden Tawari Honey comes from the creamy white flowers of New Zealand's Tawari Tree. The trees have richly perfumed flowers which bloom in late spring and entice thousands of honeybees. Today the majestic evergreen Tawari Tree is a rarity and only found in unspoiled New Zealand native forests.
Mossops "Pure Gold" Manuka honey (100% Raw Honey) is hand harvested by a family that is now in its third generation of bee keepers. Father and sons work together to ensure the highest quality Manuka, packed and tested in New Zealand, arrives to your table. Manuka is well known for its healing properties worldwide and sets the standard for 100% raw healing honeys. The ½ lb. is perfect as a take anywhere size or a gift to that special someone.
Have you tried Manuka Honey for wound care? If so, you know it is invaluable! The PRI 15+ Manuka Wound & Burn Dressing contains Manuka Honey that is sourced from New Zealand's remote, pollution free native forests and an essential for your first aid cabinet to help heal cuts, burns and scrapes. It contains naturally occurring, special non-peroxide antibacterial activity. Ingredients: Manuka Honey 15+
When it comes to toothpaste, forget all the unpronounceable words and get back to nature! Phyto Shield natural dental solutions provide protection using the best botanicals that nature has to offer. Botanical Oral Care Toothpaste is particularly recommended for extra gum care, receding gums and when requiring minimum gum irritation during brushing. It uses the unique antibacterial agent Totarol; does not contain artificial sweeteners, chemicals, or preservatives; no sodium lauryl sulphate; assists in prevention of plaques build up; removes stains; and freshens breath.
Protect and moisturize your lips this Summer with PRI's Manuka Honey Lip Balm! It  is the newest addition to their body care collection. The Manuka Honey Lip Balm is uniquely formulated with the healing power of Manuka Honey and Organic Ingredients to protect, restore and hydrate your lips.
It's no secret that I love Manuka Honey Hand Cream! It has exotic botanicals combined with New Zealand Manuka Honey to enrich and nourish the skin. With 3 refreshing scents: Cool Citrus, Coconut and Lime, and Simply Manuka you are sure to have a favorite. And, it comes in a handy take anywhere size!
When your sweet tooth is calling, serve it PRI's mouth-watering Manuka Honey Caramels! YUM! They are so good it's hard to put them down! Manuka Honey soft chews will tantalize your taste buds with their flavorful goodness.
Flavor all your Summer meals with the purest salt on earth! It is perfect to flavor all your favorite dishes! Desalinated from the cleanest ocean surrounding New Zealand, PRI's Fine Grain Sea Salt is the perfect condiment to accent your cooking – and a treat for your family. It is also Bio-Gro Certified!
Instead of the usual unhealthy candy fix, reach for yummy PRI's Manuka Honey Sticks! They are the nutritional alternative to candy. Kids love them, making them great for lunches or after school snacks. Manuka Honey Sticks come in a convenient 10pk.
If you are like me and love salty snacks, you will love the Proper Crisps with Marlborough Sea Salt! These French inspired crisps are created with real rosemary and thyme, dried and ground just prior to the cooking process, releasing their natural oils, ensuring the freshest taste and flavor possible.
Proper Crisps are: 100% Natural, Gluten Free, GMO Free, 100% High Oleic Sunflower oil, Suitable for Vegetarians, Dairy free, and No added MSG. They come in 5 Delicious flavors: Kumara (Sweet Potato, Marlborough Sea Salt, Cider Vinegar & Sea Salt, Smoked Paprika, Rosemary & Thyme. Pick your favorite!
PRI Propolis Soap with Manuka Honey and Tea Tree Oil is a favorite of mine! It is a soft, luxurious rich cleansing soap which offers the benefits of Propolis, Manuka Oil and Raw Manuka Honey. It gently cleans the skin, provides necessary nutrients to delicate skin tissues, and takes care of unwanted bacteria on the surface, which can be the cause of many skin infections.
Propolis Soap with Manuka honey & Tea Tree Oil is a versatile soap does not dry out the skin and is suitable for all skin types. Propolis Soap is used to clear skin problems such as acne, pimples, psoriasis, fungus, different types of skin rashes and many other skin care problems. This healthy soap has antibacterial and anti-fungal properties, and is a non-allergenic.
Ready to try these amazing products for yourself?
Before you head out on your Summer road trip, grab your healthy and nutritious Manuka Products! Head on over to shoppri.com to shop and remember to use discount code: Travel15 at checkout to receive 15% off your order and FREE shipping!
Connect socially with Pacific Resources International