Ballsy "You're IncrediBalls" Valentine's Day Gift
This post may contain affiliate links or I may have received the product free in exchange for my honest review. See full disclosure for more information.
It's almost Valentine's Day and you will be looking for that great unique gift for the man in your life. Men love cologne and with this great gift set he will kick out how you care about his "Incrediballs".
It's time to stop giving the same old boring bottle of cologne for V-Day! The "You're Incrediballs" Gift Set includes three fragrances that are perfect for any occasion and guaranteed to be something that you'll both love.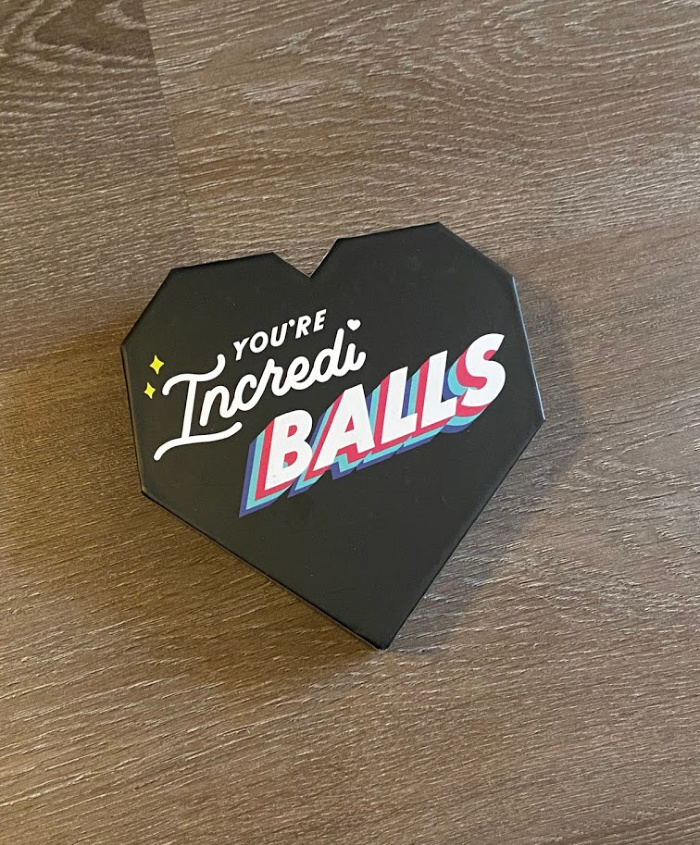 About Ballsy:
Ballsy founders Adam Hendle and Brock Cady were surprised at the lack of products available that address that particular niche, and decided to develop their own line of premium, natural ingredient-driven formulas. "Why use ordinary drugstore body wash on 'prime real estate'?" said Hendle. "We wanted to get away from harsh chemicals and overpowering colognes. And because our products are carefully crafted to do justice "down there," it stands to reason that they are great for the entire body."

When Ballsy launched its flagship product, Ballwash, in 2017, the initial run of 500 units sold out in just two days. Production was ramped up to meet demand, and product kept quickly selling out, posting record holiday and Valentine's Day sales in 2018 and 2019. Now, Ballsy's complete line, which also features an alcohol-free solid cologne and an on-the-go refresher spray, is available online. In addition to robust individual product sales, the company has built a loyal base of thousands of "ballscribers" who enjoy automatic monthly deliveries.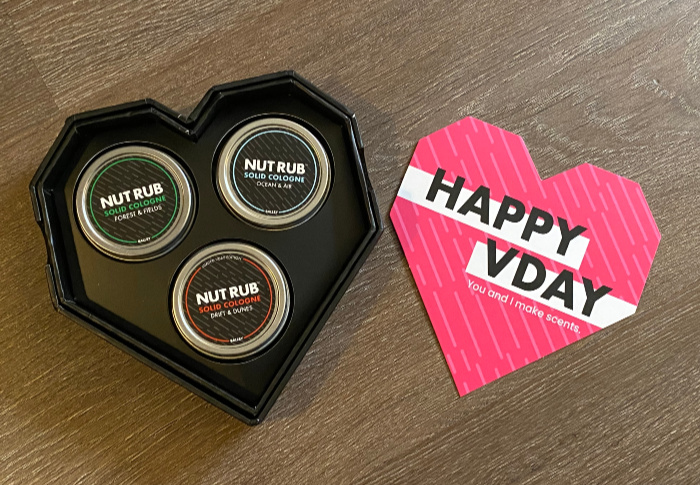 All Ballsy products are, manufactured in the U.S. They are sulfate-, paraben-, phthalate- and synthetic dye-free, as well as cruelty-free. Let me tell you a little bit more about each product.
The box set includes our most popular scents, Forest & Fields and Ocean & Air, along with a brand new limited edition scent, Drift & Dunes. Please note, you can not make substitutions of different fragrances.
Nut Rub Solid Cologne is a beeswax-based solid cologne that can be used anywhere (such as on the neck and wrists) but also on the pair down there where it won't cause any irritation. There is no drying alcohol in the formula. Beeswax forms a protective moisturizing barrier that won't clog pores. Other key ingredients are sunflower seed oil, coconut oil, and shea butter.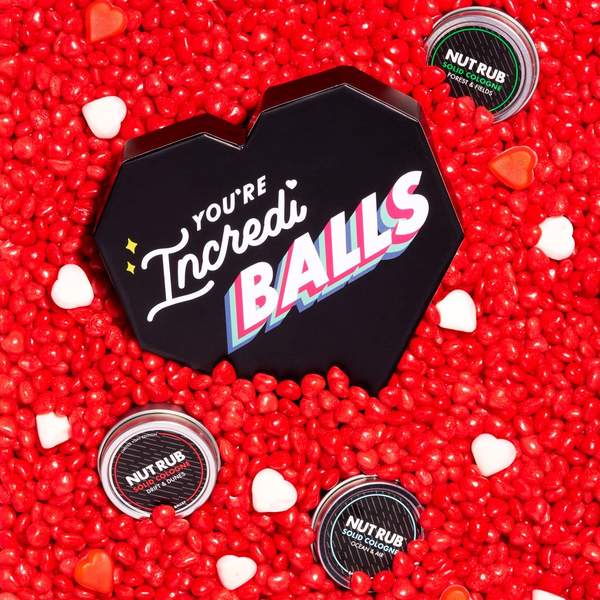 DRIFT & DUNES
Picture this. It's the 7am on The Great American Western Frontier. A warm desert wind blows carrying the smell of last night's fire knocking the Stetson from your face. Morning sun in your eyes, you wake with a smile. Still, in your favorite pair of broken-in leather boots with the taste of last night whiskey lingering on your beard, you realize you had one helluva night.
OCEAN & AIR
Ocean & Air captures the freshness of aquatic territory, crushed mint leaves, warm brown sugar and the zest of a lemon. It's great for daily use as well as big nights out on the town.
FOREST & FIELDS
Forest and Fields was named for its contrasting characteristics. Forest, for its dark and powerful allure. Fields, for it's bright and fresh familiarity. We set out to create the perfect day into night scent and this is definitely it.
You can purchase this great set, or any of their other wonderful products through their website. 
Stay socially connected to Ballsy for all their latest products: