Tips from Bob Evans to Make Your Holidays Less Stressful #BEHolidayHelp
This post may contain affiliate links or I may have received the product free in exchange for my honest review. See full disclosure for more information.
This week is one of the biggest feasts of the year and it can be stressful and delightful at the same time. Whether you are preparing a meal for the entire family, or taking them all out to eat, Bob Evans can help take the stress out of the holiday.

Bob Evans offers farm fresh foods that can adorn your holiday table and take the worry out of holiday cooking. The Farmhouse Feast includes an entire holiday meal, including the pumpkin pie, and will feed up to 10 people. At just $109.99, that is less than what most spend on each item a-la-carte at the store, let alone the hours of prepping and cooking.
You can order the Farmhouse Feast in advance and spend more time with your family, decorating the house, shopping or whatever else you would like to do on Thanksgiving. Bob Evans offers several serving options to fit your family gathering size and headcount.
Premium Farmhouse Feast $109.99 (serves 8-10): This extra special meal is packed cold and includes BOTH a slow-roasted whole boneless turkey breast and sliced hickory smoked ham, bread & celery dressing, homestyle mashed potatoes, buttered sweet corn, green beans with ham, cranberry relish, gravy, dozen rolls, macaroni & cheese, a whole apple pie, a whole pumpkin pie with whipped topping, and a loaf of pumpkin bread.
Farmhouse Feast $49.99 – $89.99 (serves 4-8): This holiday package is packed cold and includes your choice of a slow-roasted whole turkey, ham or pot roast, bread & celery dressing, homestyle mashed potatoes, buttered sweet corn, green beans with ham, cranberry relish, gravy, dozen rolls, pumpkin pie with whipped topping and a loaf of pumpkin bread.
Want to make your own turkey or ham, but pick up delicious sides from Bob Evans? Here are some great options available.
Restaurant Sides (prices vary): From mashed potatoes to dressing to pumpkin pie, Bob Evans has sides covered! If you just want to concentrate on the turkey, have a mishap or forget a side dish, guests can order sides for pick-up any day, including Thanksgiving Day.
Catering (prices vary): Sometimes you just don't want to cook but you need to feed a lot of people. That's where Bob Evans catering comes in. From a holiday office party to your own family gathering, Bob Evans can take care of everything.
Refrigerated Sides (prices vary): If you don't have a Bob Evans restaurant near you, pop over to your local grocery store and grab one of Bob Evans famous refrigerated sides.
Meet Lizzie Post
Lizzie Post, is the great-great-granddaughter of Emily Post and co-author of Emily Post's Etiquette 18th edition as well as Emily Post's Wedding Etiquette 6th edition and The Etiquette Advantage in Business 3rd edition.
Bob Evans has teamed up with the Lizzie Post and the experts at the Emily Post Institute to give you tips and ideas to make your holidays less stressful. Here are a few of those tips:
Plan in advance so you can enjoy the holiday, greet each guest as they arrive, and make everyone feel special and appreciated.
Mentally prepare yourself to roll with the punches. Things always go wrong but as long as you remain calm, your holiday event will be a success.
Keep your focus on your friends and family. It doesn't matter if the turkey burns or the table is not set to perfection, the most important thing is that your guests feel welcome.
For other tips, you can call the Bob Evans Holiday Helpline (855) 4MY-TABLE or
visit them online
for more information.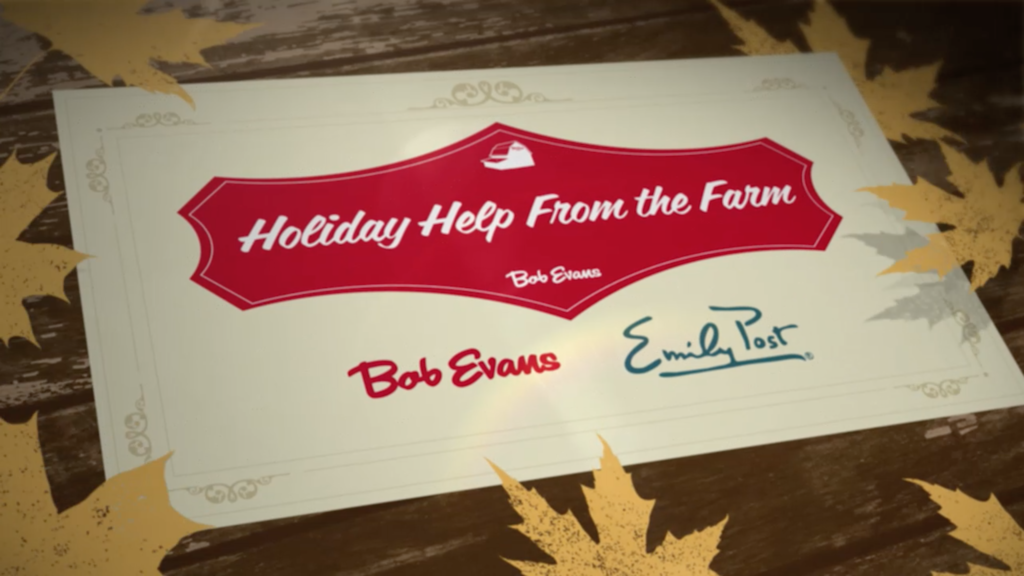 Taking the worry out of food prep and cooking opens up the door to other endless possibilities with your family. You can make personalized table decor, actually meet each guest as they arrive with a warm, welcoming smile, talk about what everyone wants for Christmas and much more.
Of course, also remember that Bob Evans IS OPEN on Thanksgiving and will be serving delicious food to families nationwide at various locations. Doors open at 8AM and stay open until 8PM. this gives guests a chance to enjoy a delicious holiday breakfast or Thanksgiving meal.
On Thanksgiving Day, Bob Evans will offer a special menu, featuring a choice of slow-roasted turkey, ham or pork served with a choice of three sides, endless bread and a slice of pumpkin pie for $14.99. Children can enjoy a choice of slow-roasted turkey or ham served with two sides, endless bread, slice of pumpkin pie and choice of a kids' beverage for $6.99.*
*Price and hours may vary by market.
Disclosure: This is a sponsored post on behalf of The Motherhood and Bob Evans. Regardless, all opinions are 100% my own.