Infuse Your Holiday with #PrimalEssence Coconut Oils & #SuperTeas!
This post may contain affiliate links or I may have received the product free in exchange for my honest review. See full disclosure for more information.
Thanksgiving is almost here! I love Thanksgiving, as it is a time of giving thanks and being with family. We always have a delicious feast planned! I use coconut oil in a lot of my recipes. This year, I am excited to use the delicious flavored Primal Essence Coconut Oils in my recipes. These oils add a depth of flavor that makes each dish super delicious! And, I can't wait to introduce my new delicious Primal Essence Super Teas to my guest! They will never return to messy tea bags and leaves again!
I will tell you more about the coconut oil and the super tea in a moment. Before I do, let me give you a special discount code for savings! Right now, you can get FREE shipping AND you can save 15% on all Primal Essence products by using the exclusive code PEsav15!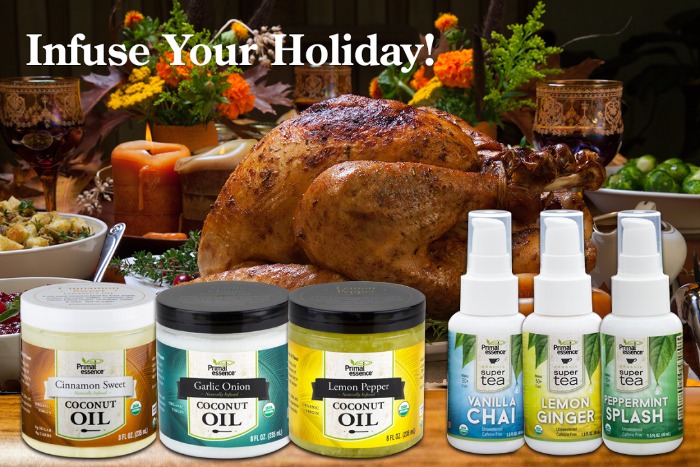 About Primal Essence
After supplying pure organic plant extracts to global food and beverage brands for two decades, the Southern California-based Primal Essence is now excited to introduce the amazing world of extracts to consumers everywhere. Primal Essence operates under strict industry-standard quality controls. The company's state-of-the-art processes yield pure, chemical-free, water-soluble extracts, which preserve the full fragrance and flavor of the original botanical. This makes the extracts much more potent than simple raw and ground herbs and spices.
Primal Essence Super Teas – Amazing flavors!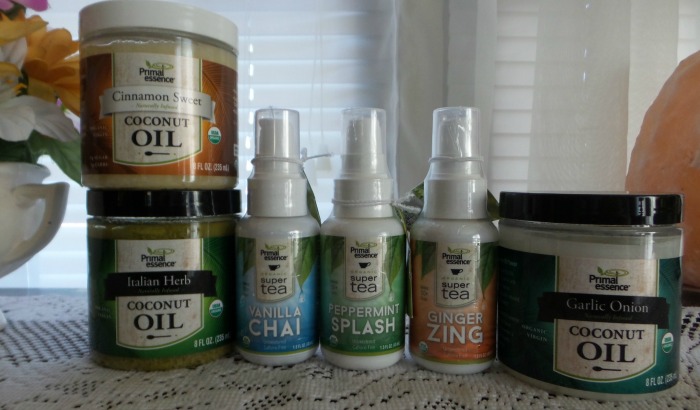 I was excited to try the Vanilla Chai, Peppermint Splash, Ginger Zing Super Teas!
Vanilla Chai – is a comforting blend. It uses pure vanilla extract that makes it amazingly delicious! It is perfect for a late evening cup of tea and for smoothies!
Peppermint Splash – has a cool and minty flavor. And, as you know, peppermint is great for tummy upsets.
Ginger Zing – want a little wake-me-up? Ginger Zing is it! With it's spicy sweet flavor it is the perfect pick me up flavor!
The tea extracts come in a travel size squirt bottle. There are no messy tea bags or leaves to deal with. And, the teas are Certified Organic and Kosher. Primal Essence Super Teas are easy to use! Simply add a squirt or two of purely natural plant extracts into a cup of hot or ice water. There is no steeping required!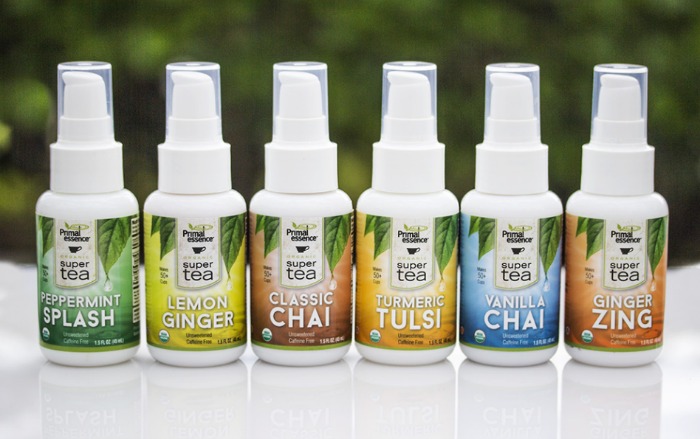 Derived from the world's finest and purest organic herbs, spices and botanicals, Super Teas are packed with beneficial whole plant phytonutrients. They are completely free of artificial ingredients, caffeine, sugar, GMOs or gluten. Primal Essence's highly innovative new teas are available in several delectable varieties. All the varieties are rich in flavor and character, including Classic Chai; Vanilla Chai; Lemon Ginger; Ginger Zing; Peppermint Splash; and Turmeric Tulsi.
Primal Essence's Award-Winning Line of High-End Organic Infused Virgin Coconut Oils help create perfectly seasoned and sublimely delicious meals, desserts and snacks. Just a spoonful of Infused Coconut Oil enables anyone — from a serious chef to a casual home cook — to instantly boost the flavor of their favorite foods quickly, conveniently and affordably.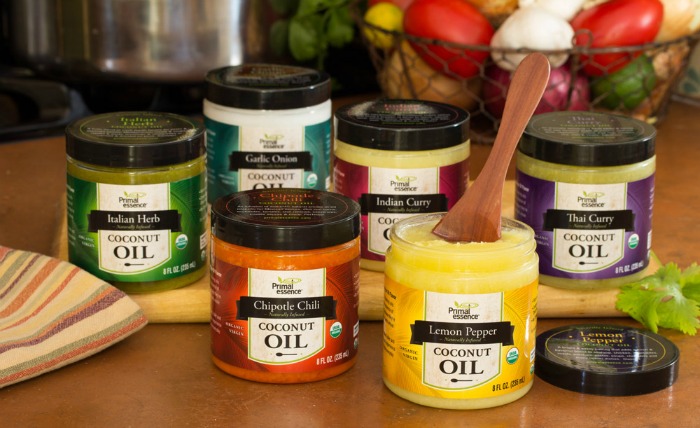 Primal Essence's savory varieties include Chipotle Chili, Garlic Onion, Indian Curry, Italian Herb, Lemon Pepper and Thai Curry — all of which can add authentic and even exotic flavors to such staples as soup, vegetables, fish and meat. Primal Essence's Sweet Coconut Oils provide smoothly satisfying alternatives to butter and margarine. Use them to enhance toast, bagels pancakes, muffins, waffles and much more. Sweet Coconut Oil varieties include Vanilla Sweet, Cinnamon Sweet and Ginger Sweet.
The Infused Virgin Coconut Oils intrigued me. The flavor assortment sounded delicious! I selected the Garlic Onion, Italian Herb, and for a sweet delight – the Cinnamon Sweet.
Garlic Onion – great for meats, soups, and stews. It gives just the right amount of depth and flavor to bring out the best taste!
Italian Herb – with its blend of fresh seasonings is perfect for pasta and risotto.
Cinnamon Sweet – perfect for spreading on toast, bagels, or add into cake and cookie recipes!
It's easier than ever to introduce whole-plant extracts into your cooking with Primal Essence Coconut Oil! Simply add a spoon full of the one of the oils to your dish to amp up the flavor! Take your recipe from ordinary to AMAZING!
Are you ready to try these amazing coconut oils and super teas from Primal Essence? I'm sure you are! You can find them by visiting Primal Essence online. Don't forget! Use discount code: PEsav15 to get 15% OFF ALL PRIMAL ESSENCE products PLUS FREE SHIPPING!
Connect socially with Primal Essence