Books to Love on Valentine's Day from National Geographic Kids
This post may contain affiliate links or I may have received the product free in exchange for my honest review. See full disclosure for more information.
National Geographic Kids always has some great books, and these 3 books will be a great addition to your book collection. Whether you or your child is a dinosaur enthusiast, you are music history buff or have a love for animals you will love these books.
They will make a great Valentine's Day gift, birthday gift, the We Love Babies can be a great baby shower gift also for the soon to be parents. Books are always a way to get your kids engaged in learning about the world around them, and it will also help them increase their vocabulary that will help in school and their future.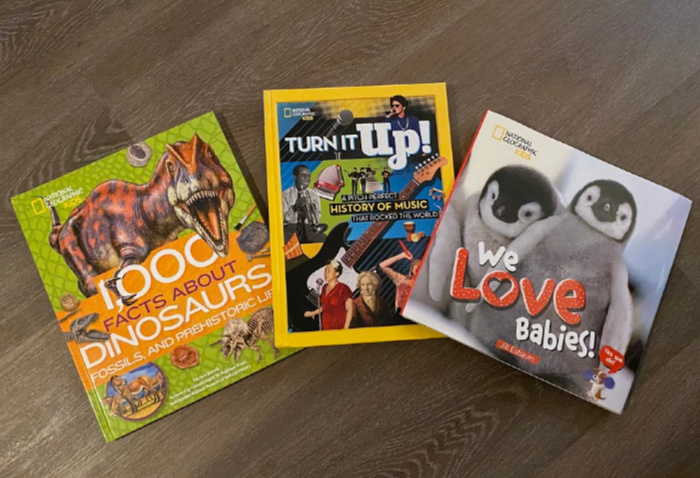 About National Geographic: 
National Geographic has been igniting the explorer in all of us for 131 years through groundbreaking storytelling from the best and brightest scientists, explorers, photographers, and filmmakers in the world. Our yellow border serves as a portal to explore the farthest reaches of the Earth and beyond. Places only National Geographic can take you.

We offer our audience true 360 experiences across an unparalleled portfolio of media assets: television channels, magazines, kids, travel, books, video, events, and digital and social platforms. Every asset and every story entertains, enlightens, and enables people to better understand the world and their own place in it – our core purpose. We reach millions of people around the world, with our television networks in 172 countries and our publications available in 41 langauges.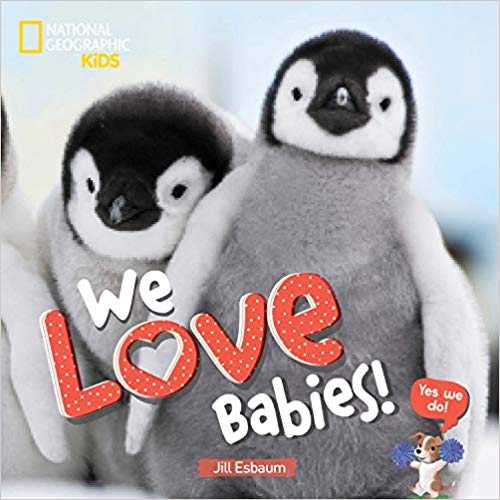 We Love Babies!
Love + adorable baby animals = a MUST for Valentine's Day and baby shower gift giving. This hilarious picture book with rollicking, rhyming text reads like a crowd-pleasing call, pumping up readers' excitement for the cutest baby animals ever. Illustrated with lively National Geographic photography, We Love Babies! presents furred, feathered, and finned baby animals of all shapes and sizes, celebrating their glorious diversity, from "paws and claws and little flippers" to "feet that look like fuzzy slippers!". Whimsical cartoon cheerleaders add to the fun, popping up throughout the book to lead fans in the irresistible refrain: "We love babies, yes we do, we love babies, how about you?"
You can purchase We Love Babies on Amazon, or any book store.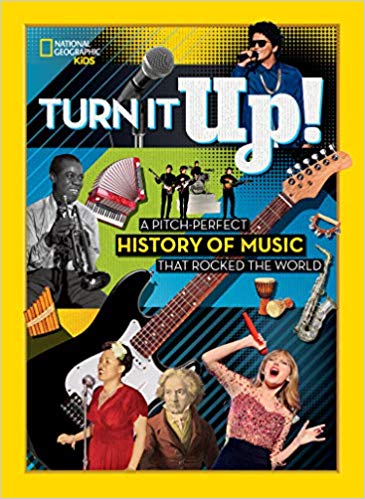 Turn It Up!
From classical to country, blues to rock, hip-hop to pop, crank up the volume and get ready to rock out with a comprehensive record of music through the ages.
The high notes and biggest moments in music history are covered in this fun compendium. You'll learn about the world's most famous musicians through the eras, from Bach to the Beatles to Beyonce — and beyond. Many major music genres are playfully explained, from tribal, classical, jazz, folk, rock … all the way to today's modern forms, such as k-pop, hip-hop, and rap. Instruments and sounds are explored, along with places and events in history that inspired the evolution of music. Kids will also get a sense of music theory, instrumentation, and the artistry of distinctive musical styles. Song recommendations help readers open their ears to what they've learned. Add to that amazing images, a rockin' glossary of musical terms, and a timeline that plots each genre on its path from ancient history to today, and this book is bound to top the charts!
You can purchase Turn It Up! on Amazon, or any book store.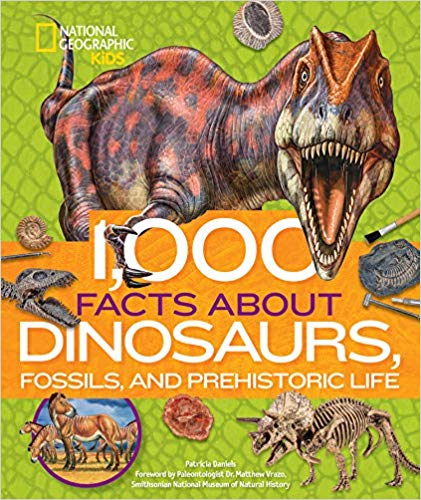 1000 Facts About Dinosaurs, Fossils, and Prehistoric Life
Ages 8-12
T. rex, triceratops, pterosaurs, saber-toothed cats! This colorful reference book is jam-packed with 1,000 fascinating facts about what these prehistoric creatures looked like, how they lived, and the evidence they left behind.
From dinosaurs like Stegosaurus and Giganotosaurus that ruled the land to the mammoths and giant sloths that followed them, discover all you have ever wanted to know about dinosaurs, fossils, and prehistoric life. Uncover amazing fossil facts about the first four-legged creatures; find out what it's like to be on a dinosaur dig; and marvel at some of the fiercest, most fascinating claws and teeth. Learn how dinosaurs and birds are connected, find out the biggest prehistoric mysteries that scientists are still trying to crack, and sink your teeth into some seriously supersize dino stats.
You can purchase 1000 Facts About Dinosaurs, Fossils, and Prehistoric Life on Amazon or any book store.
Stay socially connected with National Geographic Kids for their latest additions: