It it here! Guardians of the Galaxy Vol. 2 enters theaters one week from today! I have already seen the movie and am eager and excited to see it again, as if it was the first time all over again. While in LA last week, covering the red carpet premiere, I also had the chance to sit down with cast and crew, including Star-Lord himself – Chris Pratt.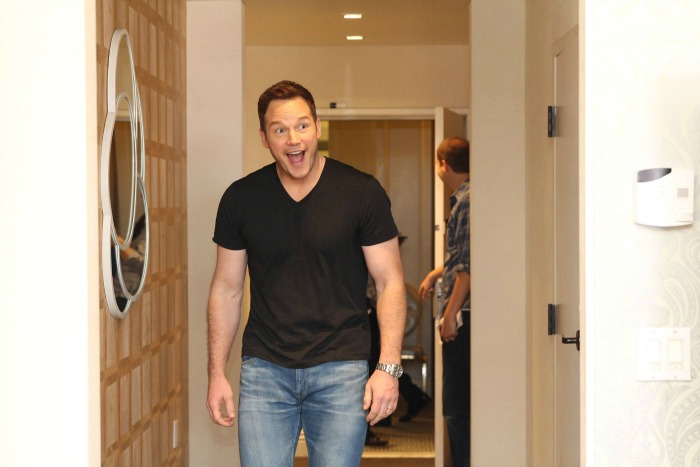 The look of excitement in this picture of Chris Pratt perfectly describes how each of us felt knowing he was entering the room for our interview. Before we say his face, we heard his voice scream "MOMMY BLOGGERS!" which got us even more riled up.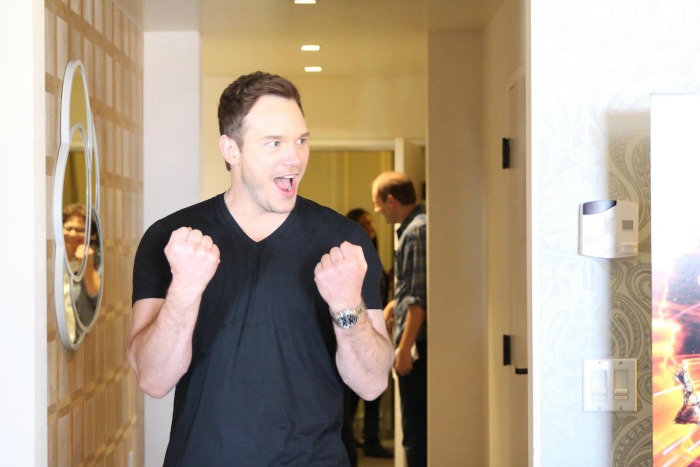 First question came and we wondered his reaction based on his first preview of the movie.
I saw it about a week and a half ago for the first time, and last night was the second time. I was so relieved when I saw it because I knew the script, that movie is exactly how the script read. And so, when I read the script, I knew it was good, but there's so much stuff that can happen between reading the script, and then watching the movie, you know?

There's so many moving parts, some of which I'm responsible for. So, I was like, 'please still be good.' I was just relieved to see that the movie was as good as the script.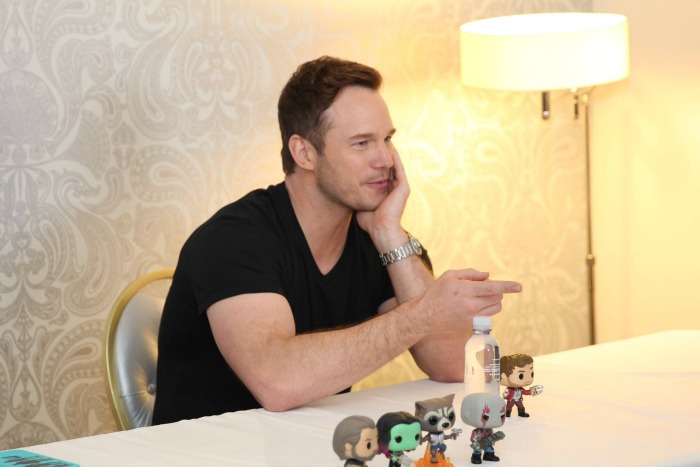 STOP RIGHT HERE AND READ – Now before you go any further with reading this interview, know that some of the talks we had were based upon the fact that we had already seen the movie and all of the storylines involved. If you want complete and utter surprise, your best bet is to stop here, come back after the movie and then see Chris' reaction to some of the parts of the movie. Otherwise, enjoy more candid chat with Pratt!
We asked him what his personal thoughts were on the tumultuous relationship with his father, Ego (Kurt Russell).
Oh, that idea, that concept was mind blowing! It was next level to me. Understanding like the nuances I was gonna be allowed to play as this character (was) way different from the first movie. There were certain emotional tones in the first movie with Peter Quill (and) his mother (and) that side of his origin, but this new story, feeling the reality of like his biological father, and this guy that he's built up in his mind.

It's a very contemporary story, and there's a lot of kids that are gonna relate to that whose dads weren't around and who have another man in their life who's been responsible for raising them, and how we can take relationships for granted that aren't those relationships we have built up in our mind. It was so great when James just told me the whole script when we sat down like a couple years ago. Maybe just a few weeks or maybe a month or so after the first movie came out, he invited me to his house, and just told me the whole movie. I was the first person to hear it.

I'm like crying at the end and James was like 'So, what do you think? Would you?' Cause he was asking if I was willing to go there, you know? So I said 'Are you crazy? Yes, it's amazing!'
Now, if you haven't figured out a major piece of the movie story line yet, great! What is interesting for me, is that we already know there is going to be a Guardians of the Galaxy Vol. 3, but we don't know when. Interestingly enough, Chris Pratt ALREADY knows part of the storyline for that movie!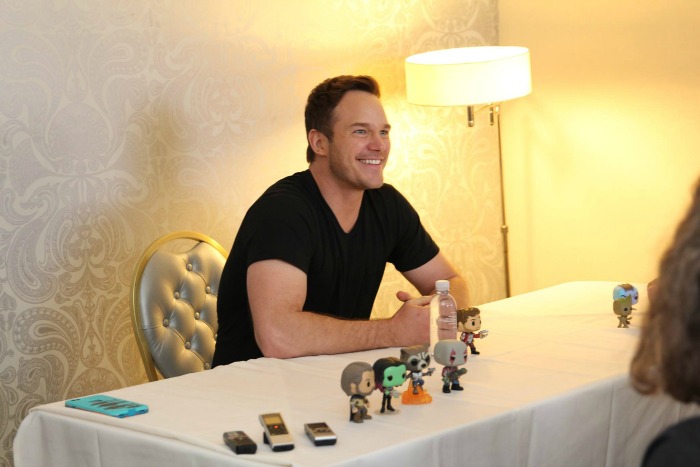 Next came my question! I was so excited to ask this one…again, this has some spoiler information so do not read unless you want to know some major components of the movie! Star-Lord has a fight with his father, Ego, and it is very intense. You can tell during the scene that Chris Pratt gave it his "ALL", so I asked him, "You really brought that raw passion in the fight scene with him (Ego). Did you use any kind of real life personal experiences to channel that energy and emotion?"
You know, thank you for that. That was, that's something that for me, as an actor, is one of the hardest things for me to do, channel anger, because I do it so rarely in my real life. Not saying that that's healthy. Don't really do it that often. So, I think often times how we behave in the real world, that type of behavior's really easy to do as an actor, for me at least, real natural stuff.

But for me to like look someone in the eye and yell at them, and tell them what they did to me, that they wronged me, that I'm pissed off, that type of thing is not something I do that often. So, it was hard for me to get there. When you can't use just the natural empathy for your character that you're playing, this character that you're playing that you love and you have to have empathy for them, and then you feel their emotions. If that doesn't work to get you there, you have to rely on some sort of trick to work rather from the inside out, but from the outside in.

I think that's what I had to do in that scene. It was actually not as emotional for me as it was kinda practical. Like creating a center, creating a loud voice, you know, finding. James really helps me with that stuff, and it's just a lot about energy, and heightening your energy, and grounding it, and being direct. That's something that doesn't come that natural to me. So, I'm glad that, if you think that, if you think it worked, that's good. That makes me feel happy.
Chris noted that working with someone as iconic as Kurt Russell was great. "He's such a great dude." He noted that many have commented on how he and Kurt could pass as father/son based upon shared passions. He also noted that Kurt is truly an open book and you always know where you stand with him. A real straight-shooter (I got that vibe too when we interviewed him…more to come on that later).
One thing Chris noted was his comedic improv on the set with certain scenes, but to his surprise, some of those takes make the cut and were in the movie!
I remember the day I was talking to James about that today, on the day it wasn't that funny. It was just like we'd done that scene a bunch of times, and they had to do it again because they needed to get something else. So, I knew they already had whatever the line that was written so, I knew when they already have it, that's my room to play.

I say, 'You're gonna throw this take away anyways, I'm just gonna (do/say) whatever I want.' And that's what I said when he (James Gunn) was like, 'Yeah, yeah, yeah. You know, it wasn't that funny.' THEN he put it in the movie!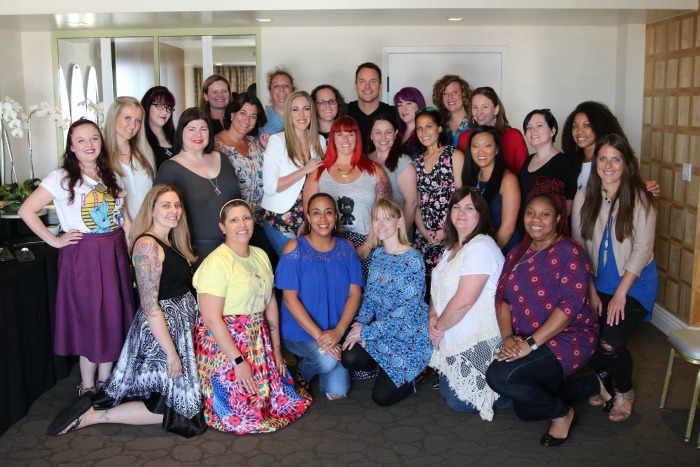 Here is a hidden Easter egg that ties Volume 1 to Volume 2. Peter Quill has a shirt on in this movie that was a snack that he was actually eating on his ship in the first movie.
That's actually a label from the first movie. There was some candy on the table and I think I'm eating some of the candy. I don't know if (it) ever made it in the movie, but James really loved the label. The art department had gone to (great) lengths of creating this language, and created a label for some candy. So, he put that label on the shirt. That's like a snack that Peter Quill likes to eat. 
Chris Pratt says his favorite snack is a combination tray with sausages, cheeses and such. He could "live on that", he said. Of course, he also loves Doritos, especially the bags with his character and face on them (LOL)!
My favorite part of talking with Chris was his humble answer to doing good in the community and his charitable work.
I actually credit Russell Wilson. I think I saw how he did it, and I was like, 'this guy's awesome.' Like, he's open with his faith. He is a superstar quarterback, and I have a pretty healthy and not that secret man crush on him.

I saw how he did it, and what he did up at Seattle Children's Hospital. I remember around the time that I got Guardians of the Galaxy (Vol 1) and I remember thinking to myself, 'If this thing does what it could potentially do, and there's a world where it would mean something for me to go do that, I'll definitely do it.'  I get that from Russell Wilson, but I think if I credit Russell Wilson, he wouldn't take the credit. He'd give the glory to God. He would say that it was his faith. I think it's the same kind of thing. I really love how he does it, and I have to credit some of that with him.
This interview was breathtaking. It was like talking to a brother or close friend. Chris is truly one-of-a-kind and it really resonates in his personal and professional life. Head to theaters May 5th to see GOTG Vol 2! If you haven't see the GOTG Vol1, get it now on DVD beforehand and be prepared to have your mind experience so much joy, you will want to explode!
Here is the extended trailer to get you as excited as I am for the movie release on May 5!
"Guardians of the Galaxy Vol. 2" is written and directed by James Gunn and stars Chris Pratt, Zoe Saldana, Dave Bautista, featuring Vin Diesel as Baby Groot, Bradley Cooper as Rocket, Michael Rooker, Karen Gillan, Pom Klementieff, Elizabeth Debicki, Chris Sullivan, Sean Gunn, Tommy Flanagan, Laura Haddock, with Sylvester Stallone, and Kurt Russell.
Kevin Feige is producing, and Louis D'Esposito, Victoria Alonso, Jonathan Schwartz, Nikolas Korda and Stan Lee are the executive producers. Marvel Studios' "Guardians of the Galaxy Vol. 2" blasts into theaters on May 5, 2017.
Get social with me AND GUARDIANS OF THE GALAXY VOL. 2 
and be sure to use #GotGVol2
*(Photo by Louise Bishop)