As the time approaches for Guardians of the Galaxy Vol 2 enters theaters (May 5), I am sharing some exciting, inside chat with the cast of the movie. Today brings a wonderful interview with Dave Bautista as Drax.
We were first introduced to Drax in Guardians of the Galaxy Vol 1 when the a-holes entered the jail. Drax was there for unknown reasons, but we learned that he was bitter at Gamora for her ties to Ronan the Accuser. Ronan had killed the wife and daughter of Drax and he had a mission to avenge the death of his family. Along the way, he became close to the a-holes and ultimately became part of the Guardians of the Galaxy and their crazy, non-traditional family.
In Volume 2, we see the storyline of Drax become more prominent and he shows more of a comedic side right from the first few scenes. I loved how Drax was portrayed in this movie and you will adore it as well. As Dave entered the room, you can tell that he is a regular everyday person, just like the rest of us. He is fortunate to do something that he loves, but still tends to get a bit shy when it comes to the media attention that follows a box office hit like Guardians.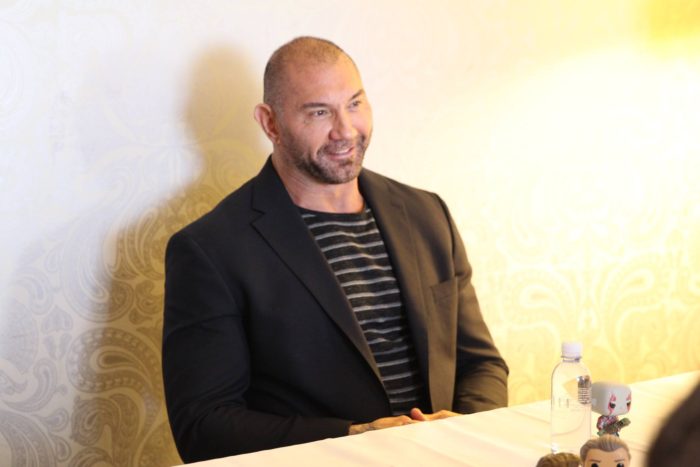 We started the questions about his role as Drax and his everyday life outside of making movies. The first question we asked how he liked Drax coming more prominent in this movie and his candid closeness with Mantis (Pom Klementieff)
You're not gonna like this answer. (As he chuckles)

When I first read the script, I wasn't crazy about it.  This is my initial reaction, when I usually get a script I go over my dialogue first.  So, I read over my dialogue and for one I was expecting them to go a different direction with Drax.  I thought he was gonna be more of the destroyer.  I thought he was gonna be a more comic book Drax and then I realized they were digging more into the funny bits.  I don't find myself funny at all, so when I was reading these lines I was like 'They're not funny.' 

I just didn't really get 'em and I read the script, and I thought, 'Wow, this is really a great script.  It's deep.  It's emotional', but I still was a little bit disappointed about my part.  Then the first day we did our table read, I realized it was hysterical.  Then I just had a completely different outlook on it as a whole.  
Dave noted, after seeing the film a few times now, including the Red Carpet Premiere night, he thought it was a lot better than the first film. He also noted, which I adored his candidness, how he is not a fan of watching himself on the big screen.
I just get so emotionally like invested in this film.  I felt that the first one I thought was fun and exciting and some parts were very emotional, but not like this one.  I felt like I was just totally absorbed in this film. 

As far as watching me on film, I just cringe.  I just like don't watching myself on film.  It's just uncomfortable.  And last night at the premiere I just, every time I was on the screen like and I knew I was gonna say something, I just kinda put my head down and just try to get through it.

I have not gotten to that point.  Eventually I will, but right now I still me and I'm still judging myself, and it's just something that, it's hard for me to do. 

We were filming and we watched playbacks, everybody knows that I don't like 'em.  You know, they'd call Zoë, call Chris to watch the playbacks.  They don't call me to watch playbacks, 'cause they know I won't sit there and watch it.  
We talked about the root of Drax' role and his love of his family. We asked if he thought there would be a continuation with he in finding another love in the series.
No, not if I can have input on it, I would say no, because it's the root of who Drax is. Drax lives for his heartbreak.  You know, he's just too heartbreaking. I don't think he'll ever have a romantic connection with anyone. Never.
He said that he never really compared his time in the WWE to his acting career in films until recently with a fan talked to him more about it.
Someone said something to me the other day that kinda resonated a little bit, and I never really put any thought into it.  He was making the comparison (of wrestling and acting), and I said there's no comparison. I said wrestling is so big and so broad and such a big, improvisational, physical performance, and acting is so intimate.  He goes, 'Yeah, but Drax is so big.  He's so larger than life.'  And I never really thought about it, but it really is.  So, maybe subconsciously it does help a little bit, because Drax is definitely not who I am. 

He's big and boisterous and a little bit egotistical and proud.  I'm just, you know, I'm not that. I'm just much more just self-conscious and understated.  But, you know, maybe.  I just never really thought much about it and I never put it in that perspective.  Maybe it does have something to do with it, especially when, you know, Drax starts laughing.  It's just so big and ridiculous.
He did say that for Volume 3, he would like to see some physical connection for the audience with Drax's family. Maybe a flashback of his wife and daughter so the audience can understand his passion and love and who they are for. He would also like to see other characters from his race, maybe more people with different tattoos, similar to the ones he has.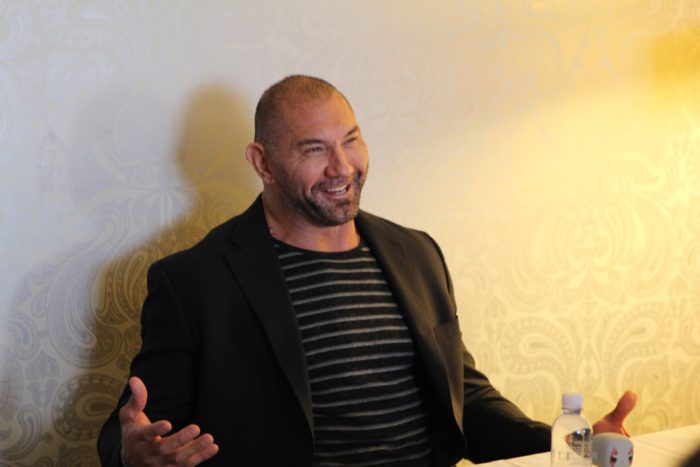 He noted in this movie, the makeup process to transform him into Drax was a lot less complicated that Volume 1.
On the first film it took like four to six hours. You know, it was just like these big sheets of silicone, but it's like these glue transfers that they have.  (Now) it takes about an hour a half.  It's really hard to get off, but otherwise it goes on really fast and I can't complain.
With the new movie, Avengers: Infinity War, set to release in May, 2018, he noted that the Guardians are in the movie, though that is no industry secret. It is all over the web that many of the Marvel characters will be in this movie.
He thought they might try to change the Guardians a bit for the movie, but James Gunn actually has some writing input into their role and the Russo Brothers were encouraging of them being the characters they already are.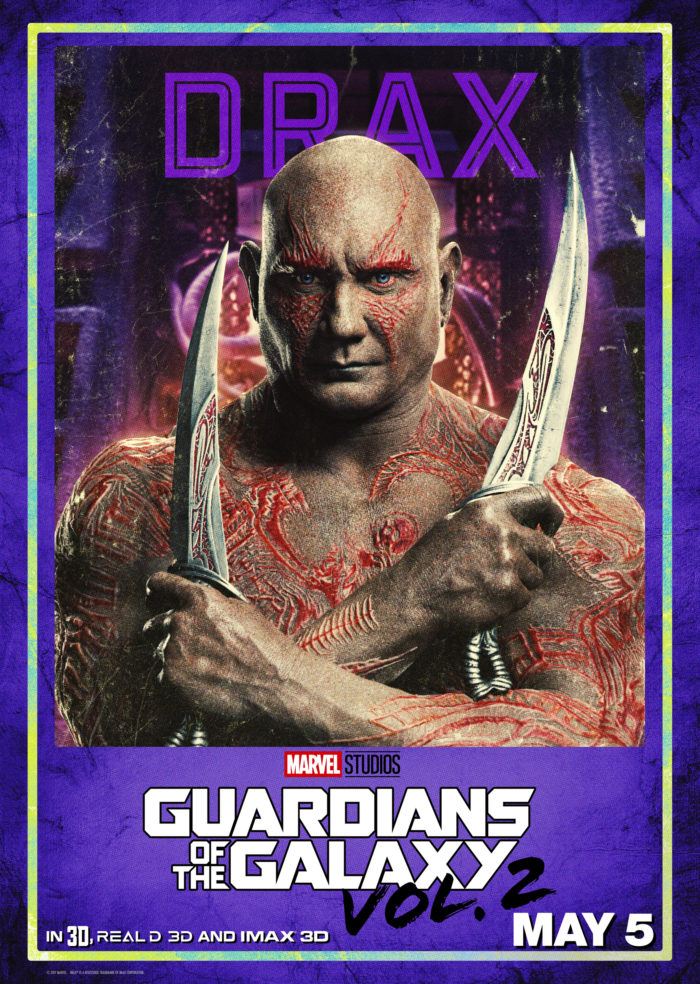 Want to know what he does after wrapping up a super-fabulous filming of Guardians of the Galaxy Vol 2? His answer was sweet and simple.
I go home to Tampa and I hide. I do.  I live live in a regular neighborhood.  Like where I'm at is very close to MacDill Air Force Base, and I'm surrounded by all military families.  It's just kind of a normal neighborhood. And my wife just really, she shies away from the spotlight.  She doesn't like it.  So, it's just like real life and I like being there.  I'm very content there, 'cause like all this attention and the spotlight (are) very uncomfortable for me. 

Nobody really gets it, man, when we're walking like down the red carpet and they're saying, 'Oh, this is great.'  I'm like 'For me it's not.'  It's like, you know, I enjoy it. I don't hate it, but at the same time it's just overwhelming for me.  I think a lot of people have a hard time relating why that would be overwhelming, especially when they look at what I've done for a living, you know, with wrestling and everything being out there in the spotlight.  I did it, 'cause I love it.  I was passionate about it.  That doesn't mean I was always like super comfortable.  I did it because I wanted to step outside of my career zone and pursue my dreams, which is terrifying.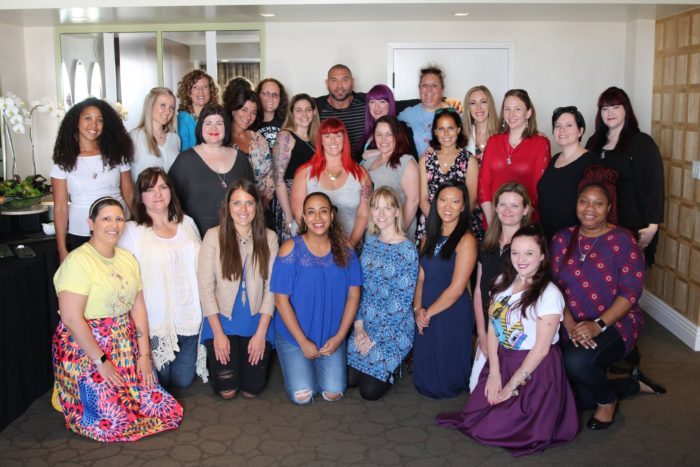 We had a fabulous time interviewing Dave Bautista. I have to admit, he has not changed a bit from his first interview with us for Guardians of the Galaxy Vol 1, and I adore that humble, real person he is. You will love his role as Drax in this new movie – it is a MUST-SEE film.
Here is the extended trailer to get you as excited as I am for the movie release on May 5!
"Guardians of the Galaxy Vol. 2" is written and directed by James Gunn and stars Chris Pratt, Zoe Saldana, Dave Bautista, featuring Vin Diesel as Baby Groot, Bradley Cooper as Rocket, Michael Rooker, Karen Gillan, Pom Klementieff, Elizabeth Debicki, Chris Sullivan, Sean Gunn, Tommy Flanagan, Laura Haddock, with Sylvester Stallone, and Kurt Russell.
Kevin Feige is producing, and Louis D'Esposito, Victoria Alonso, Jonathan Schwartz, Nikolas Korda and Stan Lee are the executive producers. Marvel Studios' "Guardians of the Galaxy Vol. 2" blasts into theaters on May 5, 2017.
Get social with me AND GUARDIANS OF THE GALAXY VOL. 2 
and be sure to use #GotGVol2
*(Interview Photos by Louise Bishop)