Guardians of the Galaxy Vol 2 has OFFICIALLY hit theaters EVERYWHERE! While you will adore the new movie, the fun does not have to stop at the end. You can bring your favorite heroes and villains home with you to collect and enjoy these amazing products.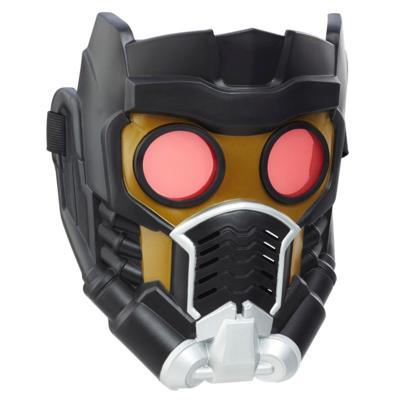 Star-Lord Mask: Imagine gearing up like Star-Lord with this out-of-this-world Star-Lord mask! Kids can pull on the mask and imagine blasting into intergalactic battles with a rag-tag teams of guardians that might be more than the galaxy can handle. Mask fits most heads. Superpowers not included.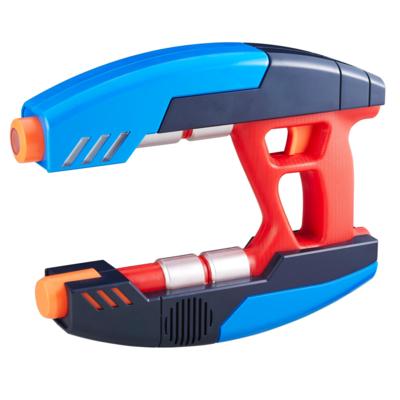 Star-Lord Elemental Blaster: Gear up like Star-Lord with the Star-Lord Elemental blaster! The Star-Lord Elemental Blaster boasts 3 unique blasting settings with different lights and sound effects that just might pack enough galaxy-saving dominance to shut down the bad guys. Rotate the blaster to access new elemental modes, including Water, Fire, and Electricity.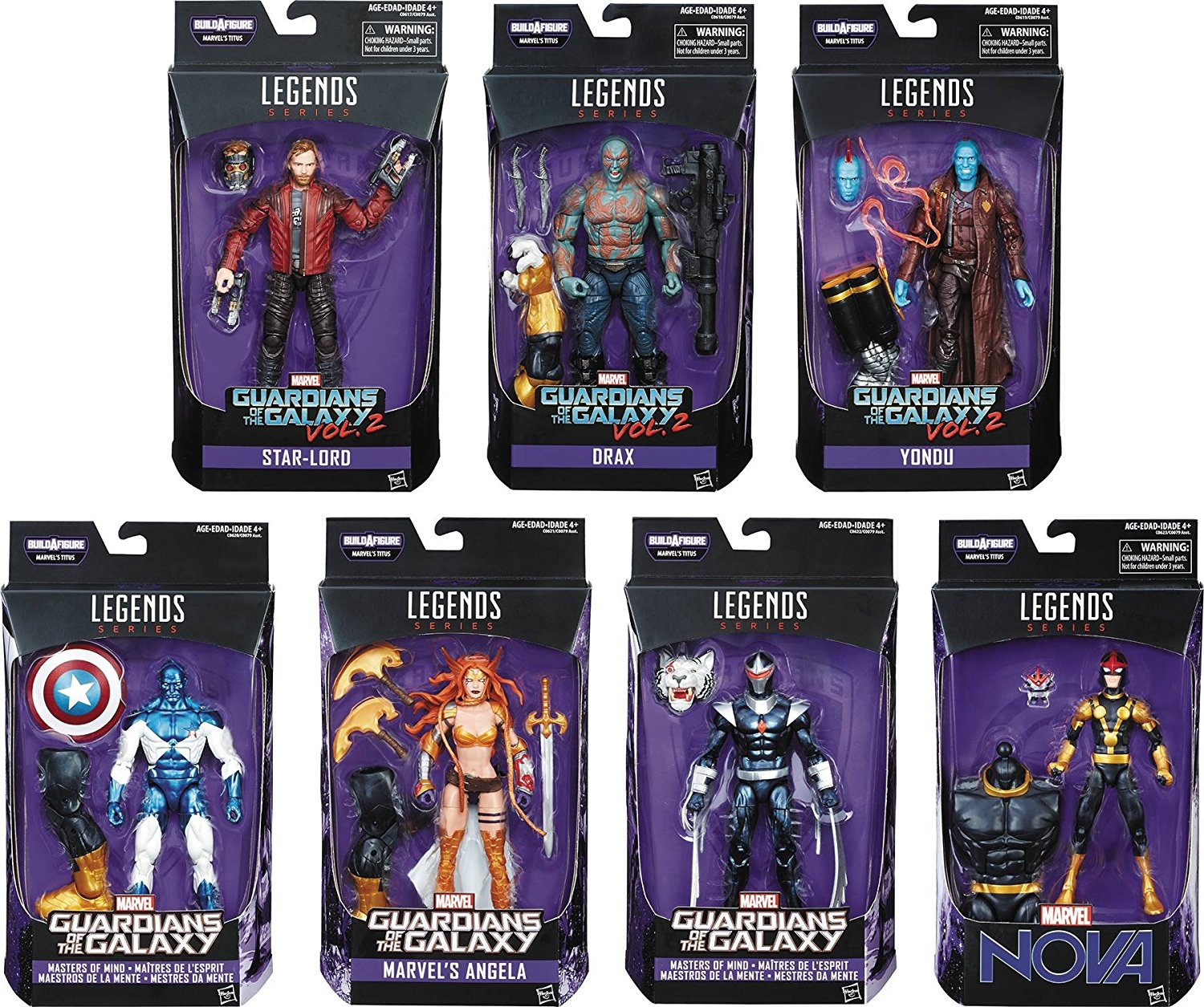 6-inch Legends Series Figures: Assemble a rag-tag team of misfits from Guardians of Galaxy with the Marvel Legends Series! With the Marvel 6-inch Legends Series, both kid and adult Marvel fans can start a legendary collection of comic- and movie-based Marvel characters. This 6-inch Star-Lord figure is highly articulated and features a movie-inspired design, making it an epic addition to any Marvel collection.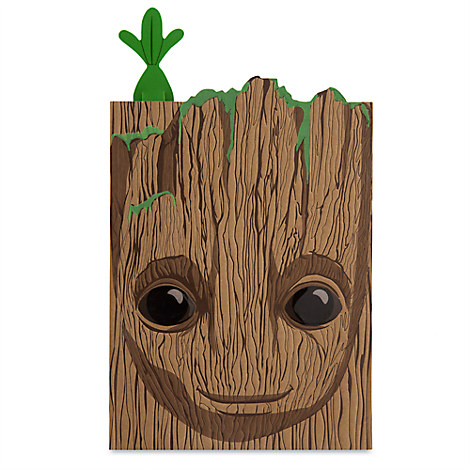 Groot Journal: Let your imagination do the talking and jot down your brilliant ideas in this notebook inspired by Groot from Guardians of the Galaxy Vol. 2. It comes with a galaxy of pages and a handy little bookmark so you never lose your place!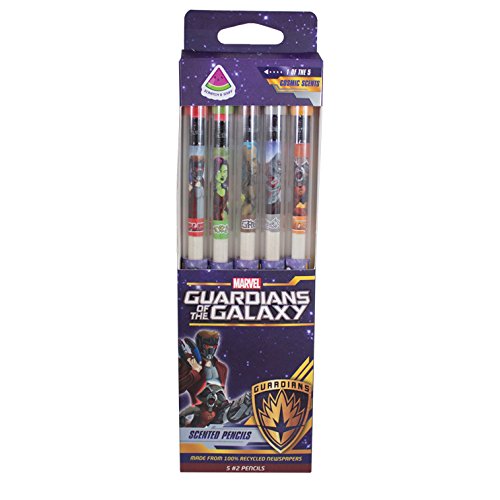 Marvel Guardians of the Galaxy Smencils: Marvel's Guardians of the Galaxy: Smencils 5-pack comes with 5 of our scented pencils that are made from 100% recycled newspapers. Each Smencil is a No.2 graphite pencil and is packaged in its own recyclable plastic freshness tube. You will receive 1 each of the 5 scents.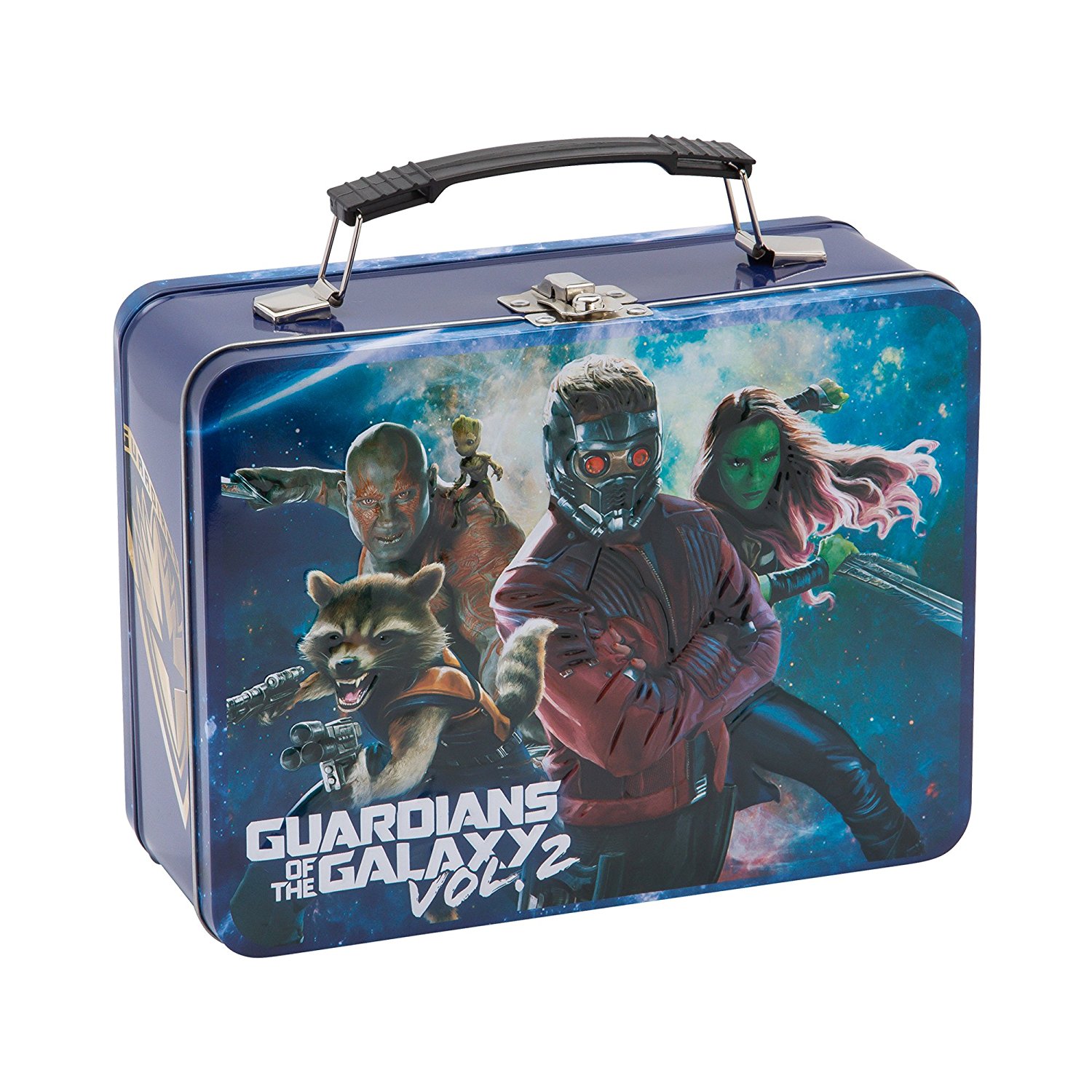 Vandor Marvel Guardians Of The Galaxy Volume 2 Large Tin Tote: Whether it's holding lunch or storing gear, Vandor fun retro tin tote is sure to please. It features a collapsible plastic handle and metal latch closure. A must for the collector, this tin tote measures 9 x 3.5 x 7.5 inches. Making retro cool since 1957, legends live on at Vandor – suppliers of hip and functional products for fans of all ages. Did you know Drax collects lunchboxes? Read about it here.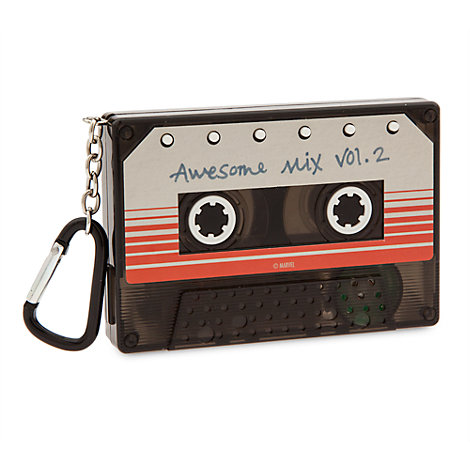 Sound Machine: You'll be in tune with Star-Lord and the rest of the Guardians of the Galaxy with this cool Sound Machine. Inspired by the "Awesome Mix" cassette tape in the original, this features cool sound effects and music at the touch of a button.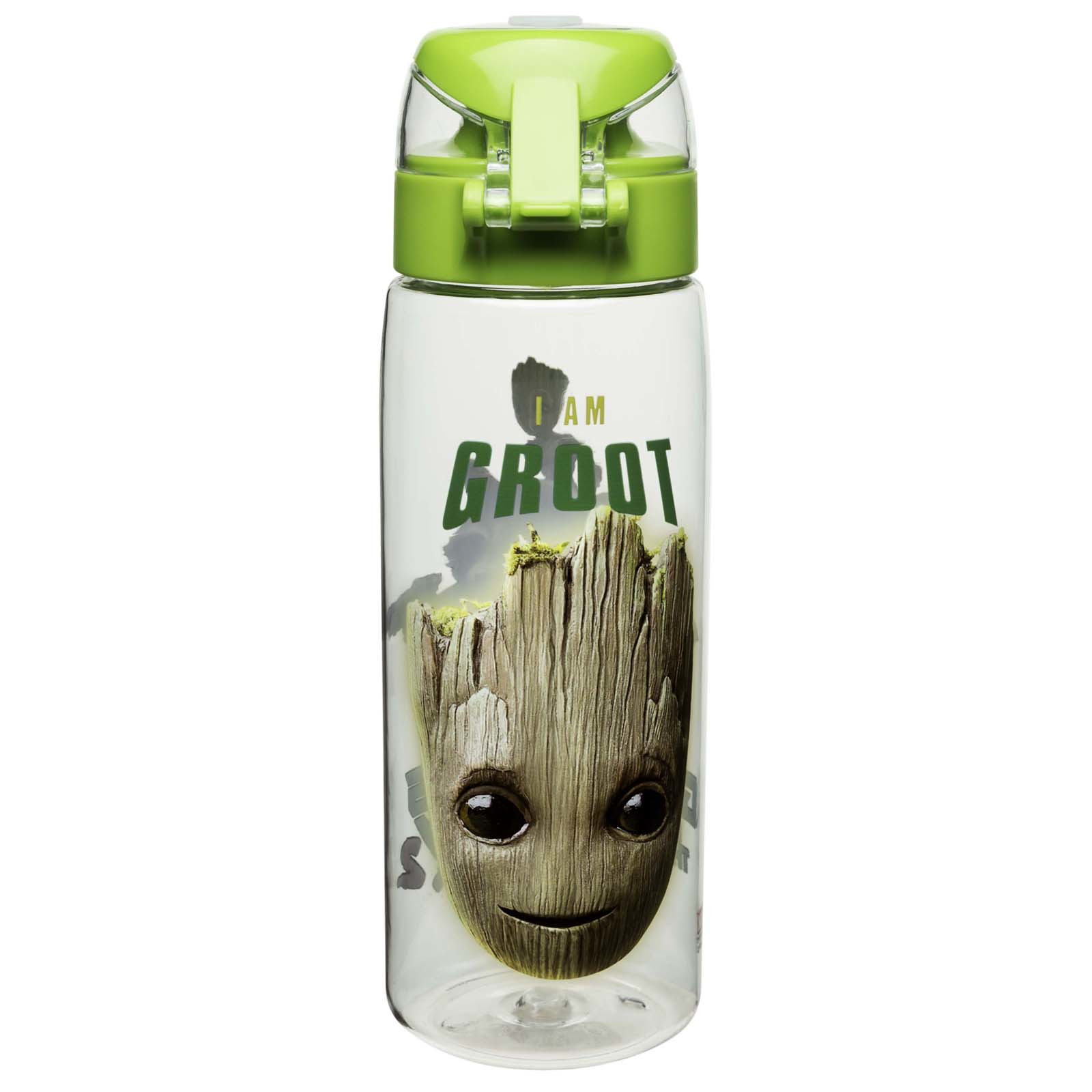 Groot Water Bottle: The local landfill will be thankful when you upgrade from disposable bottles – this one holds 25-ounce, and is made of durable, shatterproof Tritan(T) for long-lasting utility. It fits in most car cup holders and has a built-in carrying loop in the lid, so it's easy to take anywhere you go. The bottle has a wide mouth that fits ice cubes for cooling down on hot summer days. With an extremely clear surface that won't craze over time, it's effortless to see the beverage inside. The lid is made of high-impact ABS plastic, with silicone inserts over the spout and vent to make it watertight and leak-proof. The cap flips open easily and locks in place, so it won't swing around while you're drinking. This bottle is entirely BPA free and top rack dishwasher safe. Do not microwave. Recommended for children ages 12+.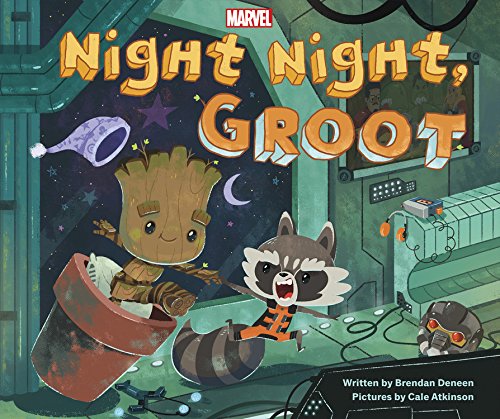 "Night Night, Groot" Book: This is a 32-page bedtime picture book told through the eyes of Marvel's lovable characters Rocket and Groot. It's been a long day for baby Groot and he's ready to be tucked in for bed. Just as his eyes start to close, Rocket Raccoon bursts onto the scene! Groot can't go to sleep yet, there's a whole galaxy that needs to be defended and they must work together to save the day! Then maybe, just maybe, Groot will finally get the rest he deserves!
See this adorable video of Zoe Saldana reading "Night Night, Groot"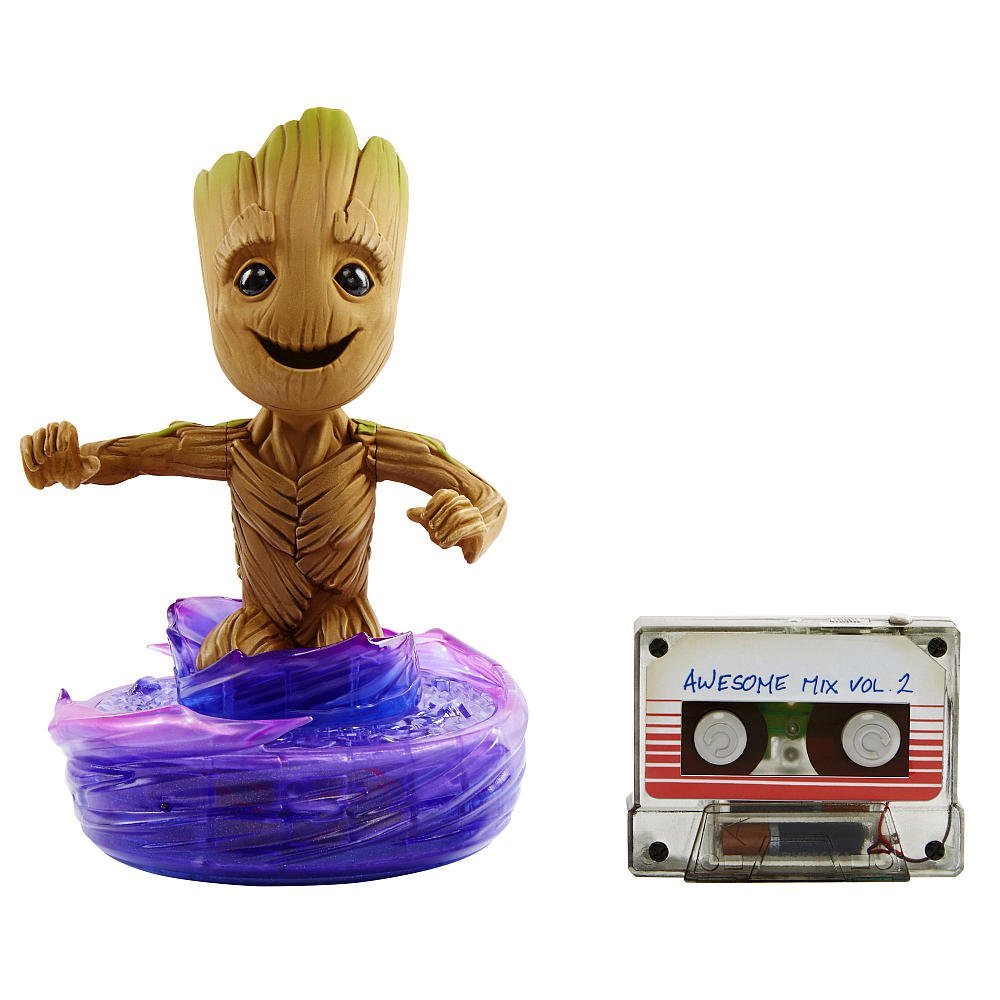 Rock N' Roll Groot: Groot dances to music from Guardians of the galaxy Vol. 2! It has 2 modes. The Free dance lets you control Groot, and Groove mode let's him do his own moves to any song. Groot can even get back upright after dancing on his side! "Shout out" button triggers 4 different "I AM Groot" phrases.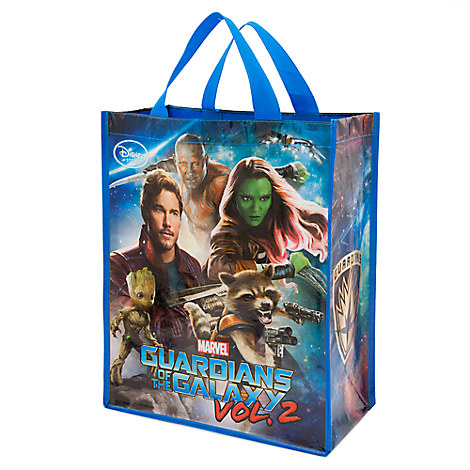 Reusable Tote Bag: with help from the Guardians of the Galaxy, shopping has never been better. Grab all of your essentials and toss them into this recycled tote bag designed to make your next retail excursion easy-peasy.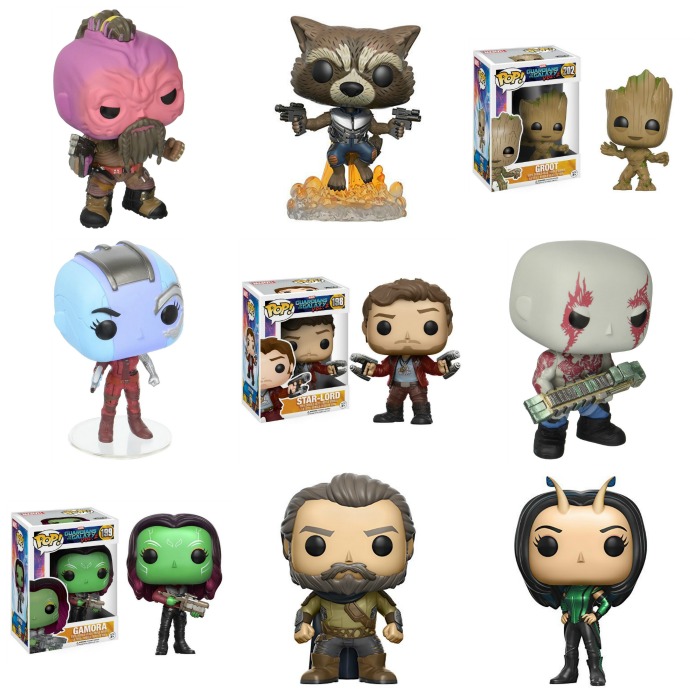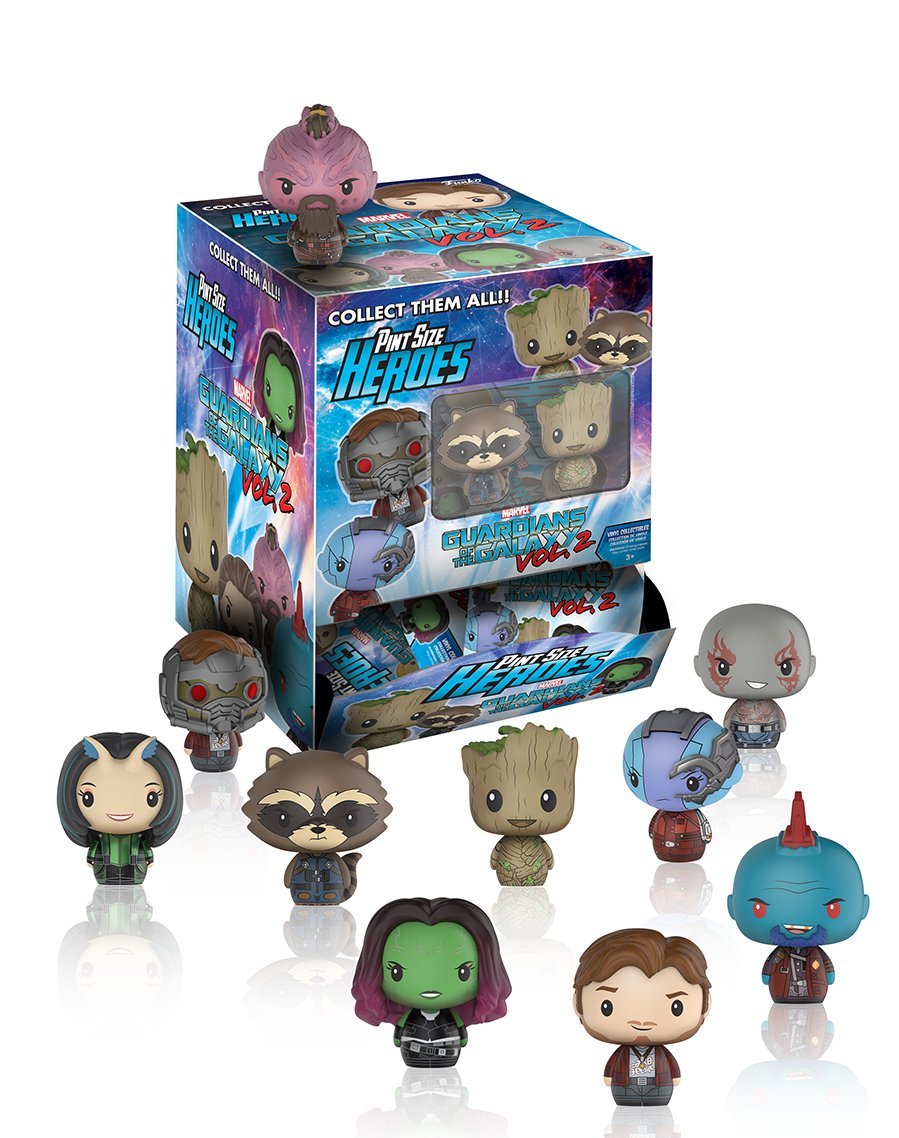 Funko Pint Size Heroes: Guardians of the Galaxy 2 One Mystery Toy Figure: Your favorite characters from Guardians of the Galaxy Vol 2, as stylized vinyl Pint Size Heroes from Funko! Figures stand 1.5 inches and comes in a mystery blind bag. Check out the other Guardians of the Galaxy 2 figures from Funko! Collect them all!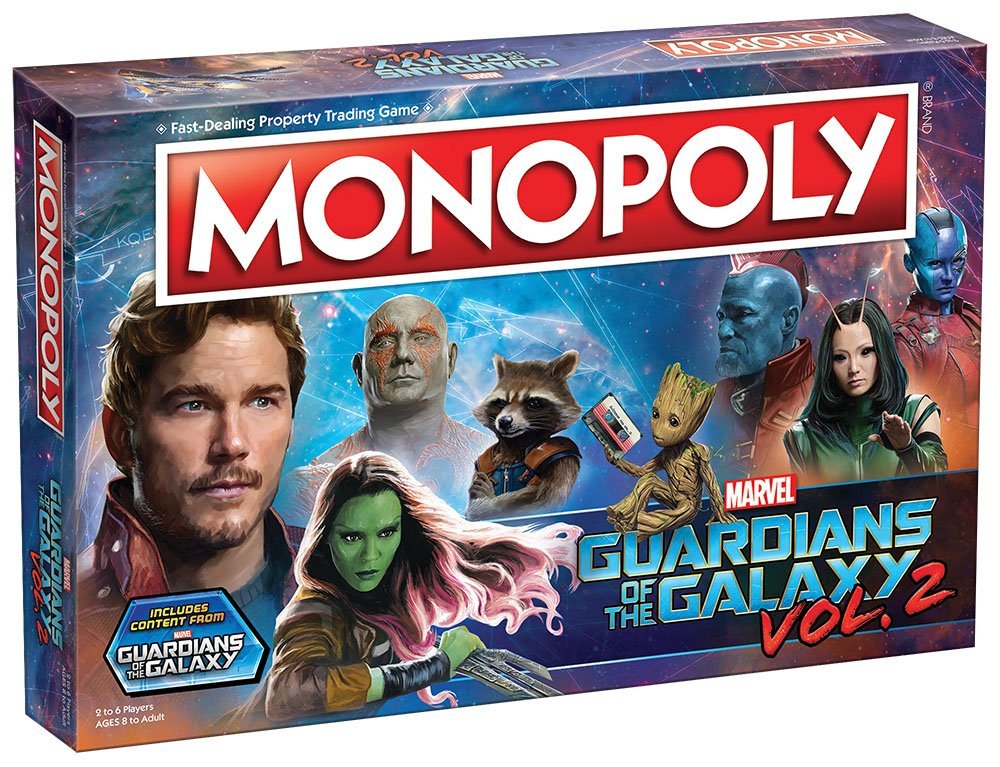 USAopoly Children's Guardians of the Galaxy Volume 2 Monopoly Game: The Guardians of the galaxy Vol. 2 edition of Monopoly offers fans of the Marvel Cinematic universe a unique game play adventure as they recruit characters from both films, collecting bounties and double crossing their opponents while enjoying the classic table top experience of one of America's favorite board games.
LEGO Super Heroes Guardians of The Galaxy The Milano vs. The Abilisk 76081 Building Kit: Get set for an epic space battle as Star-Lord and his unlikely allies take on the Abilisk, featuring the Milano spaceship with two stud shooters, bomb-drop function, movable wings and an opening four-minifigure cockpit. The Abilisk monster features moving tentacles and an opening mouth to role-play a daring rescue mission. Includes four minifigures and a Groot figure.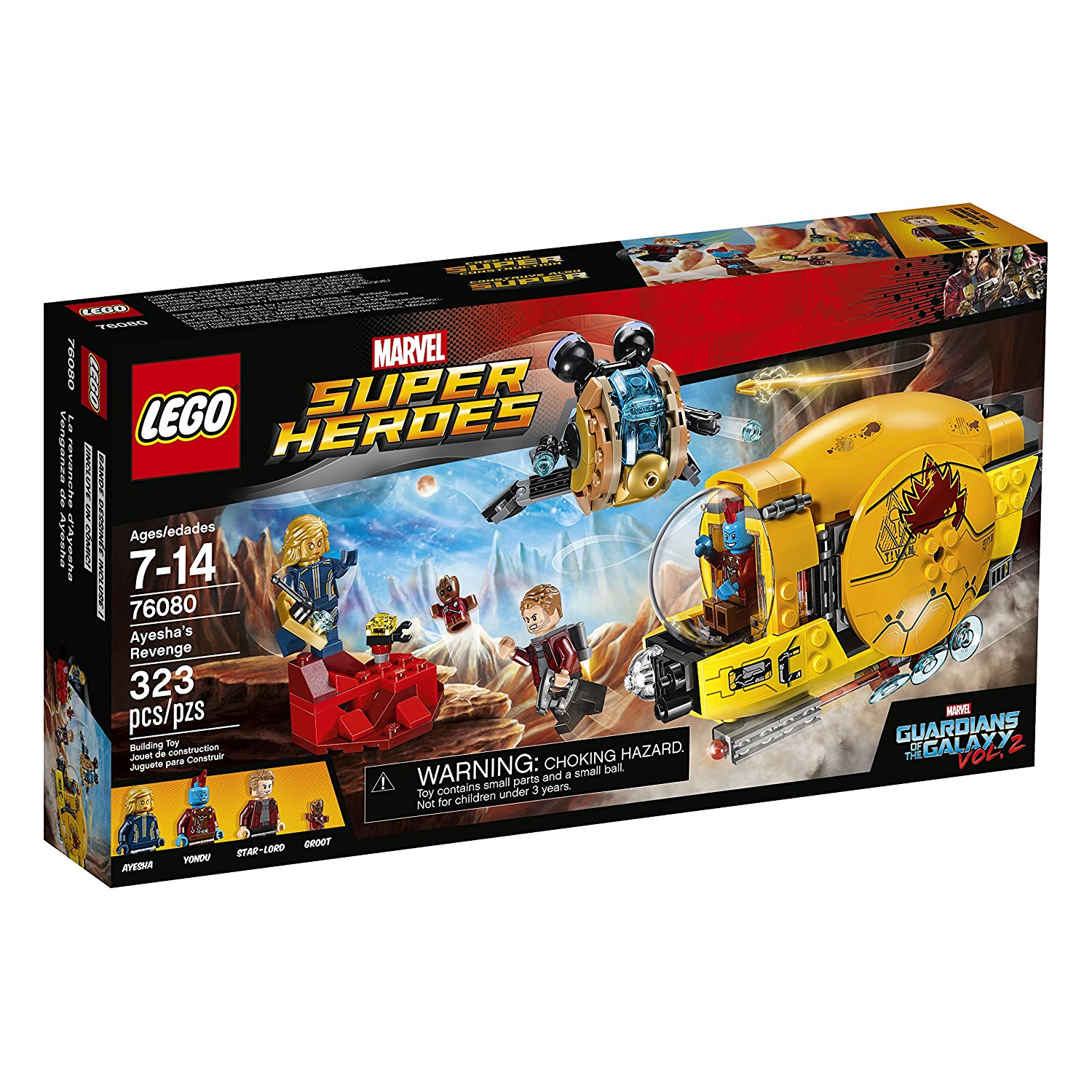 LEGO Super Heroes Guardians of The Galaxy Ayesha's Revenge 76080 Building Kit: Stage a cosmic battle with this action-packed Guardians of the Galaxy, set featuring Ayesha's Golden Drone spaceship with two stud shooters, Yondu's Laser Drill spaceship with a spring-loaded missile, sliding minifigure cockpit and opening side panels. Includes three minifigures and a Groot figure in Ravager costume.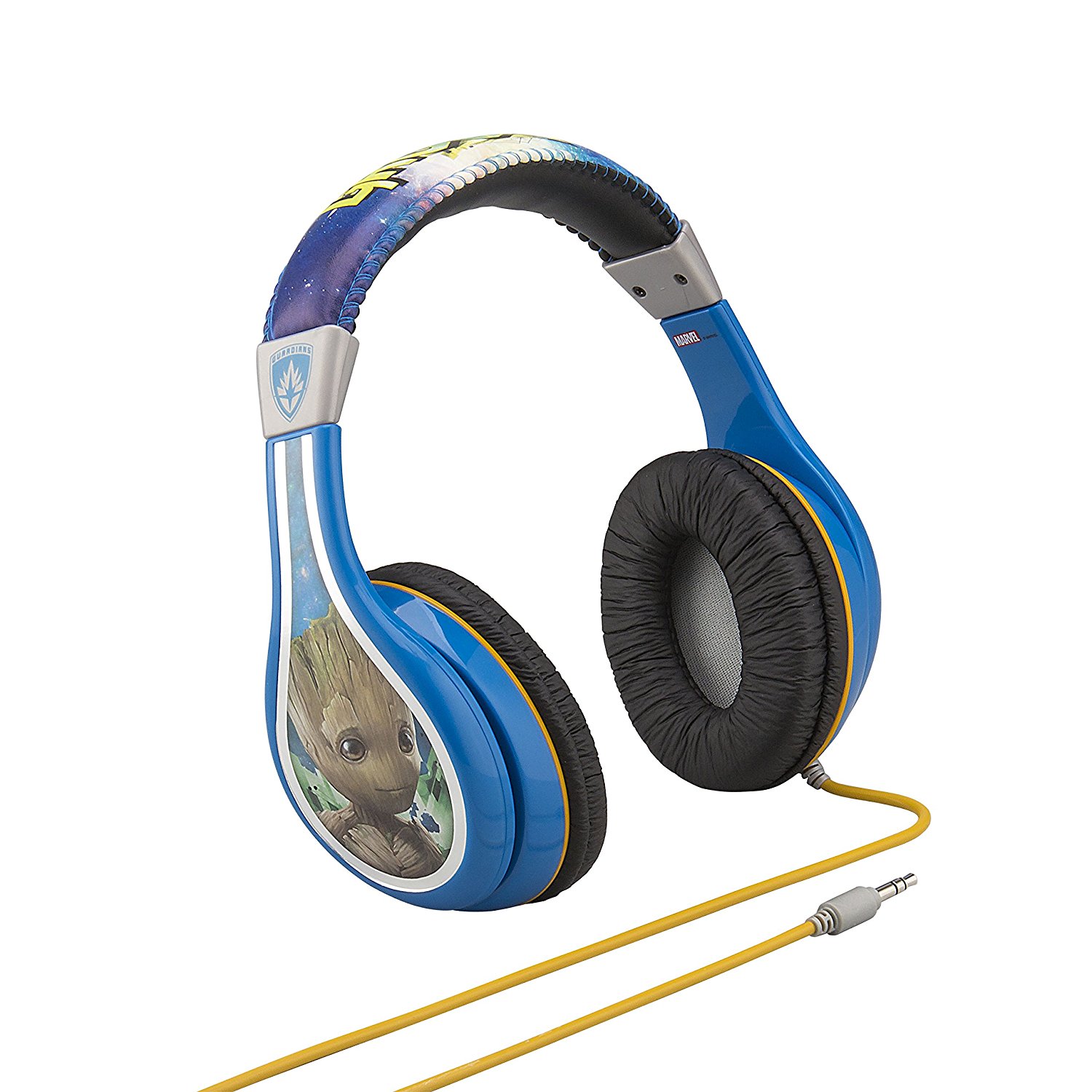 KIDdesigns Guardians of The Galaxy Vol.2 Headphones: These great sounding headphones have a built-in volume limiter that protects hearing and makes listening to music safer for your ears. These headphones will connect to any audio device and come with pivoting ear cushions for maximum comfort. These headphones come with cool character graphics and styling and an adjustable headband.
Here is the official movie trailer! Check it out and then head to theaters TODAY to see it! 
"Guardians of the Galaxy Vol. 2" is written and directed by James Gunn and stars Chris Pratt, Zoe Saldana, Dave Bautista, featuring Vin Diesel as Baby Groot, Bradley Cooper as Rocket, Michael Rooker, Karen Gillan, Pom Klementieff, Elizabeth Debicki, Chris Sullivan, Sean Gunn, Tommy Flanagan, Laura Haddock, with Sylvester Stallone, and Kurt Russell.
Kevin Feige is producing, and Louis D'Esposito, Victoria Alonso, Jonathan Schwartz, Nikolas Korda and Stan Lee are the executive producers. Marvel Studios' "Guardians of the Galaxy Vol. 2" blasts into theaters on TODAY!
Get social with me AND GUARDIANS OF THE GALAXY VOL. 2 
and be sure to use #GotGVol2