Captain America & Spiderman Power Poppers #FAMChristmas
This post may contain affiliate links or I may have received the product free in exchange for my honest review. See full disclosure for more information.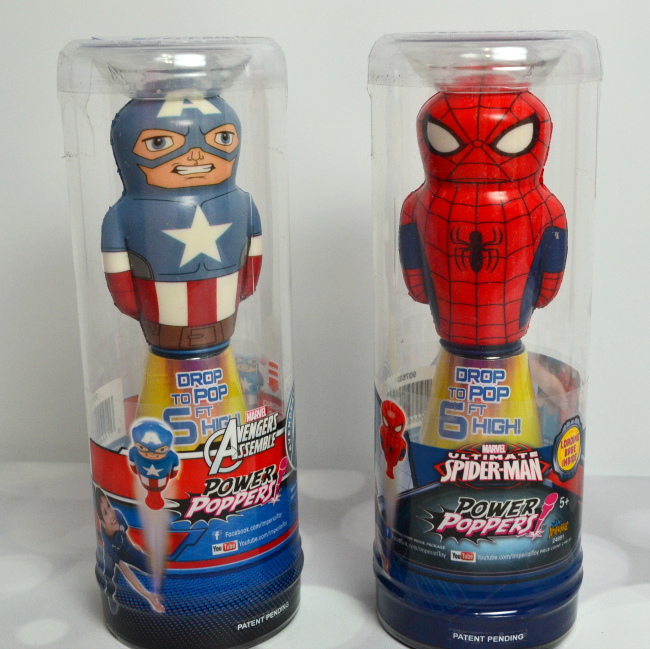 With all of the electronics and video games, it can be a challenge to get kids to play with anything else. But they probably haven't played with these Captain America & Spiderman Power Poppers yet! Let me tell you why these may be our new favorite toy this year.
Marvel Power Poppers™, made of soft durable foam, fly over 24 times their own height! Each Power Popper™ comes with their own easy loading base. Push Power Popper™ into the base to load, then drop low or high to watch them fly up to 6 feet! Release at an angle to soar across the room or hit a target. Invent your own high flying tricks to challenge your friends. Hundreds of ways to pop!
Seriously, could these little guys be any  more fun?
All you have to do is pop the character into their base and then drop them to make them fly! They can travel 6 feet, whether it's straight up, across the room or even into a buddy's waiting hands to catch it.
My child and his friends have come up with a bunch of cool ways to play with them, like seeing who's character can jump the highest or set up baskets to see who can make it in! They've even played catch with them in the back yard, launching them at each other LOL!
Don't worry, they are made of foam and not hard plastic, so even if your little one is popped by one, it shouldn't hurt. And since they have Captain America, Spider Man, The Hulk, and Iron Man Power Poppers, everyone can get their favorite super hero.
Learn more and order your set of Captain America & Spiderman Power Poppers today, plus follow Imperial Toys on Facebook, Twitter, and YouTube for the latest information.
Make sure to check out our 2015 Christmas Gift Guide for more great gift ideas! We have everything for men, women, kids, pets, and the whole family!