Celebrate National Men's Health Month with Superior Source Vitamins Superior Source Vitamins! #SuperiorSource
This post may contain affiliate links or I may have received the product free in exchange for my honest review. See full disclosure for more information.
June is National Men's Health Month and also celebrates Father's Day for all the amazing dads everywhere. We want them to stay happy, healthy and around for a long time. One way to show him how much you want him to be there is to give him the vitamins and supplements that are designed just for men.
To show him, give him Superior Source Vitamins, the vitamins that you don't have to swallow, but rather just absorb into his system with the "Under the Tongue" technology unique to Superior Source.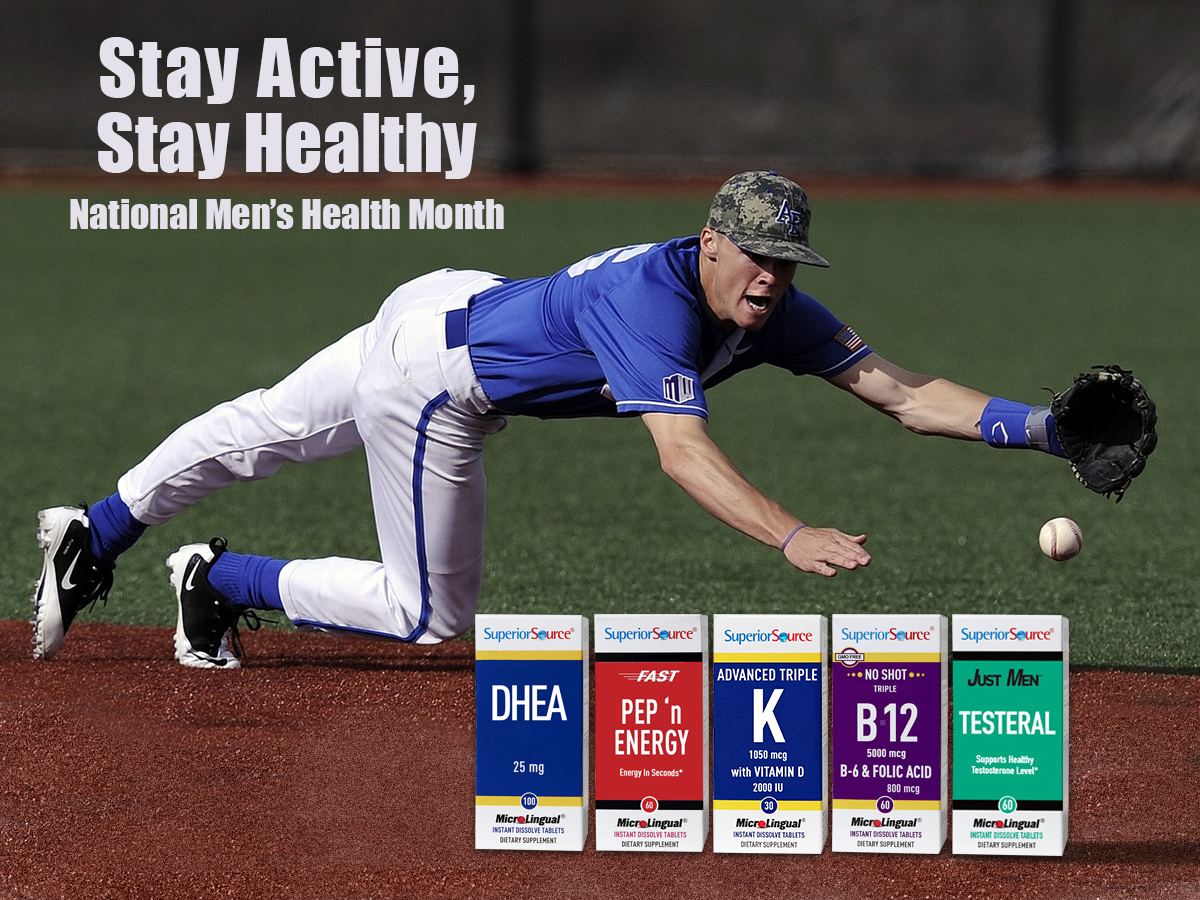 So, you are probably wondering what makes Superior Source Vitamins unique, right? For starters – NO MORE PILLS TO SWALLOW! Check them out below and I'm sure you will agree they are amazing!
What Makes Superior Source UNIQUE?
Superior Source Vitamins are MicroLingual® – "Under the Tongue Technology". They work fast and are quickly absorbed into the body, dissolving in seconds – NO pills to swallow! Supplements that are swallowed lose as much as 50% of the potency in the high acid environment of the stomach.
No pills to swallow
GMO FREE and Sugar FREE
90% smaller than regular vitamins
No chemical binders or fillers
This month celebrates men and dad's everywhere. The June Active and Healthy vitamin pack will keep dad on his toes for a long time.
Vitamin B12 with B6 Folic Acid    
No Shot Methylcobalamin Vitamin B-12/Vitamin B-6 w/Folic Acid MicroLingual® Tablets go to work fast, under the tongue. Other forms of Vitamin B-12 supplementation can result in a loss of as much as 50% of Vitamin B-12 potency in the high acid environment of the stomach. The combination of Vitamin B-12, Vitamin B-6 and Folic Acid works synergistically to support healthy heart function and provide essential nutrients for the cardiovascular system.
Pep 'n Energy
Our Pep 'n Energy capsules are formulated to stimulate your natural energy reserves and jump-start your pep with a combination of vitamins and herbs. Try our natural energizer today to help you perform at your best all day long!
Testeral
Just Men – Testeral by Superior Source contains a proprietary blend of herbs formulated to support healthy testosterone levels. A critical male hormone, testosterone helps maintain muscle strength, boosts libido and supports overall wellness in men.
Advanced Triple K with Vitamin D
Vitamin K supports normal blood clotting and the formation of prothrombin. Our Vitamin D products are D3, the finest source of Vitamin D available.
DHEA
DHEA is a natural precursor to testosterone and estrogen and may support sexual energy and vitality. DHEA also promotes bone strength. DHEA levels naturally decline with age, making Superior Source DHEA an excellent choice for supplementing this important hormone.
Where can you find Superior Source Vitamins & Supplements
Take care of your health and stress less with Superior Source MicroLingual® supplements! You can find these MicroLingual® vitamins and all Superior Source Vitamins at major retailers nationwide and from online retailers such as iHerb and Lucky Vitamins.
How would you like a chance to TRY THEM FREE?
Don't you love "try before you buy" items? I know I do! Well, we are excited to let you know that Superior Source gives you that chance! Simply like the Superior Source Facebook page and you can take advantage of the fabulous promotional offers below!
•FREE Vitamin B-12 – 60-Day Supply – 1,000 mcg (only pay $3.95 S&H)
• FREE Vitamin D – Any D product (baby, child, adult) (only pay $4.95 S&H)
•BOGO – FREE Vitamin C (Sour Cherry or Tangy Orange) – 500 mg – Buy One Get One Free
Connect socially with Superior Source