Coffee Cocktail & Ice Cream Recipes – Inspired by NESCAFÉ
This post may contain affiliate links or I may have received the product free in exchange for my honest review. See full disclosure for more information.
Did you get a chance to celebrate National Coffee Day on September 29th?  Do you love love love coffee and have to have it everyday?
NESCAFE Dolce Gusto actually conducted an online survey and had some interesting findings like the below:
Lattes before Love: 42% of coffee drinkers say that their last cup of coffee was more satisfying than their last "intimate experience"
The Real McSteamy: 59% of coffee drinkers agree that coffee drinkers are more attractive than non-coffee drinkers
Our Beverage BFF: 57% of coffee drinkers can't imagine getting through at least one life experience without coffee – like starting a new job (34%), moving (25%), college (22%), having a child (15%) and getting married (15%)
Cup O'Smarts: On average, coffee drinkers think they gain 25 IQ points after they have a cup of coffee – and 14% of drinkers think they gain 55 to 99 points!
The NESCAFÉ Dolce Gusto Survey was conducted by Wakefield Research (www.wakefieldresearch.com) among 1,000 nationally representative U.S. adults ages 18+, between May 6th and May 14th, 2014, using an email invitation and an online survey. Quotas have been set to ensure reliable and accurate representation of the U.S. adult population 18+.
When you want to try something beyond your daily cup of coffee, here are some amazing and delicious recipes you can try, using Nescafe products.
Carajillo 43

1-1/2 oz Licor 43
3 oz  Espresso, chilled
Directions:
~Pour ingredients in a glass over ice and serve. Pretend it was harder to make.
Orange You Glad It's Got Tequila?

1-1/2 oz. Reposado tequila
3/4 oz. Orange liqueur
3/4 oz. Espresso, chilled (we used NESCAFÉ Dolce Gusto)
~Add all the ingredients to a tall glass or a cocktail shaker. Add ice. Stir with a long spoon (don't shake) for 30 seconds to a minute, and strain into an up glass.
~Garnish with a strip of orange peel, spiraled inside the glass.
Spicy Chai Affogato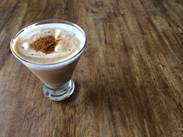 INGREDIENTS
1 NESCAFE Dolce Gusto Chai Latte
½ cup scoop French vanilla ice cream
1.5 oz spiced rum
Dash cayenne pepper
Crack of fresh black pepper
DIRECTIONS
Add ice cream and spiced rum into glass and pull one NESCAFE Dolce Gusto Chai Latte over it.
Top with a dash of cayenne pepper and a crack of fresh black pepper.
Café Au Lait Ice Cream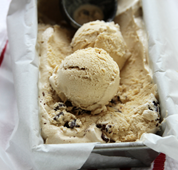 Ingredients:
1 1/2 cups whole milk
1 1/2 cups heavy whipping cream
4 large egg yolks
2/3 cup granulated sugar
Pinch of salt
1 NESCAFÉ DOLCE GUSTO Café Au Lait capsule, brewed according to package directions (6.1 fl. oz.)
1/3 cup NESTLÉ® TOLL HOUSE® Dark Chocolate Morsels, chopped (optional)
Directions:
HEAT milk and heavy cream in medium saucepan over medium heat just until hot (do not boil). Remove from heat.
BEAT egg yolks, sugar and salt in large mixer bowl until well combined. Very slowly beat in the milk mixture until combined.
POUR mixture back into saucepan; heat over medium-low heat, stirring frequently, until the mixture reaches 160° F. This should take about 12 minutes. Do not boil. Stir in coffee. Place mixture in refrigerator for 1 hour or until cool.
POUR mixture into an ice cream maker and freeze according to manufacturer's directions. During the last few minutes of churning, add the chopped morsels.
SERVE immediately for a soft-serve texture or transfer to a covered container and freeze for a firmer texture.
Tiramisu Ice Cream Cake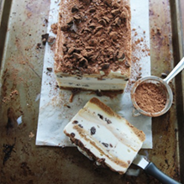 INGREDIENTS
Plastic wrap or parchment paper
3 NESCAFÉ DOLCE GUSTO Espresso Intenso capsules, brewed (1.7 fl. oz. each)
1/4 cup coffee liqueur, brandy or dark rum
1 package (3 to 3-1/2 oz.) soft ladyfingers
1 carton (1.5 quarts) Vanilla Bean DREYER'S or EDY'S SLOW CHURNED Light Ice Cream, softened
3/4 cup NESTLÉ TOLL HOUSE Dark Chocolate Morsels, chopped, divided
2 to 3 tablespoons NESTLÉ TOLL HOUSE Baking Cocoa
Directions:
LINE an 8-inch loaf pan with plastic wrap or parchment paper, leaving a 3-inch overhang.
 COMBINE espresso and liqueur in a shallow dish. Dip (don't soak) one-third of ladyfingers into mixture and place in bottom of prepared pan. Layer one-third of ice cream over top; sprinkle with ¼ cup morsels. Repeat layers 2 more times.
FOLD plastic wrap overhang over top of cake and freeze overnight. To serve, lift cake from pan using plastic wrap overhang. Remove plastic wrap. Dust top of cake with cocoa powder. Slice into 1-inch slices.
Be sure to check out all products Nescafe has available, including their Dolce Gusto Coffee Machine