Do you have that spicy food lover in your life? How about someone who has everything they need or hard to buy for? The perfect solution is to give them a pack of Dave's Gourmet Insanity Sauces.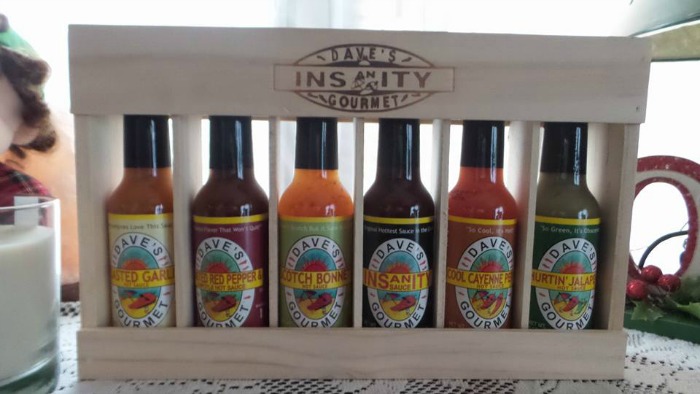 It contains six different hot sauces in a special wooden crate. Sauces included are Roasted Pepper & Chipotle Sauce, Roasted Garlic Hot Sauce, Scotch Bonnet Hot Sauce, Insanity Hot Sauce, Cool Cayenne Hot Sauce and Hurtin' Jalapeno Hot Sauce.
This would make the perfect holiday find for anyone who loves hot sauce and wants to spice up their foods with unique and different flavors. The heat level various from Barely Mild to INSANELY HOT! This is great as it is a nice variety for many to try.
Right now, you can purchase this at a sale price of just $24.99. It will ship within 1-2 days of purchase, so you still have time to get it delivered to your door before Christmas. Dave's Gourmet has a full line of flavor sauces and seasonings. Be sure to check out all they have to offer online. Also be sure to stay connected to Dave's Gourmet on Facebook and Twitter for all of the latest product information.