Dinner Thyme Meal Kits for Easy, Quick, Mouth-Watering Meals!
This post may contain affiliate links or I may have received the product free in exchange for my honest review. See full disclosure for more information.
When it comes to dinner time, don't you hate the age-old question of "what's for dinner"? It seems I am never prepared and always flying by the seat of my pants. When we can finally figure out what we want to eat, there is another question of "do I have everything I need"? But then comes the real kicker! The dicing, chopping, blending, etc. is a tedious process I can live without! While I don't mind cooking, spending all night preparing our meal after a long day at work is the last thing I want to do. Well, friends, I have found the perfect solution! Have you heard of Dinner Thyme?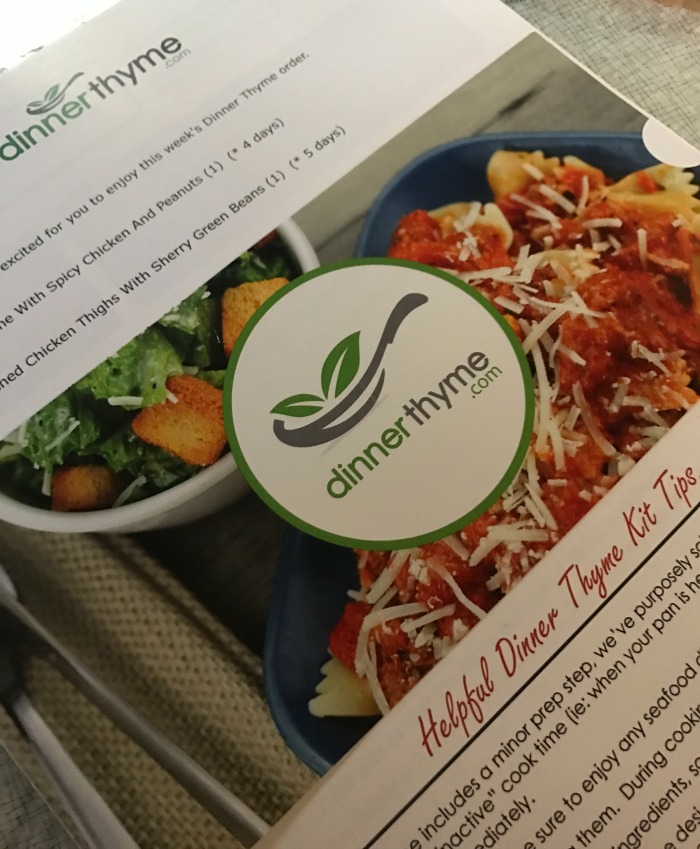 Dinner Thyme makes meal time easy! It's like having your own personal shopping and chef assistants rolled into one! The best part is, everything needed to make a mouth-watering meal is delivered to your door step! Everything from the meats, veggies, pastas, sides, etc. are all included! No more running around trying to figure out if you have all the correct ingredients and no more chopping and shredding! Hallelujah! Before I tell you more about Dinner Thyme, let me introduce you to them and their amazing meal kits!
Dinner Thyme was born from their desire to make quality, home cooked, weeknight dinners without the time consuming "shopping" or "chopping". With degrees in culinary arts and a twenty-year career as owner and operator of several eateries, knowing how to prepare a meal was not the issue. The problem was that preparing a home cooked meal with fresh, high quality ingredients during the week involved more time than they generally had.

Necessity is truly the mother of invention. In July of 2010, determined to make the process of creating a quality, home cooked, weeknight meal easier, they launched Clear Cut Meals in New York City. Yes, that makes us the original "cook at home" meal delivery service. After four years, thousands of members and rave reviews, the demand for Clear Cut Meals outside our limited service area grew too loud for us to ignore. They launched their new division, Dinner Thyme, in 2014 to give the people in the rest of the country what they demanded – a better solution to quick, quality dinners.
How Does Dinner Thyme Work?
What's for Dinner? – Choosing Your Meals
Each week, Dinner Thyme will email you their Weekly Suggested Menu which is customized to fit your preferences. You can choose your favorites. Not feeling the items on the menu? You can also create your own menu from the over 15 different menu items each week. Then again, if you find that you will have plenty of time to shop and cook in the coming week, you can simply skip the order for that week with a click of your mouse.
Dinner Thyme's Chefs Do All the Work!
On the day before they ship out your order, their chef's gather the fresh ingredients that are needed for your meals. Then, they do all the drudgery work of chopping, whisking, marinating, blending, etc. Everything needed for each of the meals are packaged up along with the instructions and shipped out.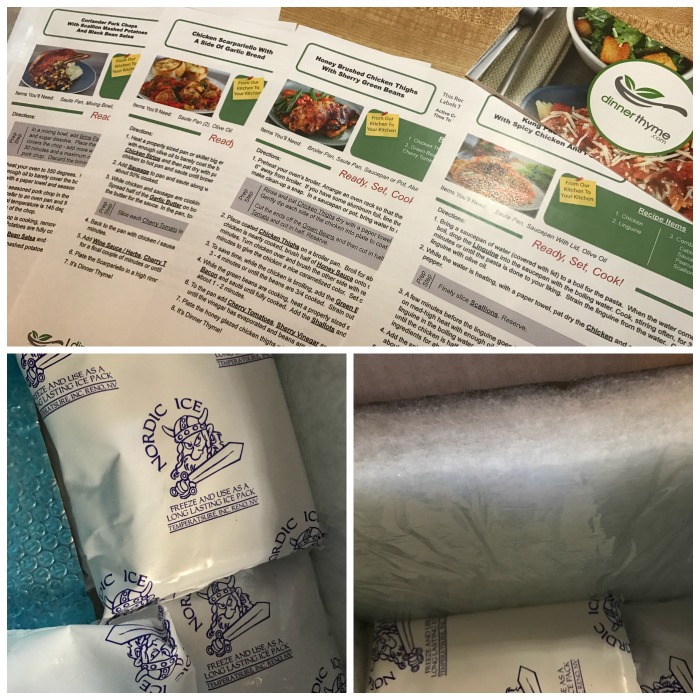 Your Meals Arrive at Your Home
When your delivery day comes, your meals will arrive in a secure, well insulated box packed with ice packs. There is no need to be home as long as you have a safe place for them to leave the order. The packaging is thick, well insulated, and includes ice packs which keeps your package fresh and chilled.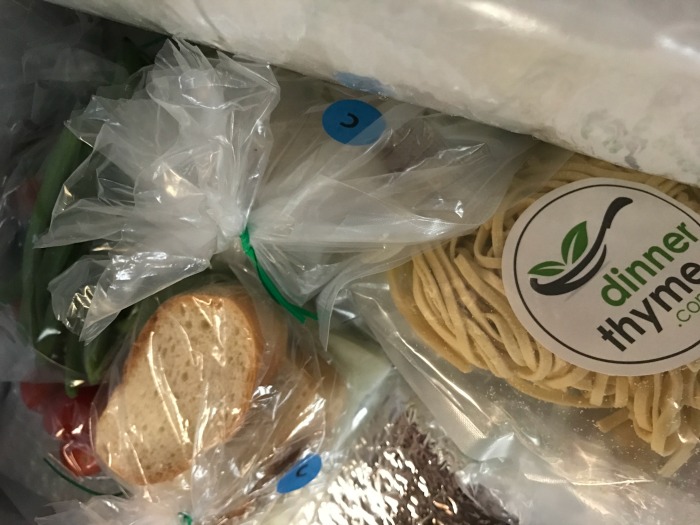 Complete with all the ingredients needed for the menu items
When you open your Dinner Thyme box, you will find the ingredients bagged up for each meal. Each meal comes with a step-by-step recipe card. Use the corresponding letters to differentiate the items and simply follow along. It is so easy! Your weekly meals are all planned, shopped for, and the prep work is done!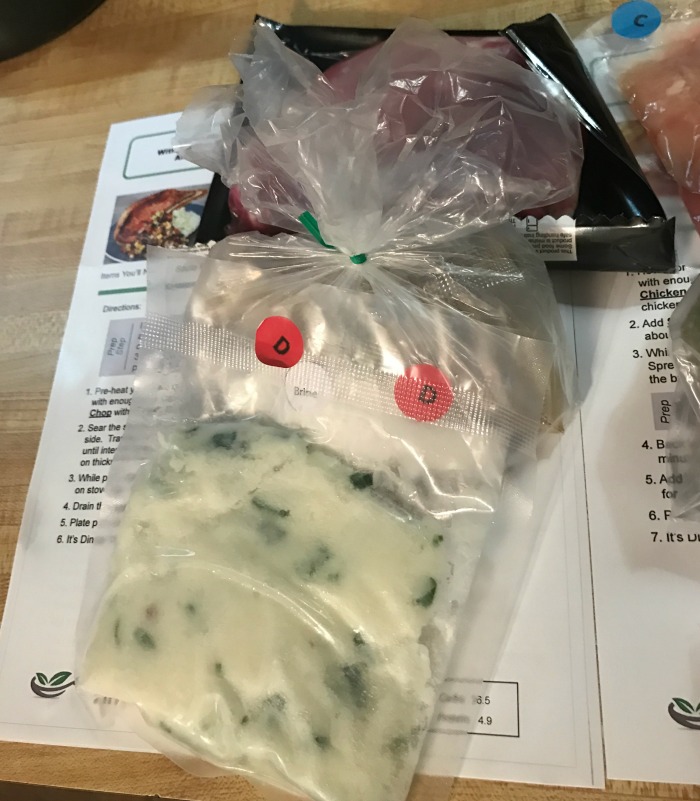 It's Dinner Thyme!
When dinner time arrives, you will be praising Dinner Thyme because all you will need to do is simply take out the fully prepped ingredients from the fridge and start cooking! Since all the prepping is done, meal prep is from fridge to table is less than 20 minutes – give or take. You have to love that!
Let's check out a few of the mouth-watering meals I have tried from Dinner Thyme!
Coriander Pork Chops with Mashed Potatoes and Black Bean Salsa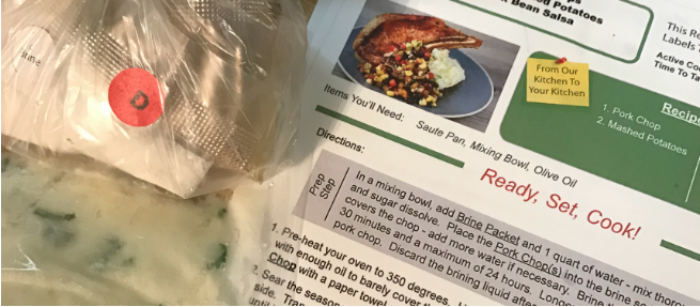 One of the meals we chose was this Coriander Pork Chops with Mashed Potatoes and Black Bean Salsa. Pork chops is a favorite with us and this easy meal hit the spot! Can you ever go wrong with pork chops and mashed potatoes? Add in the delicious Black Bean Salsa and it is a meal that will send the taste buds into orbit!
The chops came out tender, juicy, and delicious. The mashed potatoes were perfect and the salsa added just the right touch on the whole meal. I believe this yummy meal was my favorite!
Chicken Scarpariello with a Side Of Garlic Bread
We love chicken and eat a lot of it. However, just when you think you have cooked chicken every way you can, there comes along a meal like this! This tasty Chicken Scarpariello is simply delish!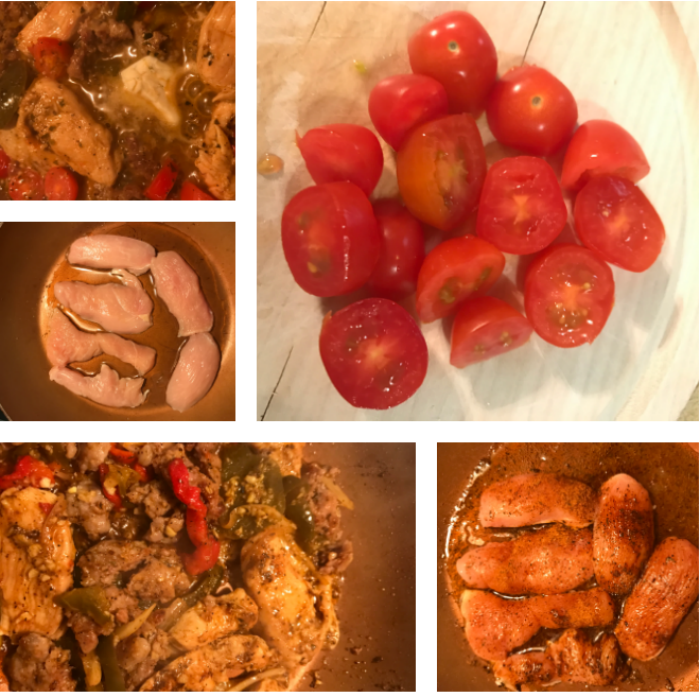 It was very easy to prepare from cooking the chicken to adding in the various ingredients. I especially loved the addition of the grape tomatoes!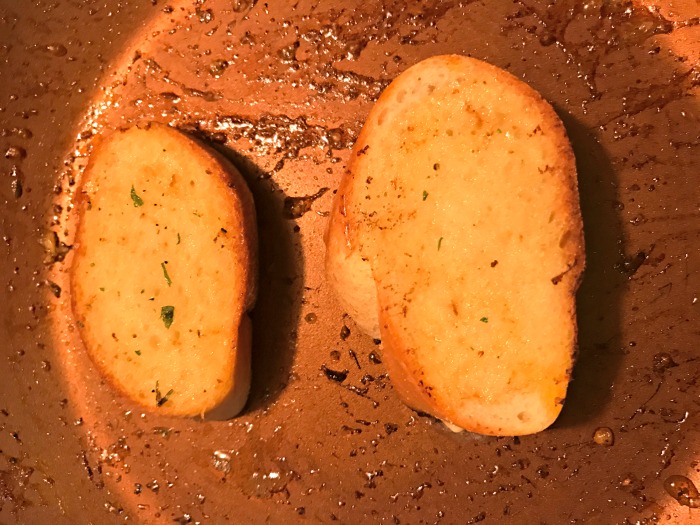 To go along with our Chicken Scarpariello, they included an easy garlic bread. It was quick and easy to prepare after the main dish was prepared.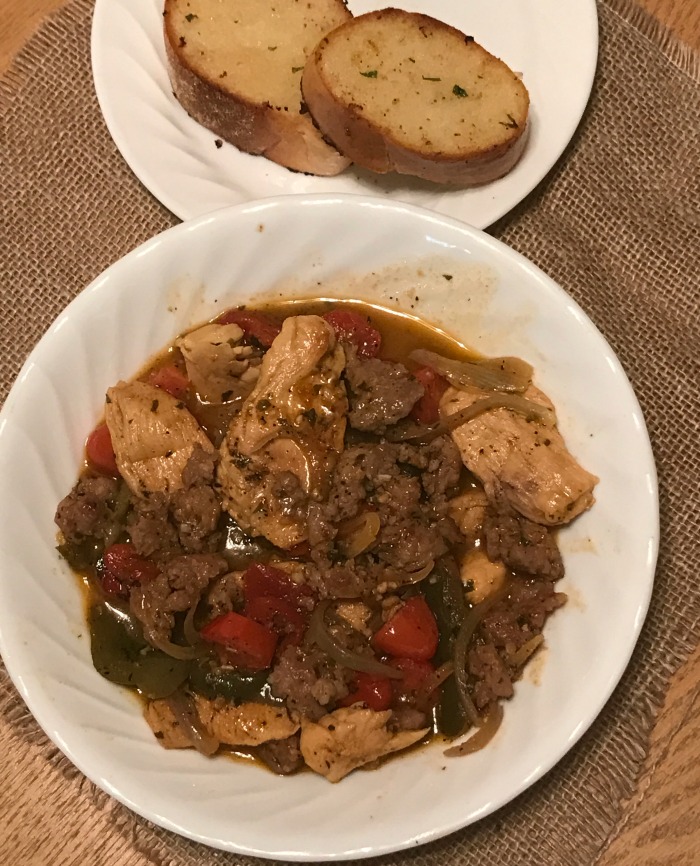 The garlic bread is the perfect addition to round out the Chicken Scarpariello meal. It was so delicious and left us full and satisfied!
Kung Pao Linguine with Spicy Chicken And Peanuts
The Kung Pao Linguine with Spicy Chicken and Peanuts was my daughter's favorite. She loves pasta! Is there anyone that doesn't? We both love Kung Pao chicken, making this a perfect meal!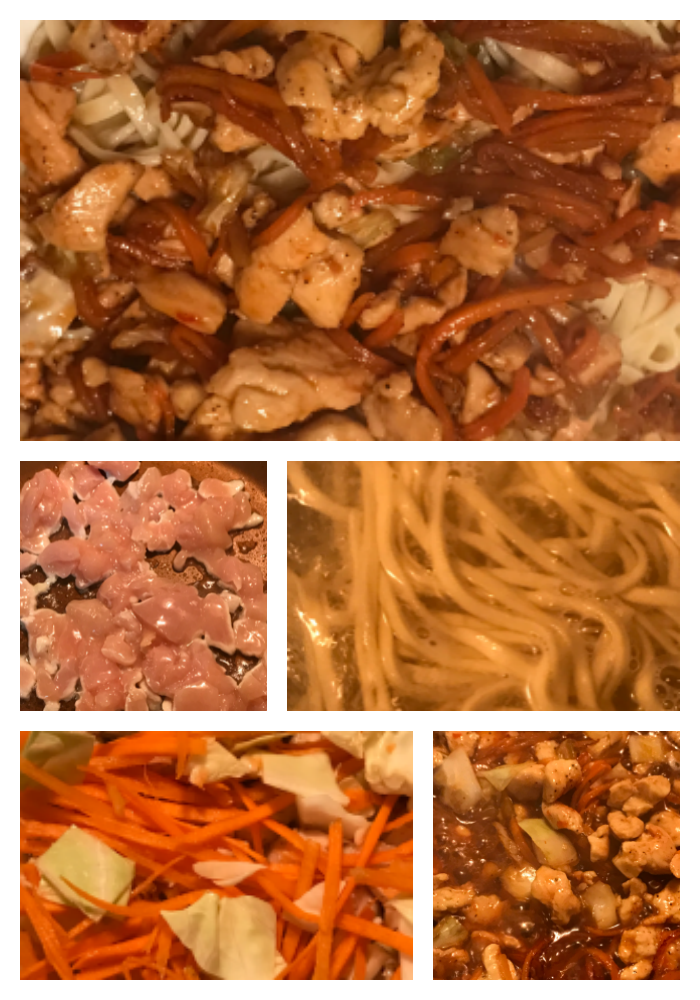 The Kung Pao Linguine with Spicy Chicken and Peanuts was super easy to prepare. I was amazed at how simply it came together!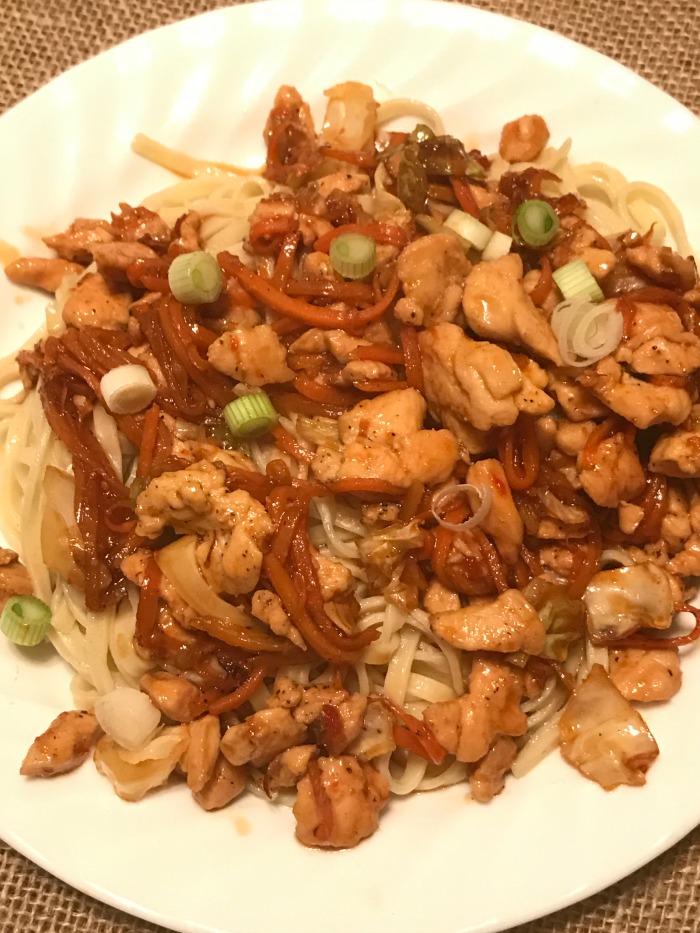 Oh yum! Can I have more than one favorite? For chicken and pasta lovers, you will fall in love with this meal!
We also have the meal kit for a Honey Brushed Chicken Thighs with Sherry Green Beans, but have yet to make it. However, rather than wait, I wanted to go ahead and share the delicious secret of Dinner Thyme with you! I am positive it will be just as delicious as the others.
We have loved all the meals we have tried! I, especially love, the ease of preparing them! No shopping, no prepping – just the fun part of cooking it! My daughter and I can have a little chit-chat while preparing the meal, eat dinner, and then enjoy a movie – instead of slaving in the kitchen all night!
What's the Price?
So, I bet you are wondering about the variety and how economical these meals are. Dinner Thyme offers a broad and ever-changing menu with each menu item individually priced. On average the meals are $11.95, but can range in price from as little as $9.95 up to $12.95 per portion. Dinner Thyme also offers a few desserts each week. They generally range between $1.75 to $3.95 per portion.
Shipping charges for orders over $60 is FREE. If your order is under $60, they have a simple delivery fee of $5 – $9 (depending how close your order is to $60). There are no membership fees, commitment fees, or any other kind of fees.
I think Dinner Thyme is amazing! The food is fresh and I LOVE the finished prep work! The step-by-step recipe cards are easy to follow and the meals are quick and easy! Most importantly, they are delicious! It's a great way to have a few nights of the week's menu covered without all the necessary planning and shopping. They are perfect for hectic weeks when spending an entire night in the kitchen is not on your plans. In my opinion, it is well worth the price. For me, time is money! If I can save time for other important things and spend more time with the family, instead of in the kitchen, it's a plus in my book!
Save yourself time and add new dishes to your weekly meals! Check them out today at Dinner Thyme and plan your menu for next week!
Connect socially with Dinner Thyme