e-cloth High Performance Dusting Glove is Perfect for Spring Cleaning
This post may contain affiliate links or I may have received the product free in exchange for my honest review. See full disclosure for more information.
Spring fever hits me every year. First there is the – I don't want to do anything except be outside phase. Then, the cleaning bug hits and Spring cleaning gets in full swing. Throughout the year, and especially the dreary Winter months, just getting the essentials done is all I can manage. So, when the Spring cleaning bug hits, I like to clean the house from top to bottom and get it whipped back into shape. I start from the top on those forgotten places above the door and window facings and work my way down to the dreaded baseboards. This year before I started my cleaning and since I have been converting my home to a more chemical-free environment, I have opted for chemical-free cleaning methods. With that said, I have discovered the e-cloth High Performance Dusting & Cleaning Glove and other e-cloth cleaning products!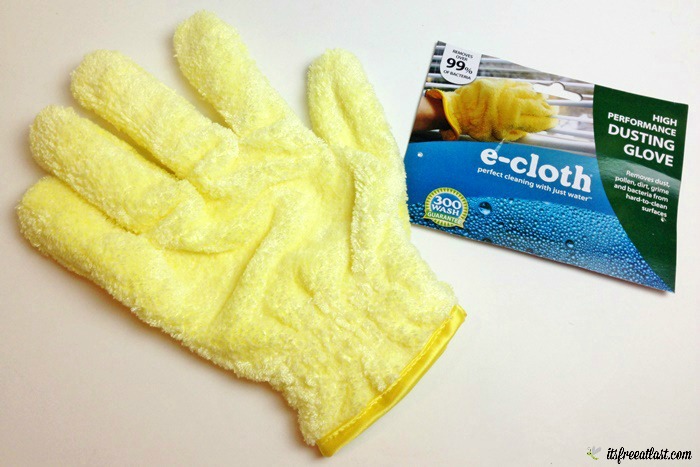 House Dust Can Cause Allergy and Respiratory Problems
Anyone with allergies can tell you dust is a no-no, especially if you are allergic to house dust and dust mites. And, I know what you are thinking! I am allergic to dusting! Ha! Yep, me too! But, I am more allergic to the dust sitting there! Did you know that house dust contains gross microscopic creatures called dust mites? What if I told you it contains dead skin, spores, pet dander, etc.? It can also contain pollutants like pesticides, synthetic chemicals, and heavy metals. Sound pretty gross right? These microscopic things can be responsible for upper respiratory reactions and even asthma attacks! Even if you aren't allergy-tested to be allergic to dust mites, the dust in your home could very well be making you sick!
The secret to cleaning your home of dust and the irritants that come with it is not spreading it around but trapping, containing, and removing it! That is why I am loving the e-cloth High Performance Dusting & Cleaning Glove!
e-cloth High Performance Dusting Glove
From high to low, I can make quick work of getting things cleaned up. All I have to do is lightly wipe the surface and the long fibers will lift and trap dust. Except in extreme cases, and I may have come across a couple of those, but I'll never tell 🙂 – you should be able to dust your entire home. The e-glove holds on to all the dust and dirt and doesn't send it flying into the air!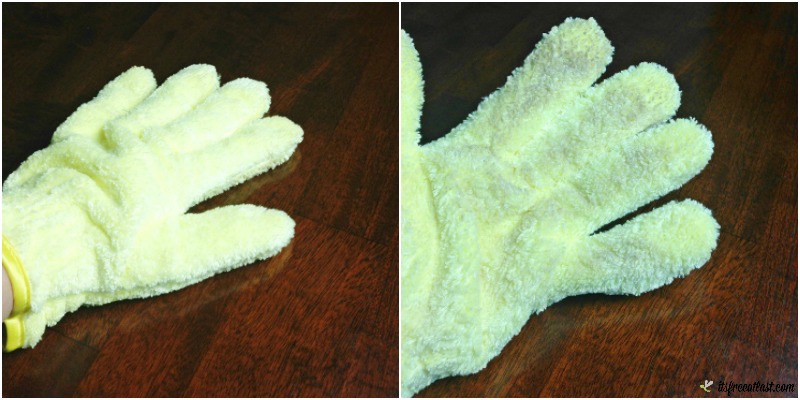 Removes Dust and Debris from Tables and Furniture
The e-glove High Performance Dusting Glove works great on table tops and furniture to quickly remove dust and leave a brilliant shine!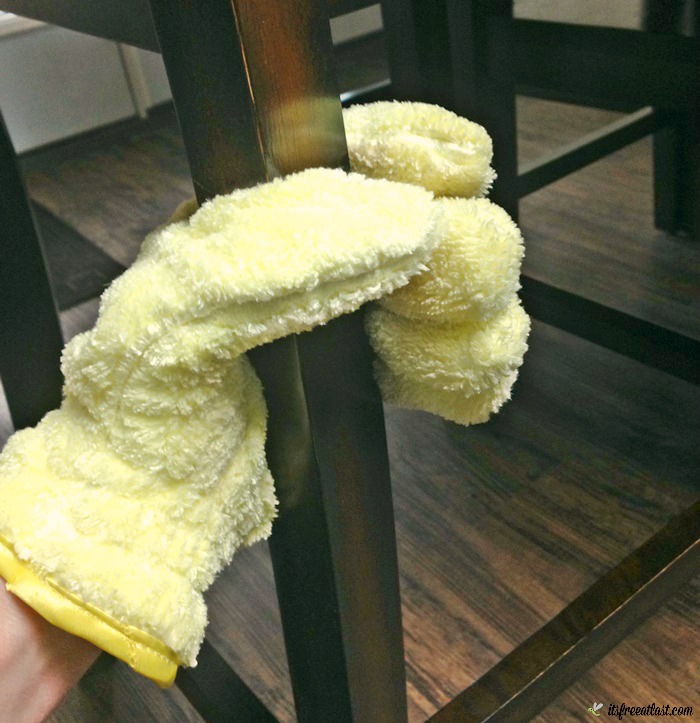 Great for Chair and Table Legs
But, I have to show you these pesky chair rungs and legs that I hate to dust! They seem to collect more dust, dirt, and dog hair than anything else in the house. However, with the e-glove, I can quickly dust them all and leave them shiny and dirt free!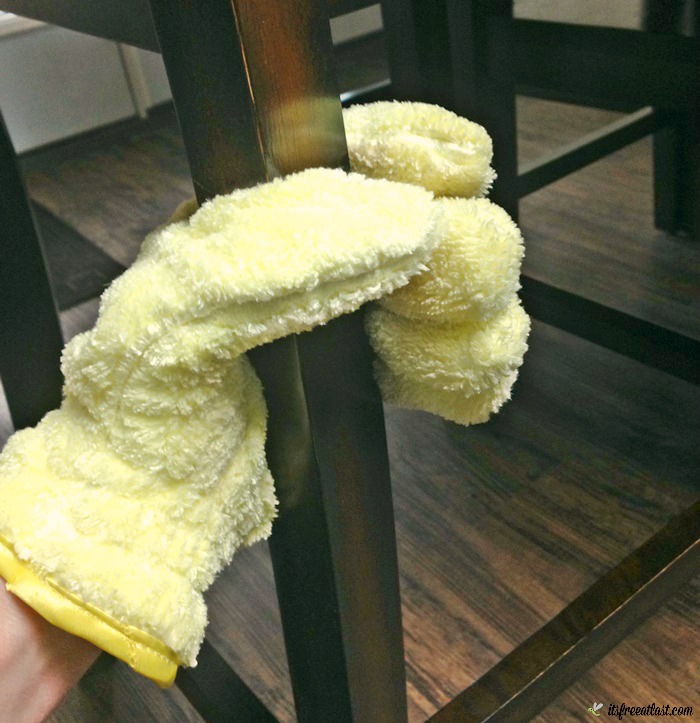 Makes Cleaning Window Blinds a Breeze!
Another handy use for the e-glove High Performance Dusting Glove is dusting and cleaning mini-blinds! Don't you hate those things?! They are one of the worst dust collectors in the house! The e-glove dusting glove makes it easy to get in-between the slats to leave them dust free. Meanwhile, the e-glove holds on to the dust and dirt so that it isn't flying about the room to settle on something else.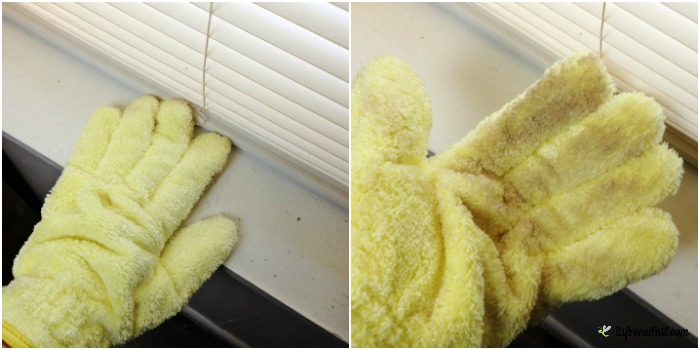 Cleans Window Sills, Moldings, Door Facings, etc.
While I am at the window, I quickly cleaned the window sills and the trim around the window before moving on to the next window. The e-cloth High Performance Dusting & Cleaning Glove is also great for cleaning above doors! It grabs and holds onto dirt instead of knocking it down into your face! Brilliant!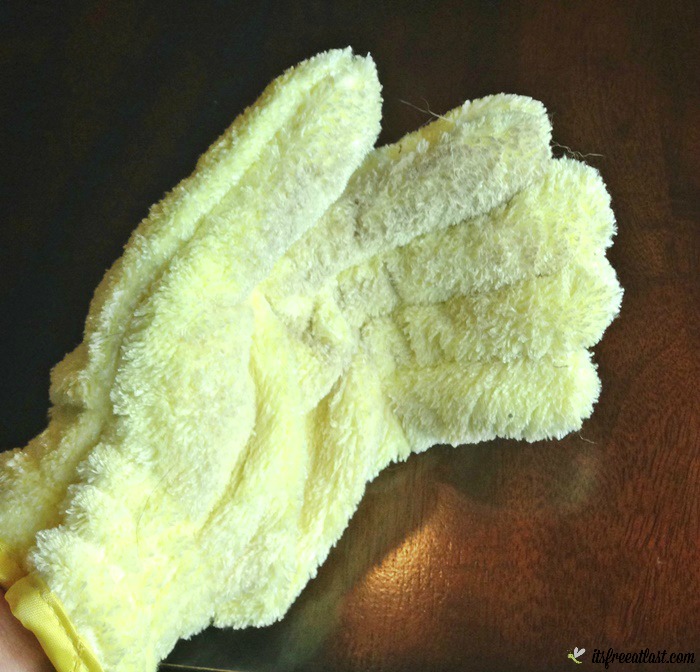 Collect, trap, and hold onto dust, dirt, and dog hair! When you are finished, simply wash the e-glove! You can wash by simply rinsing out or throw it in the washing machine with a little detergent. However, DO NOT use bleach or fabric softener on your e-glove! Bleach will break down the fibers and fabric softeners will block the fibers.
e-cloth High Performance Dusting Glove features in a nutshell:
Long, soft fibers attract and hold dust, pollen, dirt, grease, and oil from crevices in cabinets and furniture, as well as any other nook or cranny
Holds dirt until glove is washed
Excellent on all types of furniture and for cleaning soft and hard woods, bamboo, steel, glass, chrome, granite, leather, plastic, MDF and fabrics
Dampen glove to clean fabrics surfaces and leather
1.6 million* fibers per square inch for unparalleled cleaning performance
Removes over 99% of bacteria when used with water
Guaranteed for 300 machine washings
If you would like to try the e-cloth High Performance Dusting and Cleaning Glove, you can find it and other amazing e-cloth products on the e-cloth website! Make cleaning easier on yourself so that you have time for more fun things!
Connect socially with e-cloth