Educational Insights Valentine's Day Giveaway
This post may contain affiliate links or I may have received the product free in exchange for my honest review. See full disclosure for more information.
Educational Insights Valentine's Day Giveaway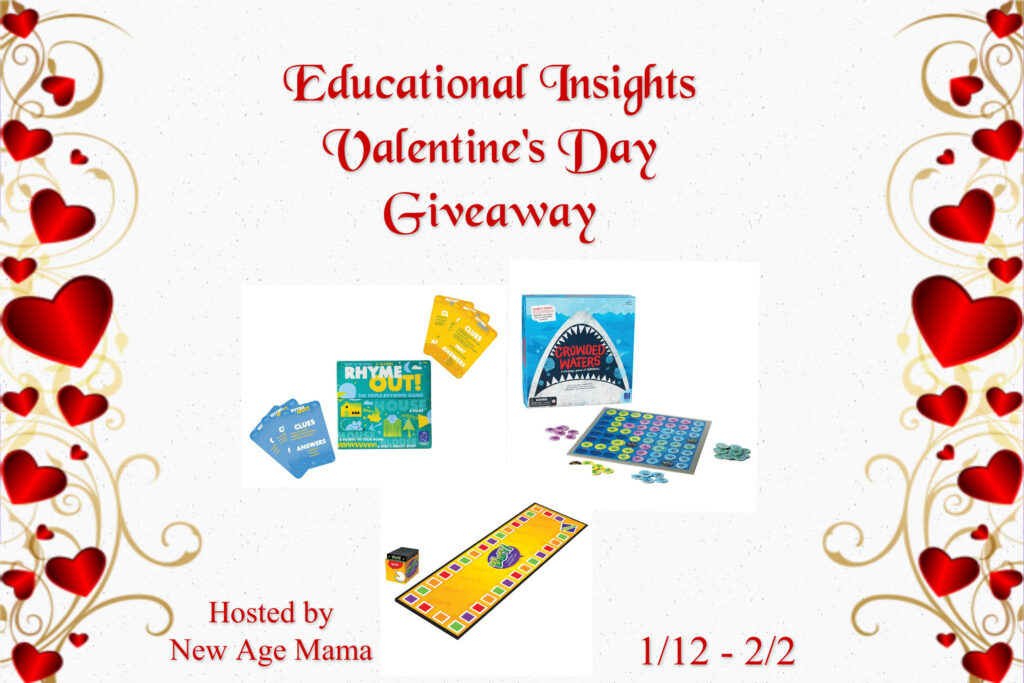 Looking for something better than candy to give to your children this Valentine's Day?  Educational Insights has tons of fun games and toys to keep them entertained.  Here are a few of our top picks.


Players take turns playing one of their game pieces. Connect your game piece to your previous one. If you can't move, you are out of the game. Last player to play a legal move is the winner. For 2 to 4 players. Ages 8+. Includes 88 Playing pieces (4 colors, 22 of each color), and game board 12″ x 12″.
Blurt! Word race game by Educational Insights, This world-famous word game that has sold over 1,000,000 copies. After being sold by the original publisher, Blurt. has been off the market for several years. Now it's back and better than ever with a cool new look and the classic game play that made it a platinum best seller. Think fast. What word means " a partially dried grape" ? Be the first to say " raisin," and you're on your way to winning this riotous game of rapid word recall. Players take turns reading clues aloud, competing to blurt out the correct answer first and move ahead on the board. The first person or team to circle the board wins. Sounds simple, right? But as the race for the right word heats up, and the blurting gets boisterous, it's easy to get tongue-tied. Blurt is a great vocabulary builder for kids, a hilarious addition to adult parties, and a must for family game night for 3 to 12 players.   
Make learning fun with Educational Insights. Triple-rhyming family-friendly card game. For 3 or more players aged 10 to adult. Includes 600 questions and 2 levels. Race to shout 3 correct rhyming responses. Fun for the whole family, includes cards.
The Giveaway
One lucky winner is going to receive all three of the games/toys listed above! To enter, just fill in the Giveaway Tools form below. This giveaway will  2/2/16 and is open to the US only.  The winner will be notified via email and will have 48 hours to reply. Thanks again to Educational Insights for offering this fantastic prize.